Jackie Kennedy was stunned when Marilyn Monroe, the Hollywood star who was rumored to have had a fling with her husband, called her home.
It was April 1962, and the first lady was in Hyannis Port, Massachusetts, when the phone rang in her bedroom. When she picked up, the mother of two instantly recognized the breathy voice on the other end.
Author J. Randy Taraborrelli told Fox News Digital that the glamorous wife of President John F. Kennedy thought it was a cruel practical joke. His book, "Jackie: Public, Private, Secret," published on Tuesday, is based on nearly 25 years of research and hundreds of interviews with friends, family and lovers. It also references unreleased papers from the JFK Library, including diaries and oral histories.
"There was something about that phone call," he explained. "She later told family members that there was a haunting quality to Marilyn's voice that really stuck with her… And it's not like they even had any kind of deep conversation… But it was 10 years of wondering, was it really Marilyn Monroe? And that buzz stayed with the family."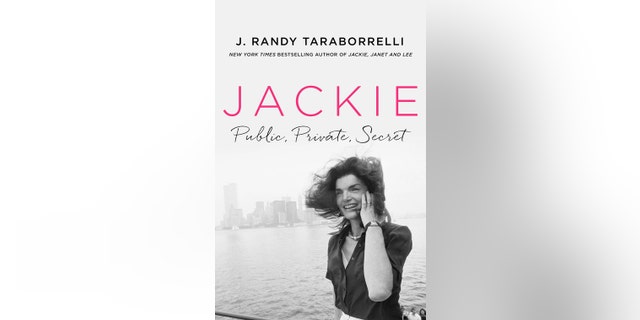 J. Randy Taraborrelli has written a new book about the former first lady titled "Jackie: Public, Private, Secret." (St. Martins Press)
Taraborrelli said it was March 24, 1962, when John and the "Gentlemen Prefer Blondes" star were "together sexually." He insisted the affair lasted "for just one weekend" at the Palm Springs home of Bing Crosby.
"Jack and I talked about her," recalled Sen. George Smathers, as quoted in Taraborrelli's book. "He thought she was beautiful, but maybe not the smartest girl in the world. He liked her sense of humor and her playfulness." He noted that the first lady was "more serious," so it was fun being with a woman who was "just… not."
At the time of the two-night affair, Kennedy was traveling abroad with her sister Lee Radziwill and pal Joan Braden. The president had received a telegram from his wife while he was entertaining Monroe.
CLICK HERE TO SIGN UP FOR THE ENTERTAINMENT NEWSLETTER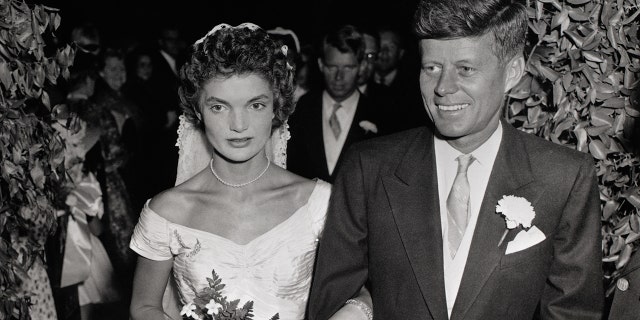 John F. Kennedy and Jacqueline Lee Bouvier married on Sept. 12, 1953, in St. Mary's Church in Newport, Rhode Island. The union was plagued with the president's rumored extramarital affairs. (Getty Images)
According to Taraborrelli's book, the number Monroe called was private. The Secret Service also had the phone wired at the home in such a way that all calls went through agents who monitored them except those that were made to the Kennedy bedroom. Only a handful of Kennedys had that number.
Kennedy was perplexed by how Monroe managed to get through the private line. She even wondered if her half-brother Jamie Auchincloss, a known prankster, pranked her.
"I've never been able to confirm that she ever did," he shared. "Lee was privy to the fact that Marilyn was telling people that she and JFK were having this relationship, but they really weren't. So it stands to reason that Jackie probably heard a lot of lies and half-truths about Marilyn. She just wished that JFK hadn't played with her."
NETFLIX DOC ON MARILYN MONROE MAKES SURPRISING 'REVELATIONS' ABOUT HER FINAL HOURS: 'I WANTED TO KNOW MORE'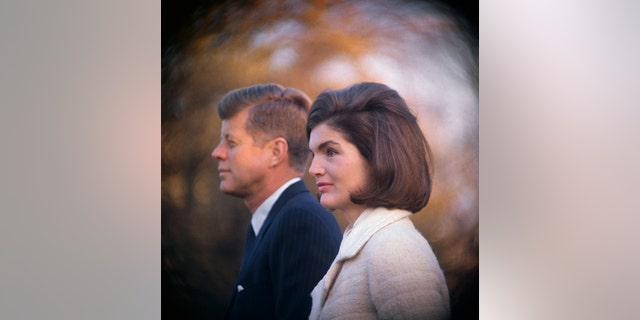 Jackie Kennedy refused to attend her husband's birthday celebration at Madison Square Garden after she learned that Marilyn Monroe would be present. (Getty Images)
"But it was really just a weekend," he continued. "JFK had so many affairs that Jackie likely thought it was more than just a weekend. But we should understand that Jackie really didn't know the extent of JFK's relationship with Marilyn."
"When Jackie learned that Marilyn was going to be singing 'Happy Birthday' to her husband, she put her foot down and said she was not going," said Taraborrelli. "If you think about this today, how scandalous it would have been? But that's what happened. Jackie said she wasn't going… And she had a barbecue with her family. She turned it into a family get-together. She chose to do that instead of being present that night. Marilyn was a sore topic for a lot of people back then."
For her performance, Monroe wore a flesh-colored Jean Louis dress made with 1,200 rhinestone beads. It created the illusion that she was nude.
'50S BLONDE BOMBSHELL CLEO MOORE, THE NEXT MARILYN MONROE, MAY HAVE DIED OF BROKEN HEART, AUTHOR CLAIMS
"Jackie felt Marilyn was too vulnerable, too weak to be played with by JFK or by anybody else for that matter," he said. "But her main concern was JFK. She knew what it took to be with a very powerful man. And great men like JFK have great flaws."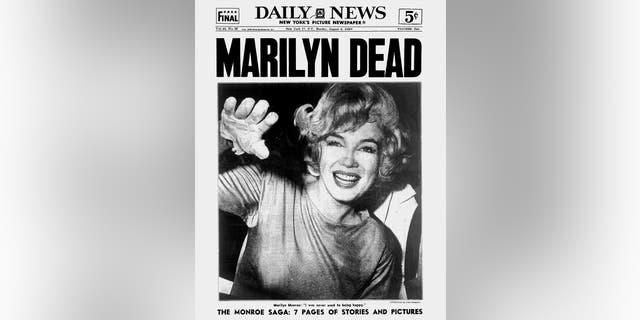 The front page of the Daily News announcing Marilyn Monroe's death. (NY Daily News Archive via Getty Images)
"But after Marilyn died, Jackie was very bereft by it," he shared. "She was deeply disturbed by it. She was unsettled by it. She had a vacation planned with her sister to go to Italy, and she very much wanted to cancel it. [Her son] John Jr. also had the flu, so she wasn't in a vacation state of mind.
"It was Lee who convinced her she should get away. Over the years, their trip had been painted as this happy-go-lucky excursion. But based on my research and the people I spoke to who were there at the time, Jackie was very much depressed during the entire time. It was a difficult vacation because she just wasn't in a place where she felt like celebrating anything."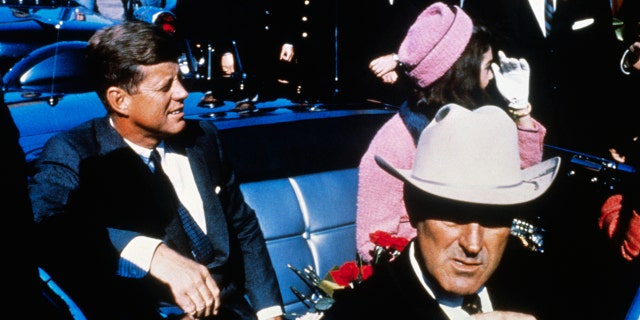 Jackie Kennedy suffered from PTSD following the assassination of her husband, President John F. Kennedy. (Getty Images)
It was during the '70s that Kennedy had begun sessions with psychoanalyst Dr. Marianne Kris. At the time, her second marriage had become tumultuous, and she was faced with "ongoing PTSD" following her first husband's death.
Kennedy's stepbrother, Hugh D. "Yusha" Auchincloss, discovered from several phone calls that Kris was once Monroe's psychiatrist. In February 1961, she institutionalized the actress at the Payne Whitney Psychiatric Clinic. Her ex-husband, Joe DiMaggio, released her against the doctor's will. Monroe then fired Kris.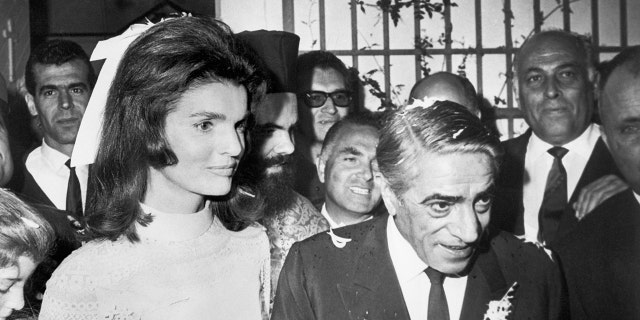 Jackie Kennedy's marriage to Aristotle Onassis lasted until his death in 1975. (Getty Images)
Kennedy was "hurt and angry."
MARILYN MONROE ASKED JUDY GARLAND THIS HAUNTING QUESTION, AUTHOR SAYS: 'THEY FELT FOR EACH OTHER'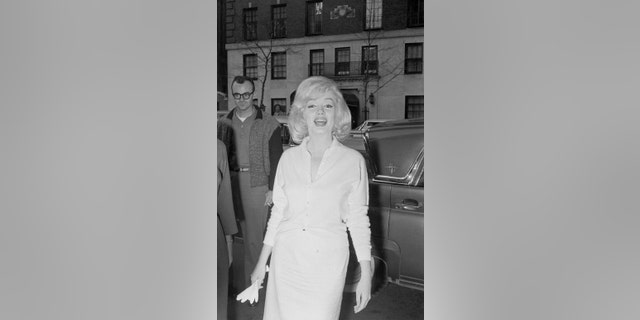 Marilyn Monroe leaves Payne Whitney Clinic, telling reporters, "I feel wonderful." (Getty Images)
Kris, "violating her earlier stated code of ethics," told Kennedy that she felt "fairly certain" that the call had been from Monroe. She said Monroe herself told her that she did call.
The doctor later told Dawn Morris, a student who assisted her in research, that she was "fascinated" by how moved Kennedy was by that phone call.