HBO host Bill Maher mocked the media for hyperventilating about conservative European political parties with far-right origins when the Democratic Party was pro-slavery.
Actor Russell Brand appeared as a guest on "Club Random with Bill Maher" and balked at how the term "far-right" is used loosely in modern times. He noted that in the past, people would tolerate different viewpoints because they would have people in their own families across the political spectrum able to "chat at Thanksgiving."
He quipped that the term "far-right" once had literal fascist connotations.
"That's a haircut, that's boots. You can't just be far-right because you're a traditional conservative person," he said.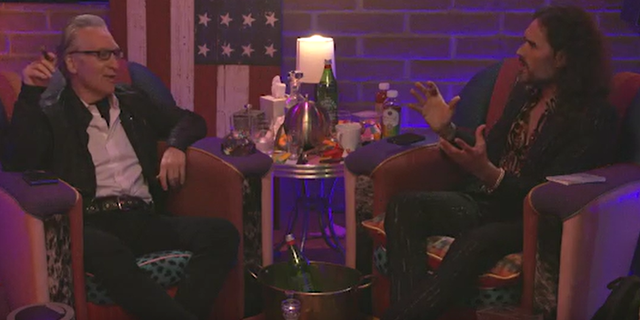 Bill Maher and Russell Brand chat on an episode of "Video – Club Random with Bill Maher."
COMEDIAN RUSSELL BRAND: 'FASCIST,' 'NAZI' JUST CONVENIENT TERMS FOR 'PEOPLE YOU DON'T AGREE WITH'
Maher recalled how newly elected Italian Prime Minister Giorgia Meloni was described as far-right and compared to former dictator Benito Mussolini by liberal news outlets.
"The papers were apoplectic," Maher said. "I've read some of her statements, it doesn't sound like fascism to me. It sounds like people we've heard in this country on the right – 'we need to not forget our roots' and traditional stuff like family, and you know I understand why there's a backlash to some of the s–t that's going on."
He paraphrased statements from her saying how she is proud to be a mother.
"That's not fighting words," Maher quipped.
He scoffed at Democrats hammering her party, the Brothers of Italy, for having fascist origins.
"They kept saying 'Her party has fascist roots,' so did the Democrats. They were the party of slavery and Jim Crow. Then they outgrew it," he said. "All our parties have roots, we all grow from corrupt places, and now I see she's invited to the White House."
He added, "I don't know who this broad is, I'm not defending her."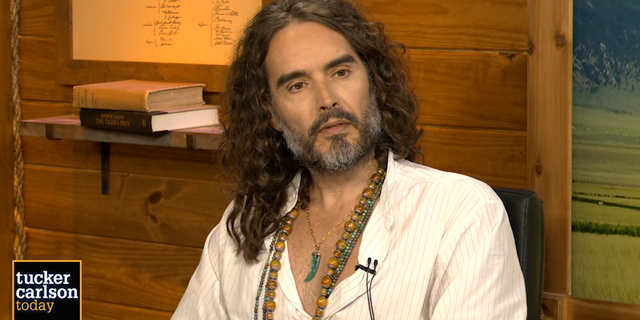 Actor and comedian Russell Brand sits down to talk to Tucker Carlson about his battle with addiction and attacks from the cancel culture mob. (Fox Nation/Tucker Carlson Today/Screengrab)
"All I'm saying is the immediate hair-trigger 'Oh my God, the world has ended, Italy has elected a fascist' it's just the kind of thing that makes me go don't trust you in the media, I just don't trust you," Maher continued.
RUSSELL BRAND INTERVIEWS COCA-COLA WHISTLEBLOWER ON BIG FOOD, DIABETES DRUGS: 'YOUR OBESITY IS THEIR PROFIT'
Brand responded by suggesting that the modern liberals are the face of the political establishment.
"Bill, I feel that the terrifying truth might be that the liberal establishment has been co-opted by the very interests that in the Bush-Cheney era we understood to be Republican," he said. "It has been co-opted by military industrial complex interests, it's been co-opted by pharmaceutical interests, it's been co-opted by financial interests, and they are simply unable to have the conversation about why there is not a political party that represents the interests of ordinary Americans."
Later in the same episode, Maher observed that the modern left are not the same advocates of free thought that they once were.
"When I was younger, there was no doubt in my mind who the champions of free speech were, and also the threat, and the threat was all on the right and the champions were on the left," he noted. "That's not how I feel now. So when people say now 'Why are you harder on the left?' Well that's one of the big reasons."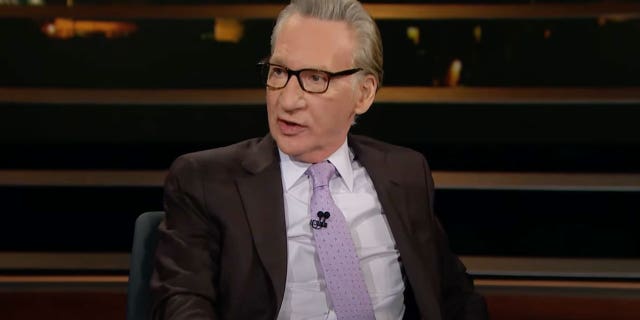 "Real Time" host Bill Maher has frequently made headlines for criticizing how "woke" politics has gone too far. (Screenshot/HBO)
CLICK HERE TO GET THE FOX NEWS APP
After criticizing Trump, saying that he only wasn't seen as more of a threat because many did not take his hyperbole seriously, "The left is much more in my face, much more constant, much more daily problem" later quipping that if anything, "maybe the woke people should apologize to me and all of the people like me for all the things they robbed us from ever hearing, jokes that were never told because someone was just too scared to say something."