It's definitely not coach class.
A one-of-a-kind Plymouth muscle car has been unearthed after being hidden away for 46 years.
The "Rapid Transit System" 1970 Plymouth 'Cuda was one of four custom cars built for a Caravan of Speed promotional tour.
Plymouth commissioned Hot Wheels designer Harry Bradley to pen special versions of several of its models to highlight the brand's performance image and sent them around the country to car shows and events.
AMELIA EARHART'S ONCE-LOST 1937 CORD ADDED TO NATIONAL HISTORIC VEHICLE REGISTER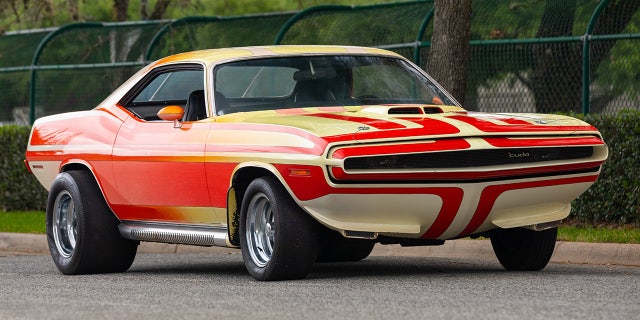 The Plymouth 'Cuda Rapid Transit System has been in storage since 1976. (Mecum Auctions)
The others have shown up in collections and at car auctions in the years since, but until this month the 'Cuda hadn't been seen since 1976.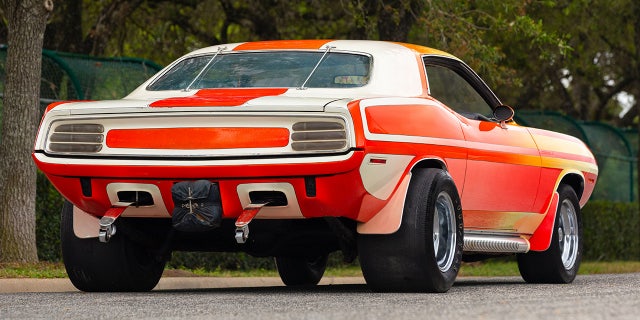 The car is equipped with a nonfunctional drag racing parachute. (Mecum Auctions)
YouTube channel Auto Archaeology documented the uncovering of the car, which had been stored in a garage all those years.
Its current owner, who remains anonymous, purchased it and drove it for a few weeks before putting it away in storage. The coupe remains all-original, including the 440 cubic-inch six-barrel V8 engine, and has just 967 miles on its odometer.
The 'Cuda is powered by a 440 six-barrel. (Mecum Auctions)
It has a custom nose cone, front pan, side exhaust pipes, a nonfunctioning drag racing parachute and extra wide rear tires. The graphic design is finished in lacquer paint, but the interior remains mostly stock.
CLICK HERE TO SIGN UP FOR THE FOX NEWS AUTOS NEWSLETTER
The car is equipped with its spare tire on the left front, but still has its original full-size wheel and tire, which is damaged and flat.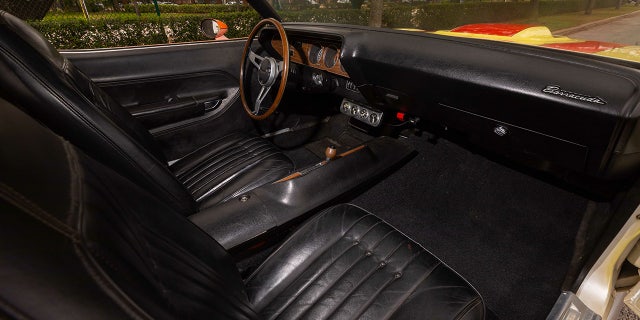 The interior is largely stock. (Mecum Auctions)
It is now being put up for sale at the Mecum Auctions event in Indianapolis on May 20.
CLICK HERE TO GET THE FOX NEWS APP
Mecum hasn't offered an estimate on its value, but if the other Rapid Transit System cars are anything to go by, it will be well into the six-figure range.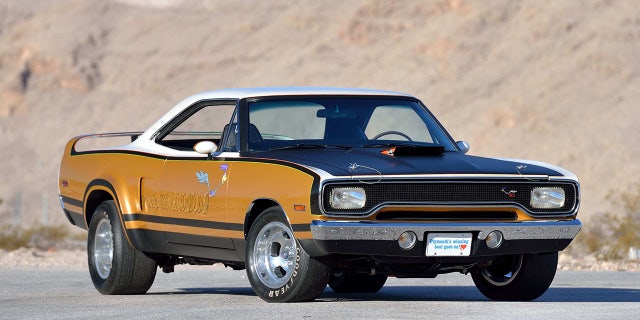 The Rapid Transit System 1970 Plymouth Road Runner was auctioned for $341,000. (Mecum Auctions)
A 1970 Road Runner was auctioned in 2019 after its owner's death for $341,000 and a Duster for $264,000.