Mariska Hargitay shared her thoughts on the enduring success of "Law & Order."
Ahead of being honored at the 33rd Annual Colleagues Spring Luncheon, the 59-year-old actress explained why she believes the police and legal procedural franchise has dominated the network TV landscape for over three decades.
In an interview with Fox News Digital, the "Law & Order: Special Victims Unit" star credited franchise creator/producer Dick Wolf's "great writing."
"Dick Wolf is truly a visionary," she said Tuesday. "And I think that's a very singular thing to be a true visionary who understands our culture in a very deep way, but also understands it's sort of ironic that a crime show would be actually calming in a way to our nervous system, knowing that somebody is out there taking care of it."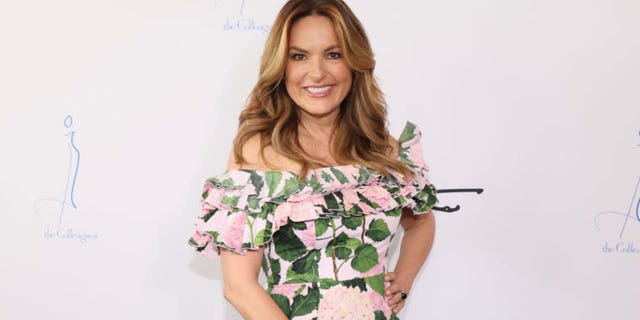 Mariska Hargitay shared her view on how crime shows are "actually calming." (Rodin Eckenroth/Getty Images)
She continued, "That our voices are heard and there are people that are on it. So that is it."
MARISKA HARGITAY JOKES ABOUT BEING LONGTIME 'LAW & ORDER' CO-STAR CHRIS MELONI'S 'SECOND WIFE'
"It's a very sort of interesting dichotomy," Hargitay added. "Because you think about a crime show, which normally should sort of upset your nervous system, actually can settle it down because of that."
Hargitay also weighed in on the enormous popularity of true crime and explained why she believes that the genre has such widespread appeal.
"I think that we're all fascinated with the human condition," the Emmy Award winner said. "We don't understand how people can do the things that they do."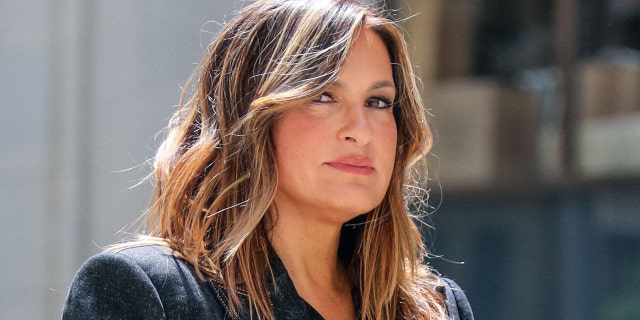 The 59-year-old actress has starred as Captain Olivia Benson on "Law & Order: Special Victims Unit" since 1999. (Jose Perez/Bauer-Griffin)
She continued, "But it's a very deep question, which is we are very complex beings, and we all have a lot of parts, and we're all capable of a lot of things. That's why working on ourselves and integrating ourselves and integrating our shadow and our light is one of the most important things we can do in our evolution."
"So I think that's the key to it — is that we all know what we're capable of, and we all have to take responsibility for our humanity."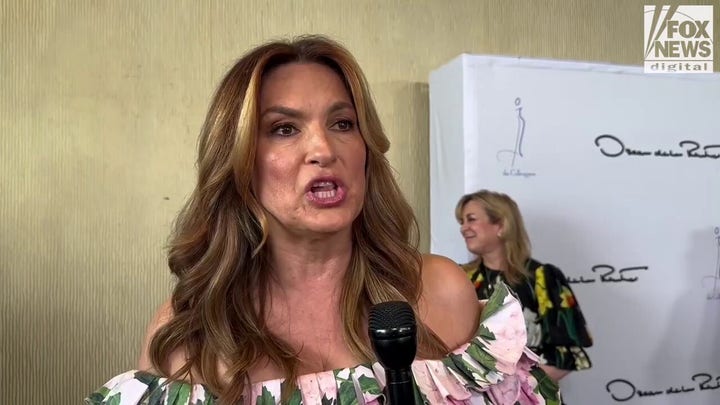 Video
The franchise's flagship show "Law & Order" originally ran for 20 seasons from 1990 to 2010 on NBC. In 2021, the series was revived, and it was green-lit for a 23rd season earlier this month.
"Law & Order's" success spawned seven spinoffs including "Special Victims Unit," "Criminal Intent," "Trial by Jury," "LA," "UK," "True Crime" and "Organized Crime."
In 2019, "SVU" became the longest-running live-action television series in history. Hargitay has starred as Detective Olivia Benson in the police procedural since its premiere in 1999 and became an executive producer in 2016.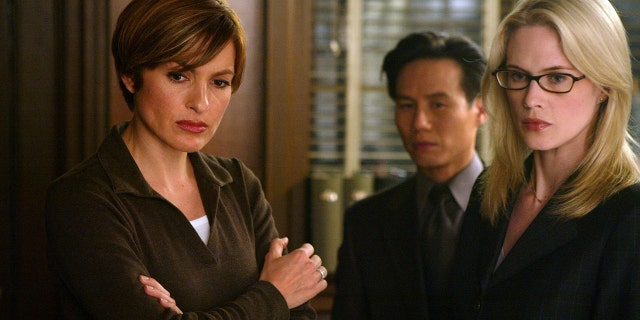 Mariska Hargitay, left, also weighed in on America's obsession with the true crime genre. (Photo by Will Hart/NBCU Photo Bank/NBCUniversal via Getty Images via Getty Images)
"SVU" follows detectives working in the New York City Police Department's Special Victims Unit, who investigate crimes involving sexual assault and abuse. Inspired by fan mail she received after playing Benson, Hargitay decided to carry out her character's mission in real-life.
In 2004, she founded the Joyful Heart Foundation, a non-profit organization dedicated to helping domestic violence and child abuse survivors. At the 33rd Annual Colleagues Spring Luncheon, held Tuesday at the Beverly Hilton Hotel in Beverly Hills, Hargitay received the Champion of Children award.
The award was presented by The Colleagues, a nonprofit organization that supports and raises funds for the Children's Institute. At the event, the California native told Fox News Digital that she was thrilled to receive the honor.
RICHARD BELZER MOURNED BY MARISKA HARGITAY, CHRIS MELONI, BILLY CRYSTAL AND MORE
"It means everything to me because it's what I've been working for is to inspire," Hargitay said. "That has been probably my lifelong dream since I was a little girl. And children are everything. And children in the work that I do obviously have not been protected."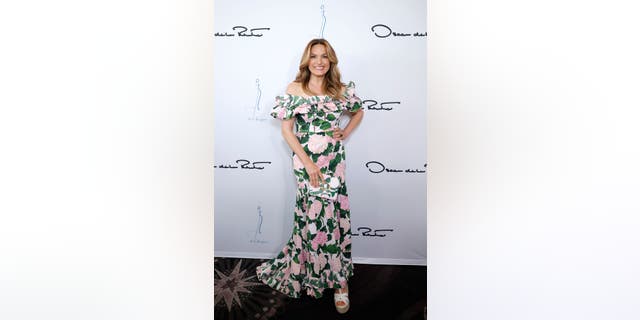 The actress, who is founder and president of the nonprofit organization the Joyful Heart Foundation, received the Champion of Children award at the 33rd Annual Colleagues Spring Luncheon. (Stefanie Keenan/Getty Images for The Colleagues)
She continued, "To be somebody who stands up for children and protects them is a dream come true. And to be honored for that and to be among these people, the champions for change and the courage to change is deeply meaningful to me."
Hosted by actress and comedian Ali Wentworth, the Colleagues Spring Luncheon also featured a fashion show from presenting sponsor Oscar de la Renta's Fall 2023 collection that was designed by the famed fashion house's co-executive directors Laura Kim and Fernando Garcia.
Ahead of the luncheon, Wentworth explained why it was important for her to be a part of the event.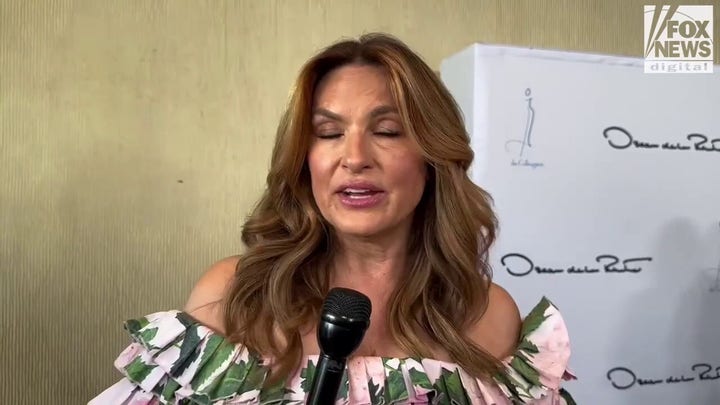 Video
"I'm a big child advocate and The Colleagues really support child charities, which I'm a big believer in, especially now at this point in our world," she told Fox News Digital. "So the combination of that and to honor Mariska, who's my best friend and does tremendous work in the world, how could I say no?"
"I honor her every day," Wentworth continued with a laugh. "But it's nice to be here. I like to be present when she's awarded for so much that she does when she's not Olivia Benson. Which is a lot."
For the event, Hargitay donned a white, pink and green floral off-the-shoulder Oscar de la Renta dress that was designed by Kim.
CLICK HERE TO SIGN UP FOR THE ENTERTAINMENT NEWSLETTER
In an interview with Fox News Digital, Kim and Garcia praised Hargitay.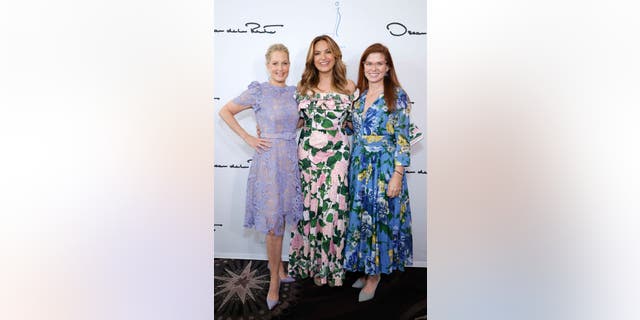 Mariska Hargitay, middle, was joined by her close friends Debra Messing and Ali Wentworth, left, who also hosted the event. (Stefanie Keenan/Getty Images for The Colleagues)
"I got to meet Mariska for the first time last night, and I think it's wonderful that we get to combine both of our causes at such a beautiful event," Garcia said. "She is so vivacious, so strong and so warm. So we're very happy to honor her and have her join our little once-a-year family reunion that we do here at Colleagues."
"I love her energy," Kim said. "I love how she is presenting the dress."
"She looks like she's having fun in it," Garcia added.
The design directors also discussed their partnership with another famous face — Meghan Markle.
"She reached out to us when she wanted to have an American brand represented in the royal wedding, and we've kept in touch since," Garcia recalled. "I thought it was a very important thing to have an American brand represented there. And she made that happen for us so that was pretty incredible."
CLICK HERE TO GET THE FOX NEWS APP
Garcia went on to say that the Duchess of Sussex was "very nice" and provided "great" input.
"Everybody has an opinion about what they should look like, and she very much had that," he said. "We work really well with her."