Vice President Kamala Harris visited Nashville, Tennessee on Friday to meet with Democratic lawmakers who have been expelled from the General Assembly.
Harris met with Democratic Reps. Justin Jones and Justin Pearson, two state lawmakers who were removed from the assembly after leading protests on the House floor following the Covenant School shooting.
BIDEN CONDEMNS TENNESSEE HOUSE EXPULSION VOTE AND CALLS FOR GUN CONTROL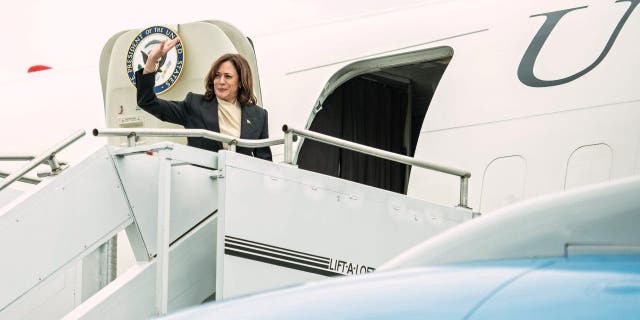 Vice President Kamala Harris departs Chattanooga Metropolitan Airport in Chattanooga, Tennessee, Thursday, April 6, 2023. (Andi Rice/CNP/Bloomberg via Getty Images)
She also met with groups of young protesters who have protested for tighter gun control following the tragic massacre.
"While in Tennessee, the Vice President will make clear what happened in Nashville, continue to call on Congress to renew the assault weapons ban and ensure that in Tennessee and across the nation, the voices of our young people are heard.," a White House official told Fox News.
CHAOS ERUPTS AGAIN AT TENNESSEE CAPITOL AMID VOTE TO EXPEL DEM LAWMAKERS FROM OFFICE OVER HOUSE FLOOR PROTEST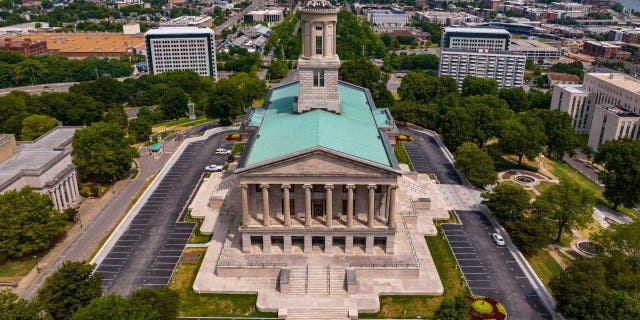 Drone view of Tennessee State Capitol.  (Joe Sohm/Visions of America/Universal Images Group via Getty Images)
The GOP-controlled Tennessee legislature voted to expel Jones and Pearson for "disorderly behavior" after they stormed the Capitol building with anti-gun protesters following the shooting at a Nashville, Tennessee, private Christian school that left three staff members and three 9-year-old children dead.
A third Democrat, Rep. Gloria Johnson, came within one vote of also being expelled on similar grounds.
DEMOCRAT LAWMAKER SUGGESTS SHE AVOIDED EXPULSION FROM TENNESSEE LEGISLATURE BECAUSE SHE IS WHITE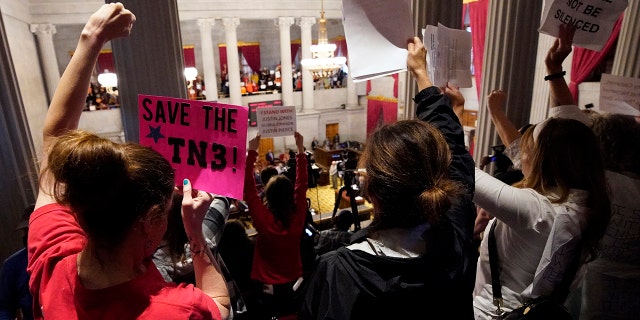 Gun reform and "Tennessee Three" supporters raise signs in the gallery of the House chamber Thursday, April 6, 2023, in Nashville, Tennessee. (AP Photo/George Walker IV)
Democrats in the highest levels of government have condemned the expulsions, referring to the group of lawmakers as the "Tennessee Three."
"Today's expulsion of lawmakers who engaged in peaceful protest is shocking, undemocratic, and without precedent," Biden said Friday. "Rather than debating the merits of the issue, these Republican lawmakers have chosen to punish, silence, and expel duly-elected representatives of the people of Tennessee."
CLICK HERE TO GET THE FOX NEWS APP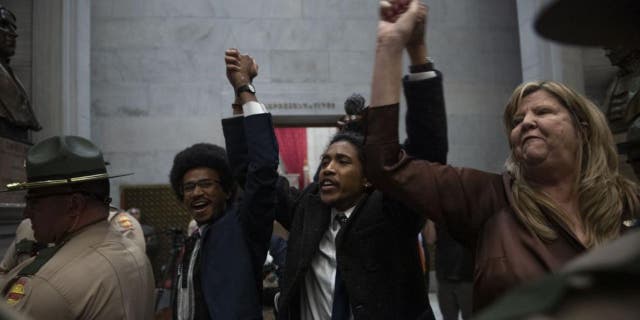 Rep. Justin Pearson, Rep. Justin Jones, Rep. Gloria Johnson People hold their hands up as they exit the House Chamber doors at Tennessee State Capitol Building in Nashville, Tenn., Monday, April 3, 2023. (Nicole Hester /The Tennessean via AP)
Harris is expected to land in Nashville on Friday afternoon.
Fox News' Chris Pandolfo, Kaitlin Sprague and Landon Mion contributed to this report.