Prime Minister Justin Trudeau blamed the "American right-wing" for Canadian Muslims' opposition to gender ideology and LGBTQ curriculum in K-12 education.
The video was of Trudeau speaking with the Muslim community last week at a Calgary mosque – Baitun Nur Mosque – after hundreds of protesters rallied against gender ideology in schools, chanting "Leave our kids alone."
The frustration reached a boiling point after audio surfaced of an Edmonton Public Schools teacher berating Muslim students for skipping school in order to avoid pride events.
"It goes two ways. If you want to be respected for who you are, if you don't want to suffer prejudice for your religion, your color of skin or whatever, then you better give it back to people who are different from you. That's how it works," said the teacher.
Trudeau's office did not immediately respond to a request for comment.
On June 25, in Calgary, Alberta, hundreds of protesters screamed "Leave our kids alone!" and "Our kids, our choice!"
"My brothers and my sisters. We cannot stay hidden anymore for [the issue is]… getting closer to each and every one of us," said Mahmoud Mourra at the event. "If you're not a father today, tomorrow you will be. If you're not a mother today, tomorrow will be. You'll have a daughter. Or do you have a son who is of minor age? He's so vulnerable, and you have some hyenas and really powerful predators they are willing to go. They to do whatever they can take your… kids away from you."
DAD FUMES ABOUT 9-YEAR-OLD SON BEING ASKED BY DOCTOR IF HE'S GENDERFLUID IN VIRAL VIDEO: 'THIS IS BULLS–T'
"But they are weaponizing the issue of LGBT, which is something that, yes, Islam has strong opinions on. The same way that the religious right in Canada, the Christian right, has strong opinions against as well. They are using those fears to drive a wedge between a government that will always stand up for all your rights."
"Just like I will always stand up for the rights of LGBT kids, including if they're LGBT Muslims… We're going to defend your rights even when you disagree with us defending other people's rights."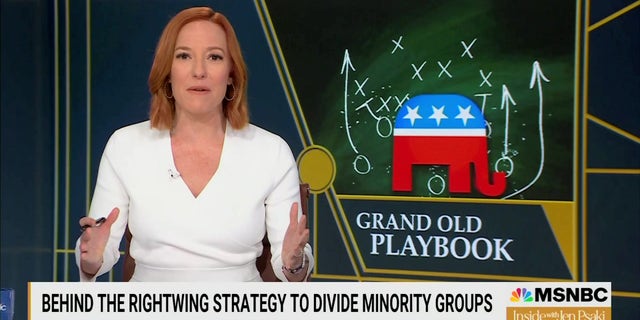 MSNBC host Jen Psaki discusses Muslims opposing LGBTQ curriculum. (MSNBC/screenshot)
Edward Ahmed Mitchell, the national deputy director at CAIR, said, it was time for "liberal commentators" like MSNBC's Psaki "to accept that Muslim parents are independent, intelligent people speaking for themselves."
CAIR is the "largest Muslim civil rights organization" in America.
NEW YORK TEACHER 'FORCED' AND 'MANIPULATED' 5TH-GRADER TO BECOME TRANSGENDER, CAUSING SUICIDAL IDEATION: SUIT
Another activist, Sameerah Munshi of the Muslim-led organization called the Coalition of Virtue said at a board meeting in Montgomery County, Maryland, "Our faith is not partisan and our people are not backward."
"Part of the American dream of our people is that they pass on their values to their children. But members of this school board have mocked our values."