John Regan, an accomplished bassist who played with Peter Frampton, David Bowie and Mick Jagger, died on Friday. He was 71.
His cause of death is currently unknown.
Frampton, along with a handful of musicians Regan performed with through the years, mourned his loss on social media.
"There might only be a handful, if that, of people who come into your world and truly enrich your life. I have lost one of my closest buddies," Frampton wrote on Twitter. "He certainly enriched my life because of the person and the great player he was. John Regan was the best of us."
COOLIO'S CAUSE OF DEATH REVEALED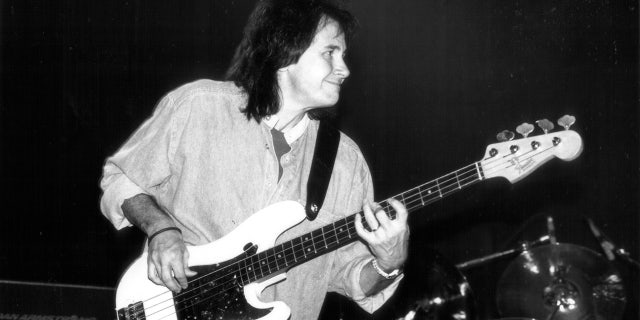 John Regan, a bassist who played with Peter Frampton, died Friday. He was 71. (Jim Steinfeldt)
"He went out of his way to help people when things weren't right," Frampton continued. "It didn't matter who you were, prince or pauper. I know there are many of you out there who knew him. He was a friend to all. Always musically inspiring and one of the funniest people on the planet."
PETER FRAMPTON SAYS HE'S SUFFERING FROM A DEGENERATIVE MUSCLE DISEASE, ANNOUNCES FAREWELL TOUR
Frampton continued, "My thoughts are with his wife Cathy, his children, Christopher and Jeness and his grandchildren. I love you my brother you will be missed by so many. rest in peace."
Vocalist Tod Howarth, who performed with Regan and ex-Kiss guitarist Ace Frehley in the band Frehley's Comet, shared an emotional tribute on Facebook to the "world class talent."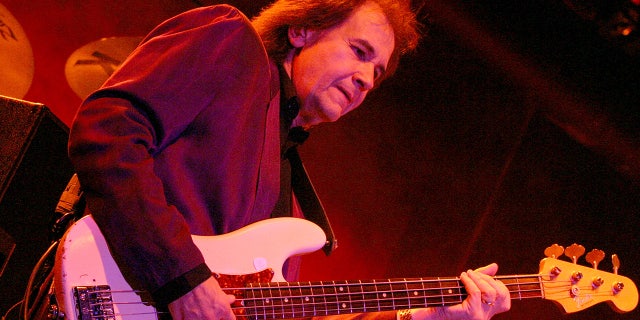 Regan recorded with Billy Idol, David Lee Roth and Scandal, including Patty Smyth. (Nick Valinote)
Howarth spoke to Regan on the phone just yesterday morning by accident, saying the call had been a signature Regan "butt dial."
"When I texted him 'You rang?' he responded, 'Not that I know of' and said that he hoped he didn't wake me up. I replied, 'No worries I was about to walk the dog,'" Howarth wrote. "This would be the last time I got to 'speak' with my dear friend of 38 years because I never got to call him back before I got a devastating request from a mutual friend to 'please call.'
CLICK HERE TO SIGN UP FOR THE ENTERTAINMENT NEWSLETTER
"John of course was a world class talent and an incredible human being and from a personal level, he was responsible for me joining him with Ace and Anton."
Bruce Kulick, a former member of the band Kiss, remembered Regan as a "fantastic musician and wonderful person."
The Chance Theater, a legendary music venue in Poughkeepsie, New York where Regan played for decades, mourned his loss.
"We are sad to announce the passing of one of our Chance family, John Regan," they shared on Facebook. "John was an incredible musician, a rockstar, but most of all, he was one of the nicest, most humble humans you've ever known. John, you will be missed by all of us who had the honor of knowing you. RIP."
Regan met his wife at The Chance, and even credited the venue with jumpstarting his career.
"When I started playing there, it was when I really made the decision that I wanted to make music a lifelong profession," Regan told the Poughkeepsie Journal in 2017. "So many milestones of my life have been on that stage. That's my home base right there."