The special inspector general charged with oversight of U.S. taxpayer aid to Afghanistan on Wednesday slammed the Biden administration for an "unprecedented" lack of cooperation with his watchdog office.
John Sopko, the special inspector general for Afghanistan reconstruction (SIGAR), called on lawmakers to end "obfuscation and delay" by the State Department in turning over information that would allow him to conduct full oversight over the more than $8 billion in U.S. funding made available to the Afghan people since President Biden withdrew military forces from the country in 2021.
In testimony to the House Committee on Oversight and Accountability, Sopko warned that the Taliban is likely pilfering funds meant to assist the people of Afghanistan. That money includes $2 billion, about 60% of which is food aid, as well as funds for health care, agriculture, civil society and human rights.
"I would just say I haven't seen a starving Taliban fighter on TV. They all seem to be fat, dumb and happy. I see a lot of starving Afghan children on TV. So, I'm wondering where all this funding is going," Sopko said.
AFGHANISTAN IG REPORT HAMMERS BIDEN ADMINISTRATION FOR 'DYSFUNCTION' DAYS AFTER WHITE HOUSE BLAMES TRUMP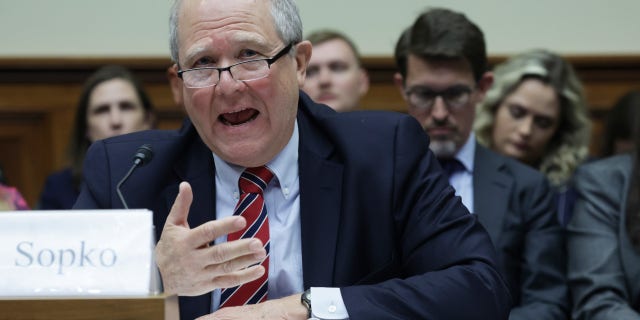 Special Inspector General for Afghanistan Reconstruction John Sopko testifies during a hearing before the House Committee on Oversight and Accountability at the Rayburn House Office Building April 19, 2023. (Alex Wong/Getty Images)
In his opening remarks, Sopko told lawmakers he could not guarantee that American taxpayer dollars are not funding the Taliban. "Nor can I assure you that the Taliban are not diverting the money we are sending from the intended recipients, which are the poor Afghan people," he said.
A SIGAR report released just before Sopko's testimony detailed the "serious risks" posed to U.S.-funded programs in Afghanistan. The special inspector general named Taliban interference with the United Nations and nongovernmental organizations (NGOs) as the top concern for oversight bodies.
According to the report, the Taliban accesses international funds by levying customs charges on imports and taxes and fees on NGOs. Though official U.S. policy is to continue supporting the Afghan people without assisting the Taliban regime in any way, the report details how rampant corruption and interference from the radical Islamist government have severely undermined those efforts.
The SIGAR also raised concerns with the multilateral organizations the U.S. partners with to deliver aid to Afghanistan. Previous reports have found the NGOs receiving taxpayer dollars "have not provided information or oversight necessary to make informed decisions about program effectiveness," the report states. Since withdrawal, the U.S. has lacked in-person visibility of how its money is spent, and that has exacerbated problems with waste, fraud and abuse, according to the SIGAR report.
BIDEN ADMIN REVIEW OF AFGHANISTAN WITHDRAWAL REPEATEDLY BLAMES TRUMP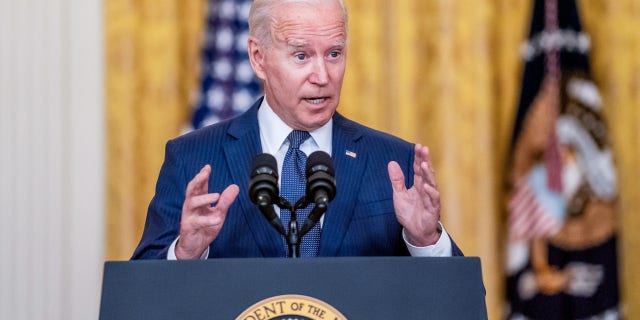 President Biden delivers remarks on the evacuation of American citizens and their families, SIV applicants and their families and vulnerable Afghans from Afghanistan in the East Room of the White House complex Aug. 20, 2021, in Washington, D.C. (Kent Nishimura/Los Angeles Times via Getty Images)
Sopko condemned the State Department and the United States Agency for International Development (USAID) for failing to comply with SIGAR audits and other inquiries, which he said makes oversight even more difficult.
"The lack of cooperation by State … is unprecedented in the nearly 12 years that I have been the SIGAR, and I must add, in the two decades that I did congressional oversight both in the Senate and in the House," Sopko said.
MCCAUL SAYS BLINKEN TRYING TO 'STONEWALL' AFGHANISTAN SUBPOENA FOR KEY WITHDRAWAL DOC AS HEARINGS BEGIN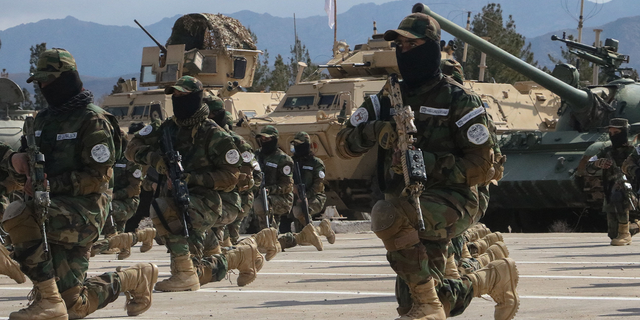 Newly recruited personnel joining Taliban security forces demonstrate their skills during their graduation ceremony in Herat Feb. 9, 2023. (Mohsen Karimi/AFP via Getty Images)
He indicated that the Biden administration's "refusal to fully cooperate" has led to numerous SIGAR reports being "hindered and delayed."
"We need your help to stop this obfuscation and delay by the Department of State and, to some extent, by USAID," Sopko told the Oversight Committee.
"We cannot abide a situation in which agencies are allowed to pick and choose what information an IG gets, or who an IG can interview or what an IG may report on," he added. "If permitted to continue, it will end SIGAR's work in Afghanistan but also Congress' access to independent and credible oversight of any administration."
CLICK HERE TO GET THE FOX NEWS APP
A State Department spokesperson told Fox News Digital that it supports SIGAR's mandate to audit funds spent on reconstruction efforts in Afghanistan, but that it had raised still-unresolved questions related to SIGAR's jurisdiction with respect to activities in the country after the U.S. withdrawal in 2021.
The spokesperson said that the Department, along with USAID, had provided responses to dozens of questions from SIGAR and are regularly with SIGAR within the scope of its statutory mandate.
They added that the Department would continue to cooperate with oversight bodies, including Congress and agency Inspectors General, and insisted that it does not provide funding to the Taliban.