A man in India has been arrested for allegedly gifting a music system rigged with explosives that killed the groom of his former lover, according to reports.
On Saturday, one day after the wedding, the groom, identified as 25-year-old Hemendra Merawi, and his brother, 30-year-old Rajkumar, were inside a home unwrapping the system. When they set it up and turned it on, the device exploded, The Express reported.
Five other family members were injured. Both men were killed.
The blast was so big, it blew off the roof of a nearby home and damaged three walls.
WELL COLLAPSE AT INDIAN TEMPLE KILLS AT LEAST 8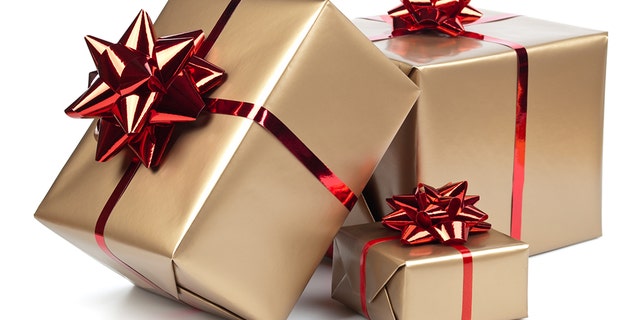 Gold gift boxes with red ribbon on white. A man in India rigged a music sound system with explosives and hid it among the wedding gifts for his former lover and her groom, who was killed.  (iStock)
The suspect, Sarju Markam, 33, was arrested Monday at his job where he works as a car mechanic. Markam, who is married with children, was upset after the bride rejected his desire to have her as his second wife, police said.
He was reportedly upset by her marriage. At one point, he called Hemendra and threatened him, police said.
"They had an altercation. Hemendra also had a talk with his fiancé and the issue was settled," Superintendent of Police Lal Umed Singh told The Express.
CLICK HERE TO GET THE FOX NEWS APP
Authorities suspect Markam allegedly used ammonium nitrate he stole from a previous job in 2015 to make the explosive device. He also allegedly used gasoline and several other materials.
He allegedly had a friend drive him to the wedding venue where he placed the bomb under several gifts and left. Markam faces life in prison.