FIRST ON FOX: Hunter Biden's attorney had a 2016 meeting with then-Vice President Joe Biden at the White House the same day the attorney met with Hunter to discuss a subpoena related to the federal investigation into Hunter's business partner, Devon Archer, records show.
On March 23, 2016, Hunter sent an email to Eric Schwerin, then-president of Hunter's now-defunct investment firm Rosemont Seneca Partners and attorney Christopher Boies, saying he had received a subpoena from the U.S. Securities and Exchange Commission (SEC) seeking information related to an investigation into Archer, the firm's then-CEO.
"I received a SEC subpoena for any information I have related to the situation Devin [sic] is dealing with," Hunter wrote. "I don't have any relevant information that I know that of, but I wanted to coordinate with the same team representing Devon if that is appropriate. Let me know how to proceed. Thanks, Hunter."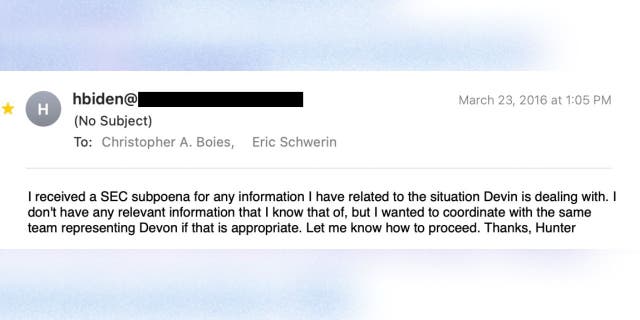 In a March 2016 email, Hunter Biden told longtime business partner Eric Schwerin that he "received a SEC subpoena for any information" he had regarding the investigation into Devon Archer. (Fox News Digital)
BIDEN'S CLAIM TO HAVE NO KNOWLEDGE OF HUNTER'S BUSINESS DEALINGS IS BECOMING HARDER TO MAINTAIN
Less than two weeks later, on April 4, Hunter was scheduled to meet with attorneys "George Mesires and Michael MacPhail in office to discuss subpoena," according to an email to Hunter from Joan Mayer, a top staffer at Rosemont Seneca. Days earlier Mesires referred to MacPhail as a "Big SEC investigations guy" in an email to Schwerin. Schwerin then forwarded the email to Hunter.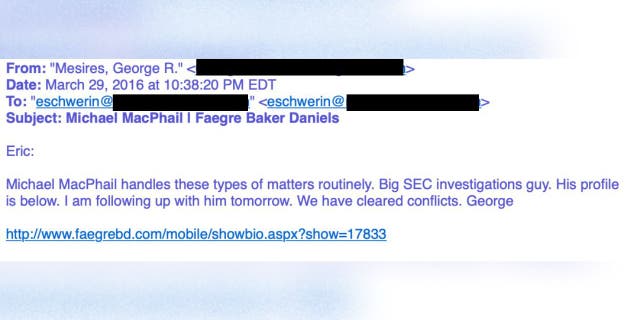 George Mesires introduced Michael MacPhail to Eric Schwerin, calling him the "Big SEC investigations guy." (Fox News Digital)
It is unclear what the trio discussed in the Rosemont Seneca office regarding the subpoena, but the White House visitor logs show that Mesires met with Biden at the White House that same day.
While Hunter was also scheduled to attend a Greek Independence Day reception later that day at the White House with his father, according to Mayer's email, the visitor logs do not show Mesires attending the Greek event.
Hunter was listed as attending the Greek event at 3:15 p.m. and meeting with his father in the West Wing at 4:15 p.m.
Mesires was listed as meeting with Biden 15 minutes later at 4:30 p.m.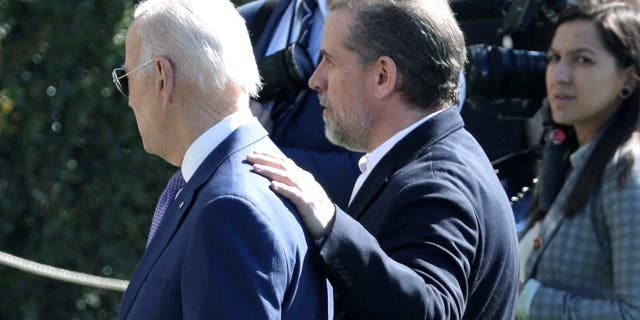 U.S. President Joe Biden (L) and his son Hunter Biden (2nd L) attend the annual Easter Egg Roll on the South Lawn of the White House on April 10, 2023, in Washington, D.C. (Photo by Alex Wong/Getty Images)
JOE BIDEN MET WITH AT LEAST 14 OF HUNTER BIDEN'S BUSINESS ASSOCIATES WHILE VICE PRESIDENT
The White House, MacPhail, and Mesires did not respond to Fox News Digital's inquiries asking the nature of Mesires' meeting with Biden or whether the subpoena was discussed.
A little over a month after the trio met in April 2016, Hunter, Schwerin, Mesires, and others were exchanging emails when reports started to drop about Archer being accused of "selling fake bonds" and facing "securities-fraud charges related to alleged tribal bond scheme."
It was relayed from a crisis communications firm to Hunter Biden and Schwerin that a Reuters article didn't mention Archer or Hunter.
In response to a Wall Street Journal report on the same day, Hunter said, "Thoughts? I don't think this is good when 1/3 of the story is about our relationship- 5 of 16 paragraphs. Anyway we can push back harder."

Hunter Biden expressed concerns in May 2016 about a Wall Street Journal report, saying, "I don't think this is good when 1/3 of the story is about our relationship," referring to Devon Archer. (Fox News Digital)
"There are no allegations you had anything to do with this only that you do business together. Still not good but not sure how we push back without inviting more questions but defer to our experts," Schwerin said, trying to reassure Hunter. "About what we should expect from WSJ given their previous articles."
Schwerin would later claim in an email about the WSJ article that "Devon never 'worked' for RSP, he is currently a partner in it along with Hunter and me but RSP itself is an empty shell of a company that holds no assets once it sold RSA to Burnham."
Robert Hoopes, a former Biden aide and crisis communications expert who frequently emailed with Hunter, told the group that the WSJ article was "better than I hoped for based on" the conversations with the reporter. He added, "We aren't in the headline or the lead paragraphs. And frankly I thought we might be. It's good we sent Chris the note tonight clarifying that we aren't connected to Devon in this."
"All the quotes in this piece are from lawyers defending clients named in the complaints and we aren't part of the list which is also good," he continued. "We aren't named and thus not commenting. We can consider being more aggressive in a separation strategy and/or letting BAM take point."
A jury convicted Archer of conspiracy to commit securities fraud and securities following a 2018 trial and he was later be sentenced to federal prison for a year and a day in February 2022 for his role in a scheme to defraud a Native American tribe.
Archer and his co-defendants were alleged by prosecutors as having purchased more than $60 million in bonds from the Oglala Sioux, which was then used to "build a financial services mega-company" instead of holding the bonds for annuity.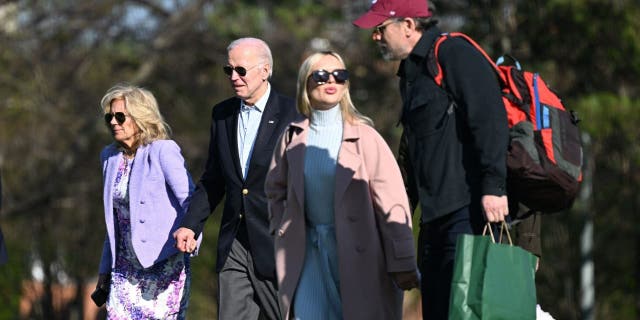 US President Joe Biden, First Lady Jill Biden, Hunter Biden, and his wife Melissa Cohen walk to the motorcade after arriving on Marine One at Fort McNair in Washington, D>C., on April 9, 2023. (Photo by ANDREW CABALLERO-REYNOLDS/AFP via Getty Images)
CLICK HERE TO GET THE FOX NEWS APP
Fox News Digital previously reported that Archer visited Biden's vice presidential residence for a holiday reception in December 2009, and he met with Biden in the West Wing in April 2014. He also played golf with Biden and Hunter at least once during the Obama administration in August 2014 in the Hamptons, four months after he and Hunter joined the board of Ukrainian gas company Burisma Holdings.
In fact, records show Biden met with more than a dozen of Hunter's business associates, and some of those associates and top staffers at Rosemont Seneca visited the White House more than 90 times when he was vice president in the Obama administration, making the president's repeated insistence that he had no knowledge of his son's business dealings harder to maintain.
President Biden is currently touring Ireland with Hunter and his sister and former campaign manager, Valerie Biden Owens, as dual investigations into the Biden family feat up.
Fox News' Houston Keene and Matteo Cina contributed to report.