Human rights advocates are using the recent U.S. visit of Indian Prime Minister Narendra Modi as an opportunity to raise the alarm about the reported spike of persecution against Christians in India.
"What we are seeing in India is a religious freedom crisis," Sean Nelson, legal counsel for Global Religious Freedom for ADF International, said in a statement.
"Christians and other religious minorities are systemically targeted in India by radical Hindu nationalist mobs, who carry out widespread violence and harassment with impunity," Nelson said. "No person should be persecuted, harassed, or killed for simply living out their faith."
"The government of India should work to put an end to the violence and reform any laws that restrict freedom of religion and implicitly encourage such violence. President Biden and other world leaders should speak clearly about the deteriorating religious freedom conditions in India and encourage the Indian government to work to reverse this trend," Nelson added.
The Christian groups pleaded for both a government investigation and for police to protect churches.
The Indian government dismissed such claims as based on "half-baked and self-serving facts and self-serving articles and reports… based upon mere conjecture," and speculated on "some hidden oblique agenda" driving the petitioners, according to the Hindustan Times.
INDIAN BISHOP DENOUNCES 'OPEN SEASON' AGAINST CHRISTIANS AS STATES PASS 'ANTI-CONVERSION' LAWS
CHRISTIAN FORUM ASKS BISHOPS IN INDIA TO TAKE STAND AGAINST RISING ANTI-CHRISTIAN VIOLENCE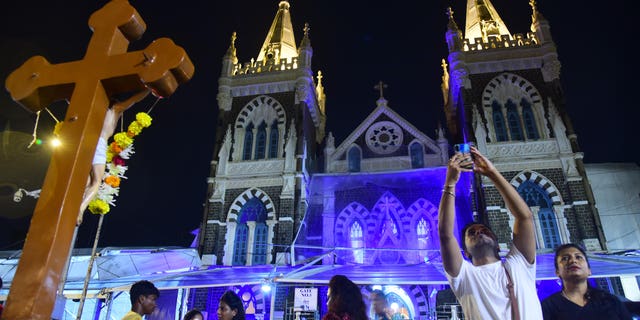 Christian devotees gather for a mass at Mount Mary Church on the eve of Mount Mary Fair, at Bandra, on Sept. 10, 2022, in Mumbai, India. (Vijay Bate/Hindustan Times via Getty Images)
"In many cases, the mob has burned a church or house belonging to a Meitei Christian but has not damaged their neighbor's door if they are not a Christian," a human rights lawyer associated with ADF International said on condition of anonymity. "Christians are facing hostility by the Meiteis on the basis that they are Christians."
"The people are deeply shocked. Through our work, we want to help stop the violence in Manipur, protect religious institutions, allow Christians to practice their faith freely and facilitate compensation for survivors," the lawyer said.