NASA's Hubble Space Telescope has captured a jellyfish galaxy which lies more than 900 million light-years away.
Known as JW39, the galaxy is located in the constellation Coma Berenices.
It is one of several jellyfish galaxies that the observatory has been studying over the course of the past two years.
The jellyfish galaxy may appear serene, but NASA noted it is adrift in a "ferociously hostile" galaxy cluster.
The plasma is known as the intracluster medium.
NASA'S WEBB SPACE TELESCOPE, CHANDRA TEAM UP FOR STUNNING COMPOSITE IMAGES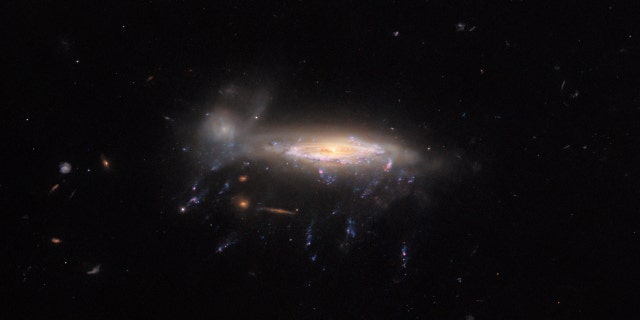 This image taken with the NASA/ESA Hubble Space Telescope shows JO204, a 'jellyfish galaxy' so named for the bright tendrils of gas that appear in this image as drifting lazily below JO204's bright central bulk. The galaxy lies almost 600 million light-years away in the constellation Sextans. Hubble observed JO204 as part of a survey performed with the intention of better understanding star formation under extreme conditions. (Image credit: ESA/Hubble & NASA; M. Gullieuszik and the GASP team)
Galaxies moving through the plasma do so like swimmers battling a strong current.
CLICK HERE TO GET THE FOX NEWS APP
The pressure of the intracluster medium stripped away gas and dust from JW39 as it moved through the cluster, creating long ribbons of star formation that stretch away from the galaxy.
Astronomers used the telescope's Wide Field Camera 3 to study the tendrils.