Department of Health and Human Services Secretary Xavier Becerra told a CNN host on Sunday that anything is possible when it comes to ensuring American women have access to abortion pill mifepristone.
In a controversial ruling, Trump-appointed U.S. District Judge Matthew J. Kacsmaryk issued an injunction against the FDA's approval of mifepristone as a lawsuit contesting the drug's safety and approval proceeds through federal court. Politicians such as Senate Majority Leader Chuck Schumer, D-N.Y., condemned the decision, warning that it "could throw our country into chaos."
According to the Food and Drug Administration, mifepristone is used with another medication called misoprostol to end a pregnancy that has been developing for less than 70 days. The drug works by blocking progesterone, an essential hormone for a pregnancy to continue.
CNN "State of the Union" host Dana Bash asked Becerra about the challenges to the ruling, noting the rhetoric of other national leaders in response.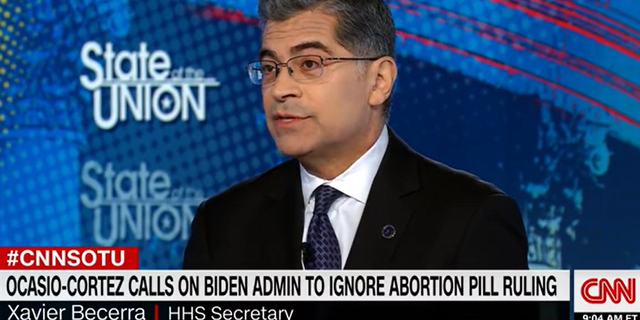 Secretary of the Department of Health and Human Services Xavier Becerra speaks on CNN about a controversial abortion pill ruling.
FEDERAL JUDGE ISSUES DUELING DECISIONS ON ABORTION DRUG MIFEPRISTONE
"My next guest, Democratic Congresswoman Alexandria Ocasio-Cortez, thinks that the FDA should just ignore the Texas judge's ruling. And you know she's not alone," Bash said. "I'm sure you have seen some legal experts argued the FDA does have broad discretion to simply choose not to enforce a ban and allow the drug to remain on the market. So, yes or no, as the HHS secretary, do you want the FDA to enforce the Texas ruling if it is upheld in the short term?"
After Becerra initially suggested the worst case scenario for the pill's supporters is improbable, Bash asked further, "But are you taking it off the table that you will recommend the FDA ignore a ban?"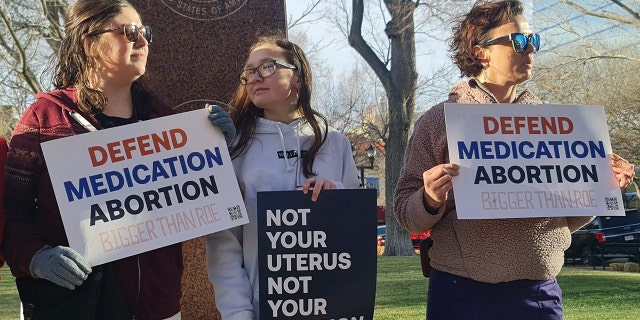 Abortion rights advocates gather in front of the J Marvin Jones Federal Building and Courthouse in Amarillo, Texas, on March 15, 2023. (MOISES AVILA/AFP via Getty Images)
AOC, DEM SENATOR CALL ON BIDEN ADMINISTRATION TO IGNORE ABORTION PILL RULING
"Everything is on the table," Becerra replied. "The president said that way back when the Dobbs decision came out. Every option is on the table."
"We are now in a period of uncertainty," Bash said. "What's your message to women and to medical providers who want to get this drug and use this drug?"
Becerra slammed the Texas judge's ruling as entirely un-American.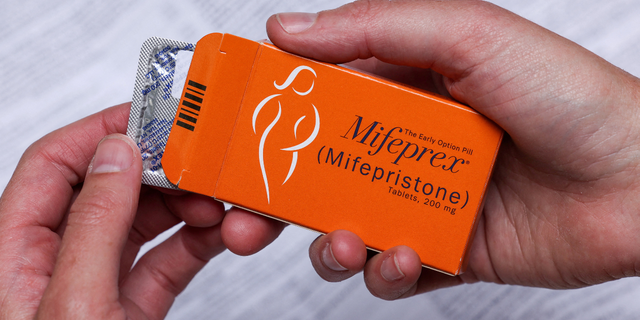 Mifepristone reportedly works by blocking progesterone, an essential hormone for a pregnancy to continue, in a pregnancy that has lasted for less than 70 days. (Reuters)
CLICK HERE TO GET THE FOX NEWS APP
"This is not America. What you saw – by that one judge, in that one court, in that one state, – that's not America," he said . "America goes by the evidence, America does what's fair, America does what is transparent, and we can show that what we do is for the right reasons. That's not America."
Written with assistance from Chris Pandolfo.