A retired senior prosecutor in Greece was named Friday as the new leader of a far-right party as it seeks to sidestep a ban on its participation in an upcoming general election. Participation of the Greeks Party could potentially change the outcome of the May 21 parliamentary election as poll margins tighten between the leading incumbent New Democracy party and a left-wing opposition party, Syriza.
The Greeks Party is vying to field candidates despite the ban the Greek Parliament approved in February on the grounds that the party's founder, Ilias Kasidiaris, is serving a 13-year prison sentence for membership in a criminal organization.
Kasidiaris founded the Greeks Party after receiving his sentence in 2020. He was convicted as a leading member of an extreme right party, Golden Dawn, which was blamed for multiple attacks against migrants and left-wing political activists. The party was founded as a neo-Nazi group in the 1980s but later claimed to represent a broader nationalist ideology.
GREECE PLEDGES MILITARY ASSISTANCE TO UKRAINE FOR 'AS LONG AS IT TAKES'
Former assistant Supreme Court prosecutor Anastasios Kanellopoulos, 75, replaced him Friday as the Greeks Party's leader and announced plans to revise the party's charter.
In an online post, Kasidiaris welcomed the leadership change, adding that he planned to seek a parliamentary seat in next month's election. Greek law allows most prison inmates to retain their political rights.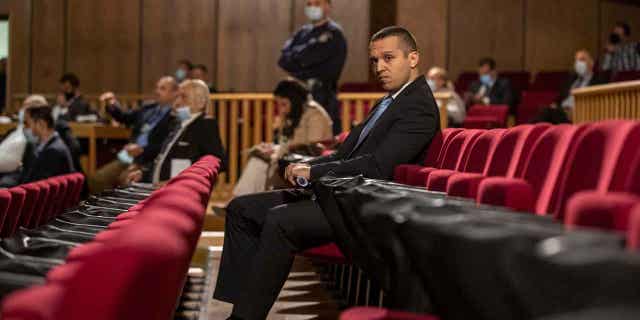 IIias Kasidiaris, former lawmaker who was a leading member of an extreme right party, Golden Dawn, looks on during a trial in Athens, Greece, on Oct. 21, 2020. Kasidiaris has stepped down as leader of the newly-formed Greeks Party, it announced on April 7, 2023. (AP Photo/Petros Giannakouris, File)
The Greeks Party is currently polling above the 3% threshold required to gain representation in parliament.
GREEK MINISTER MAKES RARE VISIT TO TURKEY AS TENSIONS EASE
Government officials said Friday that would submit legislative amendments next week to broaden the Greeks Party's election ban. Greece's Supreme Court has scheduled a May 5 hearing on whether the Greeks Party falls under the provisions of the election ban.
"There must be no room for knife-wielding, neo-Nazi, criminal organizations to deceive the Greek justice system," government spokesman Giannis Oikonomou told television channel Skai late Thursday.
CLICK HERE TO GET THE FOX NEWS APP
"A sufficient framework exists to deny any criminal organization ‒ regardless of the cloak it chooses to wear ‒ the (opportunity) to seek the vote of the citizens … but we remain on alert to make any (legal) changes needed," Oikonomou said.