"And some fell into good soil and grew, and yielded a hundredfold. As he said this, he called out, 'He who has ears to hear, let him hear'" (Luke 8:8).
This Bible verse is from the Gospel of Luke, one of the three synoptic Gospels.
Also known as Luke the Evangelist, Luke is widely regarded as the author of both the Gospel of Luke and the Book of Acts, according to Christian website Overviewbible.com.
'BIBLE MEMORY MAN' SHARES TIPS FOR MEMORIZING THE BIBLE IN 2023
While traveling alongside the apostle Paul, "he also likely had direct access to the apostles and other accounts of Jesus' life and ministry," the site also indicates.
Meyer, of northern Kentucky, is known as the "Bible Memory Man."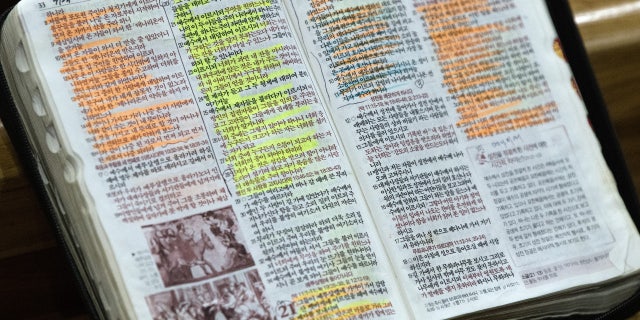 Not all who hear the gospel will understand its message, said Tom Meyer. Meyer has memorized 20 books of the Bible to date.  (Carl Court/Getty Images)
He spent 20 years committing 20 books of the Bible to memory.
"As the Parable of the Sower illustrates, sometimes when believers share the message of the gospel, it is rejected by the recipient and falls by the wayside," he said.
Christians today "are still commanded to do the work of an evangelist, to sow the seeds of the Gospel," he said.
GOD HAS 'EXTRAORDINARY AND OMNIPOTENT MERCY' TOWARD PENITENT SINNERS, MINNESOTA PRIEST SAYS
"Our job is to faithfully sow the seed and not to be concerned about the response of the recipient," he said.
"As Christians we often don't act on what we know to be true: that Christ died on the cross for the sins of the whole world — both small and great — and rose from the dead on the third day," he said.
CLICK HERE TO GET THE FOX NEWS APP
"it is our duty to sow the seed of the gospel to everyone."