Republican lawmakers called for a hearing into transgender healthcare on Monday evening after listening to emotional accounts from Americans who underwent surgery to change genders only to regret it and reverse their procedures.
"We need to get the truth out, and we need to be courageous in it. And there's some uncomfortable terminology being used here today, but doggone it, this is real," Rep. Doug LaMalfa, R-Calif., told Fox News Digital after saying he would call for a hearing on the matter. "And for people to be going alone on this and getting, you know, getting told bad information – we're elected leaders, and so we need to buck up on this and help lead and get good information out for folks."
He and other members of the GOP's new Anti-Woke Caucus, including its Chair Jim Banks, R-Ind., held a roundtable on Capitol Hill Monday to hear from medical experts who have worked with minors and young adults trying to de-transition, as well as two activists who have de-transitioned themselves.
The first to speak was 18-year-old Chloe Cole, who described undergoing multiple procedures between the ages of 13 and 17 and said her parents were warned she would be suicidal if she was not allowed to transition into a boy.
MINNESOTA TRANSGENDER INMATE SUES AFTER BEING REFUSED SURGERY IN PRISON
She also accused the government of promoting gender-affirming procedures for profit:
"I believe that the United States government has either been blissfully ignorant to the fact that this has been happening for over a decade, or they've been keeping the public unaware for personal gain. I've learned quite a bit from testifying within state legislatures within the last year. I think the most common lesson is that if the politician, whether they're Republican or Democrat, is funded by Big Pharma or a major liberal hospital, their moral compass will disappear."
Both Cole and Heyer accused the physicians that guided their transition of abandoning them when they sought help transitioning back to their birth gender.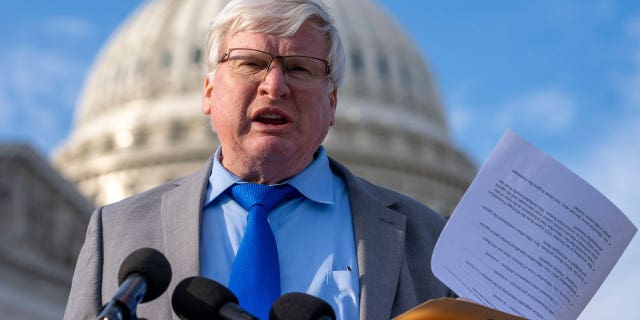 Republican Wisconsin Rep. Glenn Grothman was also there and called for a public hearing on the issue (AP Photo/Alex Brandon, File)
"They don't care about the outcomes. They don't care what happens," Heyer said of the industry. "I lost $2 million in income due to the fact that [the psychologist] said I needed hormones and surgery that's on me. I was stupid enough to believe it, it destroyed my life and destroyed my marriage. I became an alcoholic and a drug addict and I became homeless. Now I'm standing up and telling you, you need to stand up and stop this insane nonsense."
After the testimonies Rep. Glenn Grothman, R-Wis., turned to his colleagues on the panel and asked, "I wonder, who would have a hearing about this?"
"It's not getting out there and you know, we, not to be too political…we control the House and we can publicize this stuff," LaMalfa said. "It needs to happen."