John Amos is speaking out about his health following claims he was admitted into an intensive care unit and his life was "hanging by a thread."
"To all of my fans, I want you to know that I am doing well," Amos said in a statement provided by his rep to Fox News Digital on Tuesday.
"I am not in ICU nor was I ever fighting for my life."
Amos' daughter, Shannon, initially said her 83-year-old father had been the victim of "elder abuse" and "financial exploitation" in a lengthy Instagram post shared last week.
MOTLEY CRUE MANAGER SAYS MICK MARS A VICTIM OF 'ELDER ABUSE' AMID TOURING DISPUTE
They added, "We are thoroughly investigating that allegation and have consulted with our partners at the Colorado Bureau of Investigation and Department of Human Services. We have also been in contact with Mr. Amos and his attorney."
After Shannon posted that her father was hospitalized with "intense pain" in May — and that the "ICU revealed his life hanging by a thread" — she requested monetary contributions in a crowdsourcing campaign, which would aid in the cost of covering secure housing, medical attention and legal expenses to hold "the perpetrator(s) accountable."
Funds would be directed to the "Amos Care Fund, LLC," according to the GoFundMe.
Amos' daughter Shannon alleged her father was the victim of "elder abuse." (J.Sciulli)
 
 

 
 
View this post on Instagram
 

 
 
 

 
 

 
 
 

 
 

APP USERS CLICK HERE FOR INSTAGRAM POST
In his statement on Tuesday, the "Coming to America" star said: "First, I want the GoFundMe campaign about me to stop immediately, and the funds subsequently returned to those who made donations."
Amos added, "My son and I will reveal more information at the appropriate time."
Colorado officials did not provide additional details or comments about the ongoing criminal investigation.
"Mr. Amos has been a beloved member of our community for many years. He has also been an ardent supporter of our community and this sheriff's office," the release said.
"Additionally, there is a penalty enhancement for certain crimes against victims aged 70 or older," the statement said. "We want to send our well wishes to Mr. Amos and hope that he has a speedy recovery."
Amos starred as James Evans Sr. on "Good Times" and also had regular roles on "The Mary Tyler Moore Show," "Hunter," "The West Wing" and "Men in Trees."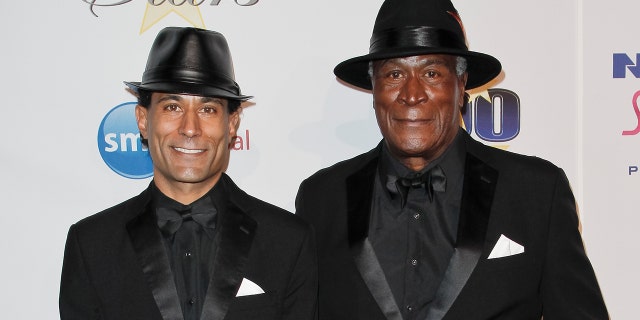 John and his son, K.C., are working on a new, faith-based film together. (Tibrina Hobson)
He has three projects in the works, including "The Last Rifleman" with Pierce Brosnan and "Capture the Flag" with Dick Van Dyke, Louis Gossett Jr. and Barry Corbin.