German authorities said Wednesday that they have arrested four suspects in the theft of hundreds of ancient gold coins from a museum in Bavaria last year.
AMERICAN WOMAN FINED FOR TRYING TO BRIBE GERMAN PASSPORT OFFICER WITH $100
Thieves broke into the Celtic and Roman Museum in Manching and took 483 Celtic coins that were discovered during an archaeological dig nearby in 1999. The coins dated to around 100 B.C.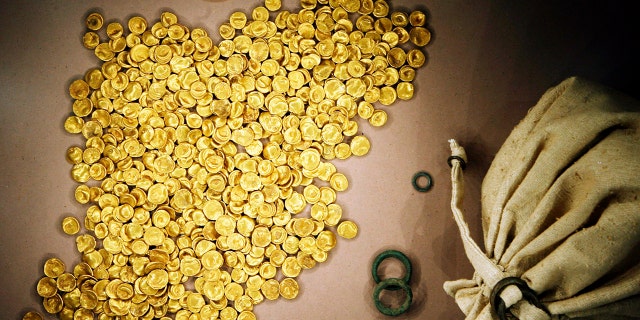 Four suspects accused of stealing 483 ancient Celtic coins from a Bavarian museum have been arrested, according to German authorities. (Frank Maechler/dpa via AP, file)
Officials have said that cables were cut at a telecommunications hub and knocked out local networks before the heist, and that the thieves got in and out of the museum in nine minutes early on Nov. 22 without raising the alarm.
The regional interior minister, Joachim Herrmann, said in a statement that the operation was an "outstanding investigative success" and that "professional thieves" were arrested.