Georgia authorities have released 16 mug shots in connection with the state's largest motorcycle gang bust – following a 13-month investigation into a conspiracy behind a violent turf war.
The suspected "outlaw" bikers each had colorful nicknames, including "Chatterbox" and "Repeat," and are accused of trailing a group of rivals to a motel, trying to rob them and opening fire in a crowded commercial parking lot, which was packed with businesses and innocent bystanders, according to Georgia Attorney General Chris Carr.
Among dozens of charges in the 45-count indictment, the Outcasts are accused of surrounding a motel where members of the Chosen Few gang had gathered on Highway 17 in Richmond Hill on June 17, 2022, 22 miles southwest of Savannah.
The Outcasts allegedly stalked and harassed Chosen Few members for months, confronting them and warning them to stay out of their territory leading up to the shooting, according to the indictment.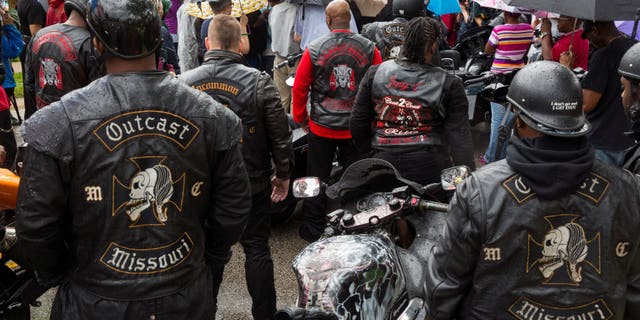 FILE: Members of the "Outcast" motorcycle club take part in a vigil in Ferguson, Missouri, August 16, 2014.  (REUTERS/Lucas Jackson )
Separately, in September 2021, a group of Outcasts allegedly chased a Chosen Few member across three counties before they caught up with him and beat him with chains, prosecutors alleged.
Prosecutors identified the suspects as Aiken, 46, the chapter president; Eddie "Stash" Latson, 43, the vice president; Lee "Trench" Mole, 58, the chapter secretary; Donovan "Sockit" Scott, 35, the sergeant-at-arms; Joseph "Axel" Leeks, 44, a captain; Labarron "Bootleg" Pollock, 48, a former vice president; Michael "Chop" Randolph, 43, the group's business manager; members Taurus Simmons, 42; Terrance Parker, 44; Marquis Jones, 34; Shron Gilbert, 51; Theron Singleton, 57; Jemar Mack, 34; and associates Demon Thompson, 45; Paul Gosden, 52 and Whitney Hooks, 36.
Hundreds of officers from state, local and federal law enforcement agencies took part in a 13-month investigation codenamed Operation Patronus, Carr's office said in a statement.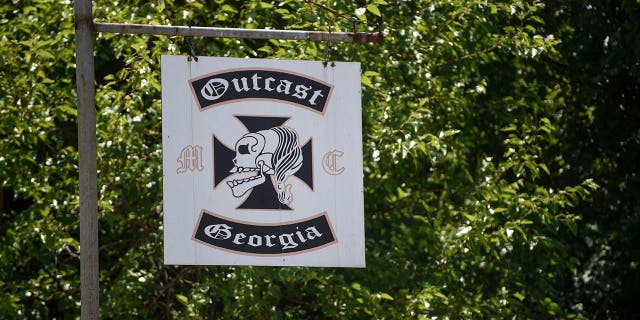 The Outcast Georgia sign hangs outside the motorcycle club headquarters on East Boundary and Sand Bar Ferry Road in Augusta, Ga., on Monday, May 15, 2023. A shooting at the intersection over the weekend left two dead and four injured. (Katie Goodale/USA Today Network/IMAGN)
The Outcasts' sibling chapter in Augusta was also involved in a deadly shootout with another rival gang last month, according to the Richmond County Sheriff's Office.
Authorities there identified the deceased victims as 51-year-old Germayne Farrell, of Daytona, Florida, and 30-year-old Keith Coates, of Valdosta, Georgia. Four others survived their injuries, including three Thugg Riders and another Outcast member, according to Sheriff Richard Roundtree.
CLICK HERE TO GET THE FOX NEWS APP