Gabby Petito's parents have asked Brian Laundrie's parents to hand over financial information in the weeks around her death in an ongoing civil lawsuit in Florida.
"Please produce all copies of bank statements or other documents evidencing withdrawals or transfers of funds made by you in excess of $10,000 from August 26, 2021 to September 14, 2021," Petito's parents' attorney Pat Reilly wrote in a pair of court filings addressed to Chris and Roberta Laundrie.
The Laundries have 30 days to reply.
Nichole Schmidt and Joseph Petito, Gabby's mother and father, have accused the Laundries of knowingly withholding information about their daughter's whereabouts after her ex-fiance Brian Laundrie is believed to have strangled her to death at a Wyoming campsite.
LAUNDRIE ATTORNEY FILES NEW MOTION TO DISMISS LAWSUIT FROM GABBY PETITO'S PARENTS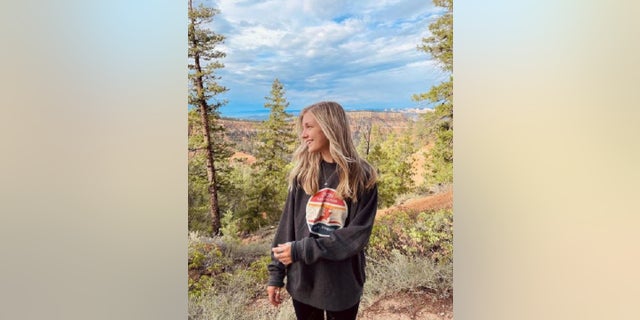 Gabby Petito poses for an Instagram photo in Bryce Canyon National Park. (Family of Gabby Petito)
Neither Reilly nor attorneys for the Laundries immediately responded to Fox News Digital's requests for comment.
Read the filing (Mobile users go here)
NEW GABBY PETITO LAWSUIT FILING REVEALS BRIAN LAUNDRIE'S 'MENTAL AND EMOTIONAL THREAT' WEEKS BEFORE MURDER
The request covers a period beginning two days before the estimated time of her death and five days before an FBI-led search recovered her remains in the Bridger-Teton National Forest, north of Jackson, Wyoming.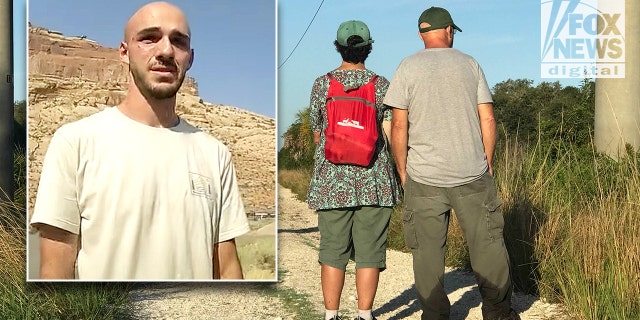 Chris and Roberta Laundrie pause at Myakkahatchee Creek Environmental Park near their Florida home minutes after finding some of their son's belongings at the edge of a clearing. Inset: Brian Laundrie speaks to Moab, Utah, police in bodycam video from Aug. 12.  (Moab PD/Michael Ruiz/Fox News Digital)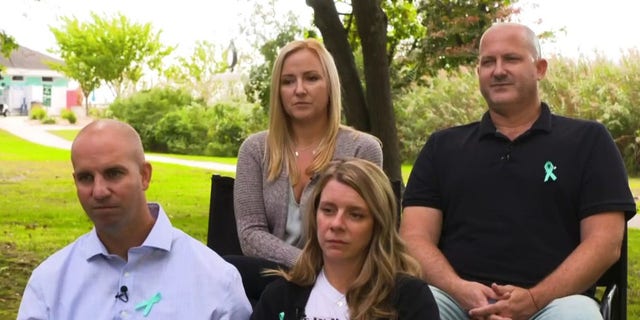 Gabby Petito's parents and stepparents during an Oct. 7, 2021 interview regarding the then-active search for Brian Laundrie, who is suspected of killing their daughter in Wyoming before returning to his parents' house in Florida and killing himself in a swamp nearby. (Fox News)
Central to the civil lawsuit is an excerpt from the Sept. 14, 2021 statement that Bertolino released to the media regarding what was then believed to be a search for a missing person. The judge denied a prior motion to dismiss last summer.
The full statement is as follows:
"This is understandably an extremely difficult time for both the Petito family and the Laundrie family.
It is our understanding that a search has been organized for Miss Petito in or near Grand Teton National Park in Wyoming. On behalf of the Laundrie family it is our hope that the search for Miss Petito is successful and that Miss Petito is reunited with her family.
On the advice of counsel the Laundrie family is remaining in the background at this juncture and will have no further comment."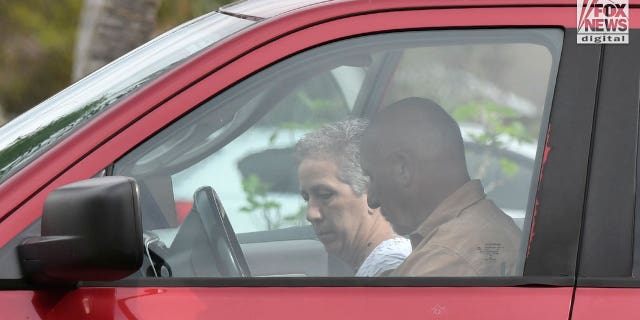 Brian Laundrie's parents, Chris and Roberta Laundrie are seen outside their home in Sarasota County, Florida on Wednesday, October 19, 2022, ahead of the one year anniversary of Brian being found dead in a Florida swamp. Chris is carrying Panera Bread bags while Roberta carries a Radio Flyer jigsaw puzzle. Roberta wears a crocheted blanket over her shoulders. (Mark Sims for Fox News Digital)
The lawsuit argues that the statement was "insensitive, cold-hearted and outrageous" and inflicted emotional distress because it led the family to believe Petito could still be alive when, allegedly, the Laundries knew she was already dead.
CLICK HERE TO GET THE FOX NEWS APP
Petito last spoke with her family in late August, while in Wyoming. Laundrie arrived at his parents' house in her van on Sept. 1 and made no public comment about her whereabouts Her mother reported her missing on Sept. 11. An FBI-led search found her remains at a Wyoming campground on Sept. 18.
By then, Laundrie had disappeared, too, only to be found on Oct. 20 in the Myakkahatchee Creek Environmental Preserve near his parents' house.
He is believed to have killed himself weeks earlier in a swampy area that was subsequently flooded by rainfall.
Near his remains, the FBI recovered a notebook that contained a handwritten confession.
"I ended her life," he wrote. "I thought it was merciful, that it is what she wanted, but I see now all the mistakes I made. I panicked. I was in shock."