With under two weeks until a potential default on the nation's debt, a majority of registered voters says increasing the debt ceiling should only happen with spending cuts, and two-thirds believe that failing to raise that limit will result in financial catastrophe. That's a complete reversal from 12 years ago during the last debt ceiling crisis.
According to the latest Fox News survey, 63% think failing to raise the debt limit will create a financial catastrophe for America, while one-third (32%) say that's an exaggeration. In July 2011, 39% felt catastrophe was on the horizon while 55% felt it was an overblown prediction.
DEMOCRATS, GOP TRADE BARBS OVER WHO AMERICANS SHOULD BLAME FOR DEBT CRISIS: 'IT'S PRETTY OBVIOUS'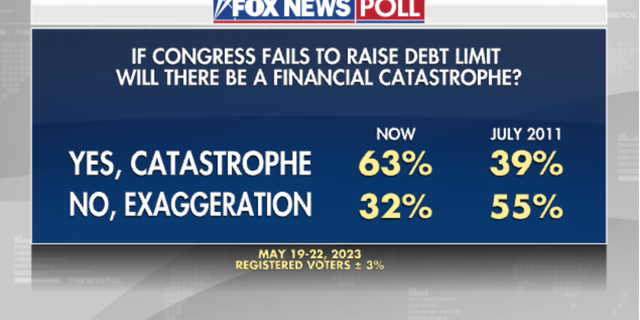 Fox News polling on if Congress fails to raise the debt limit. (Fox News)
The switch can be attributed to bipartisan majorities now agreeing that defaulting would be catastrophic. At 74%, Democrats are among those most concerned, a 28-percentage point increase since 2011, while over half of Republicans (53%) and independents (57%) now say defaulting would be disastrous (up 22 and 17 points respectively from over a decade ago).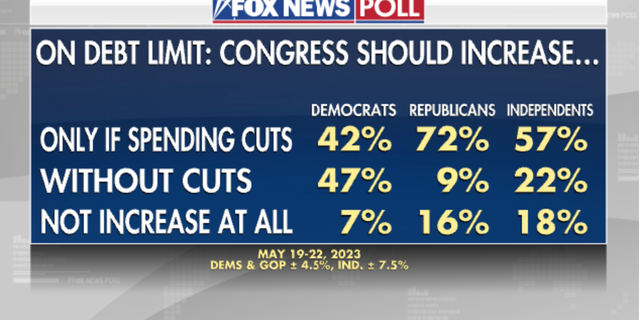 Fox News polling on the debt limit. (Fox News)
On Sunday, at the G7 Summit in Japan, Fox News' Peter Doocy asked President Biden if he would be "blameless in a default situation." Biden responded: "On the merits based on what I've offered, I would be blameless. On the politics, no one would be blameless."
Yet voters are slightly more inclined to blame Biden than Congressional Republicans if they fail to reach a deal (47% vs. 44%). Three-quarters of Republicans, half of independents and nearly 1 in 5 Democrats would blame the president. In 2011, 32% said they would blame former President Obama if the crisis escalated while 47% would point the finger at Congressional Republicans.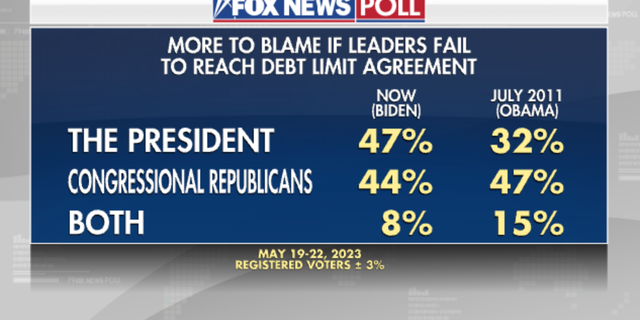 Fox News polling on the debt limit. (Fox News)
"Americans have come to understand there won't be any winners in a default situation," says Democratic pollster Chris Anderson who conducts the Fox News survey with Republican Daron Shaw. "But they have also come to believe there should be strings attached, which means Republican leaders have established their right to negotiate over something that Biden, and history, indicated were non-negotiable."
CLICK HERE FOR TOPLINE AND CROSS TABS
Conducted May 19-22, 2023, under the joint direction of Beacon Research (D) and Shaw & Company Research (R), this Fox News Poll includes interviews with 1,001 registered voters nationwide who were randomly selected from a voter file and spoke with live interviewers on both landlines and cellphones. The total sample has a margin of sampling error of plus or minus three percentage points.