A fossil hunter found a 450,000-year-old mammoth tusk while on a recent visit to a local quarry.
Jamie Jordan, 33, was at a quarry in Cambridgeshire, near Peterborough, England, roughly 75 miles north of London, when he spotted something notable in the rubble.
The four-foot-long mammoth tusk was "sticking out like a sore thumb," he told SWNS.
BOY, 8 YEARS OLD, DISCOVERS GIANT SHARK TOOTH IN SOUTH CAROLINA: 'FIND OF A LIFETIME'
Jordan, who reportedly found his first fossil when he was a boy of just four years old, said he'd never spotted a full mammoth tusk before — he said they're normally broken into pieces when quarried.
GIRL, 9 YEARS OLD, DISCOVERS RARE PREHISTORIC MEGALODON TOOTH IN MARYLAND WATERS: 'I COULDN'T BELIEVE IT'
"It was just on top of the ground. It was very heavy to pick up," he said, as SWNS reported.
The preservation process includes ensuring the tusk is kept wet to prevent it from damage, according to SWNS.
"We will be spending the next few months working to preserve the tusk — it can take up to six months to do that," said Jordan.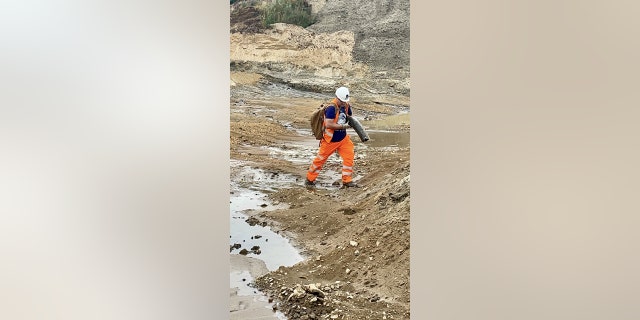 The rare find has been taken to Jamie's Fossils Galore center for preservation and research.  (SWNS)
From there, the team at Fossils Galore will examine the tusk to find out more about the mammoth's life, such as its habitat and food supply.
By 2006, Jordan began running fossil hunting trips "so he could take members of the public to safe areas and show them how to find fossils."

On its website, Fossils Galore explains that Jamie Jordan first founded it in 2003 as a website — a place where Jordan could "share his fossil knowledge" with others.

By 2006, Jordan began running fossil hunting trips "so he could take members of the public to safe areas and show them how to find fossils."

CLICK HERE TO GET THE FOX NEWS APP