A former Democrat New Hampshire state representative who identifies as transgender was charged by a federal Massachusetts court Tuesday with child exploitation.
According to a press release from the office of the U.S. District Attorney for Massachusetts, Stacie-Marie Laughton, 39, a biological male who identifies as female, was charged with one count of sexual exploitation of children, as well as aiding and abetting.
The release stated Laughton has been charged alongside former "intimate partner" Lindsay Groves, a daycare worker in Tyngsborough, Massachusetts, who a preliminary forensic review showed had more than 10,000 text messages between the two "that included discussion about, and transfer of, explicit photographs that Groves had taken of children while employed at Creative Minds daycare."
RED-STATE DEMOCRAT, GOVERNOR HOPEFUL BREAKS WITH PARTY, TAKES LITERAL SAW TO HIGHER TAXES IN NEW AD
After being elected to the New Hampshire legislature in 2012, Laughton was unable to serve due to still being on probation for a 2008 felony conviction of credit card fraud.
BLACKBURN, GOP DEMAND ANSWERS FROM BIDEN ADMIN ON ILLEGAL ALIEN ACCUSED OF RAPING CHILDREN IN TENNESSEE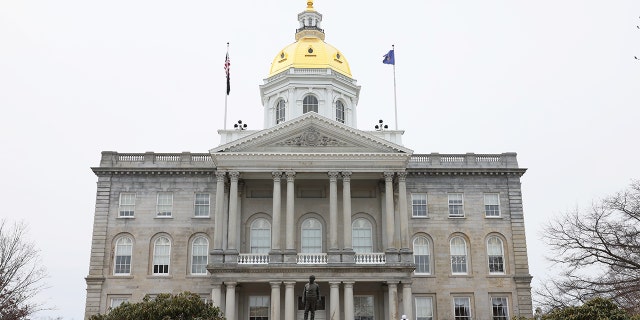 The New Hampshire State House, the state capitol building of New Hampshire is seen on February 16, 2023, in Concord, New Hampshire. (Michael M. Santiago/Getty Images)
Laughton was also arrested for making a bomb threat against the Southern New Hampshire Medical Center in 2015 and was arrested again in 2021 on charges related to the misuse of the state's 911 texting system.
Fox News' Aubrie Spady contributed to this report.