The mother of Aiden Fucci, who was sentenced to life in prison last month for stabbing a 13-year-old classmate 114 times, is set to go to trial for allegedly helping him cover up the crime.
Crystal Smith was arrested days after her son, then 14, savagely slaughtered cheerleader Tristyn Bailey May 9, 2021, Mother's Day, in an upscale suburb in St. Johns County, Florida.
She appeared in court Tuesday for her final pretrial hearing before she is set to go before a jury April 17.
FLORIDA TEEN WHO FATALLY STABBED 13-YEAR-OLD CHEERLEADER IS 'BEYOND SAVING,' SAY VICTIM'S MOM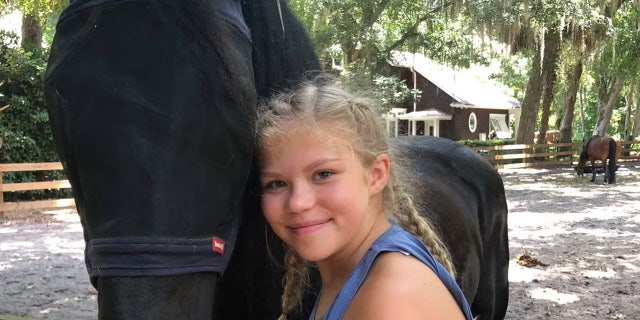 Tristyn Bailey with a black horse. She was fatally stabbed by classmate Aiden Fucci May 9, 2021, in Florida. (Bailey family)
After Bailey went missing, Fucci volunteered to show deputies where he had last seen her. Home surveillance video showed Smith, 37, picking up a pair of blue jeans from her son's room and scrubbing them in a bathroom sink.
Smith and Fucci's father met with their son later that night in an interview room at the St. Johns County Sheriff's Office.
In the recorded encounter, Smith asked her son if he was sure there was nothing on the blue jeans that he had been wearing.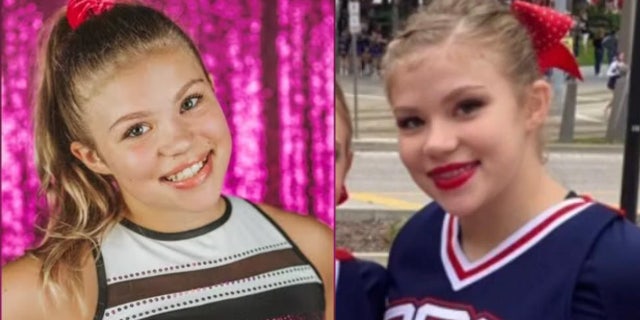 Two photos of Tristyn Bailey, a competitive cheerleader, who was stabbed to death by a classmate May 9, 2021. (Bailey family)
"I think so, why?" he asked. Smith could be seen giving her son a sharp look and whispering, "Blood."
Although the jeans were washed, they tested positive for blood, as did the drain where Smith allegedly scrubbed them.
MOTHER OF FLORIDA TEEN CHARGED IN STABBING DEATH OF TRISTYN BAILEY TAMPERED WITH EVIDENCE, POLICE SAY
Smith faces up to five years in prison if convicted of the one count against her, tampering with evidence.
Fucci, 16, was hit with the maximum when he was sentenced March 24 in the same courthouse where his mom will soon face a jury. Circuit Judge R. Lee Smith noted the brutal murder had no motive.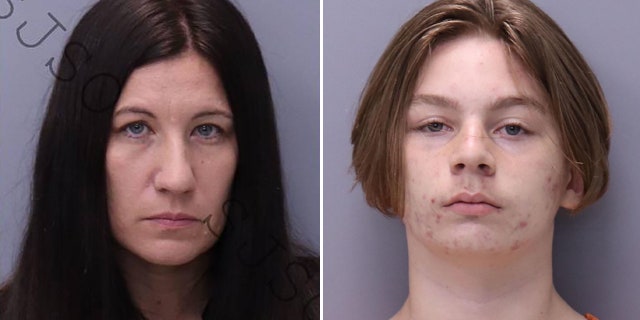 Booking photos for Crystal Smith, left, and her son, Aiden Fucci, who is serving a life sentence for fatally stabbing classmate Tristyn Bailey 114 times. (St. Johns County Sheriff's Office)
"There was no reason. There was no purpose. It was done for no other reason than to satisfy this defendant's internal desire to feel what it was like to kill someone," Smith said
CLICK HERE TO GET THE FOX NEWS APP
Fucci pleaded guilty in February on the eve of his trial to one count of first-degree murder.
The horrific slaying forever changed the quiet community about 30 miles south of Jacksonville, Florida.