Congress is under increasing pressure from technology giants and others to find a way to regulate artificial intelligence, and a likely candidate for early action is a bill that both Republicans and Democrats supported in the last Congress under Democrat leadership.
In 2022, the House Energy and Commerce Committee passed the American Data Privacy and Protection Act (ADPPA), a bill that's aimed at boosting data privacy rights but would also play a big role in regulating emerging AI systems. The ADPPA won almost unanimous support from both parties last year and continues to be supported by companies that are eager to build trust in their AI products, and they believe that a federal regulatory structure will help them get there.
BSA/Software Alliance represents dozens of companies, including Microsoft, Okta, Salesforce and others, that build software and AI tools that companies use to run their businesses. BSA is working closely with the committee to get a version of that bill passed this year that it hopes can be approved in a full House vote.
"We think this is a very digestible bite," Craig Albright, BSA vice president for U.S. government relations, told Fox News Digital.
CHINA FUMES AS BIDEN PLOTS TO STARVE IT OF AI INVESTMENT: 'SCI-TECH BULLYING'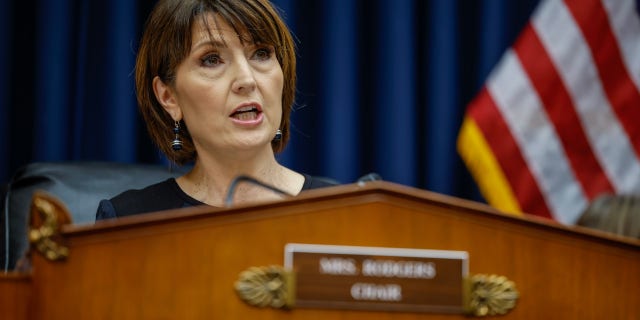 The House Energy and Commerce Committee, chaired by Rep. Cathy McMorris Rodgers, R-Wash., is a likely start for legislation that puts guardrails in place for AI this year. (Chip Somodevilla / Getty Images / File)
"There is a growing consensus that what we are suggesting is an important element of guardrails for AI," he said. "And we think that this is doable this year."
Last year's version of the bill gets at an important issue for BSA members, which is how to guard against discriminatory AI output in business settings. In this setting, "discrimination" deals with questions like whether an AI system spits out a recommendation against giving someone a mortgage loan, for example, based on a design flaw, bad data, an incorrect reading of the data or other reasons.
That's different from the "bias" problem that some are worried about in generative AI systems like ChatGPT – for example, whether a chatbot's answers to certain questions are politically skewed one way or another or are programmed not to give replies that some might see as provocative.
The ADPPA attacked that category of "discrimination" by saying that companies can't collect, transfer or use data in a way that discriminates on the basis of sex, race, disability or other factors in ways that limit people's access to goods and services. Companies would have to assess their systems for this flaw and allow the government to examine those assessments – BSA also supports the idea of having companies certify with a federal regulator once they are meeting these guidelines.
AI PAUSE CEDES POWER TO CHINA, HARMS DEVELOPMENT OF 'DEMOCRATIC' AI, EXPERTS WARN SENATE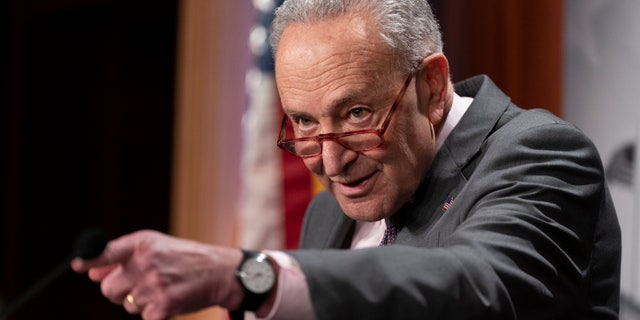 Senate Majority Leader Chuck Schumer has offered a broad guideline for AI guardrails, but his proposal has yet to move. (AP Photo / Manuel Balce Ceneta / File)
As Albright explained, this kind of system is aimed at helping companies and consumers build trust in AI in "high-risk" systems that are used to make "consequential decisions."
"What we're working with the committee to do is provisions that would establish what high-risk means, and it's hooked to the phrase 'consequential decisions,'" Albright said. "So, we're talking about AI systems that are used in decisions about credit, housing, employment, health care, insurance, those kinds of decisions."
"Those are consequential decisions, and if AI is going to be used in those decisions, then companies should be required to put forward design evaluations and impact assessments," he said.
The work going on this year so far involves finding ways to clarify language in this area so that it's clear which companies need to comply and flesh out the definition of "high-risk" AI settings and "consequential decisions."
ALTERNATIVE INVENTOR? BIDEN ADMIN OPENS DOOR TO NON-HUMAN, AI PATENT HOLDERS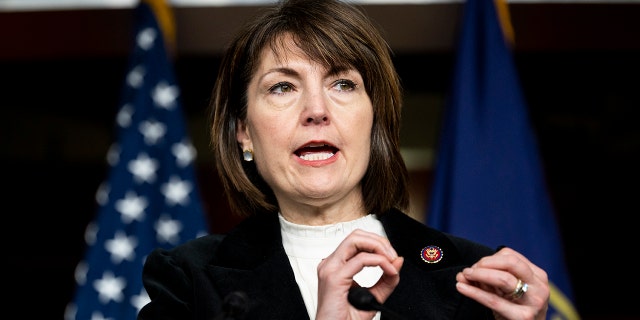 An aide to McMorris Rodgers's committee said there is an interest in bringing "certainty and safety" to AI development. (Bill Clark / CQ-Roll Call Inc. via Getty Images / File)
"What we are urging the committee to do is to update those provisions to make sure that they are workable and effective," Albright said.
The ADPPA isn't the only legislative idea around. Senate Majority Leader Chuck Schumer, D-N.Y., has talked about a framework for AI that is still being developed. But Albright told Fox News Digital that bipartisan support for last year's bill is a help and that BSA is getting "good reactions" from lawmakers when it meets with them to discuss bringing it back up this year.
CLICK HERE TO GET THE FOX NEWS APP
The House Energy and Commerce Committee, now chaired by Rep. Cathy McMorris Rodgers, R-Wash., also seems interested in picking up from last year and trying again on the bill. The committee has held several hearings on data privacy, and a committee aide indicated to Fox News Digital that the bill is still under consideration.
"The most important thing we can do to begin providing certainty and safety to the development of AI is passing a federal data privacy and security law," the aide said.