It was her brother's active faith that inspired Carol Black to recommit as an adult to being a practicing Jew several years ago, and their shared commitment brought them to the Tree of Life synagogue on the October 2018 day it was attacked.
Testifying on the second day of the trial of the man who carried out the deadliest antisemitic attack in U.S. history, Black told jurors Wednesday about how she and others in her New Light congregation heard loud noises as they started Sabbath services. They soon realized it was gunfire, so some of them hid in a storage room.
"I just remained calm. … I thought by remaining calm, I would not give my position away," she testified in the Pittsburgh federal courtroom.
Black, 71, recalled how she remained hidden even as she saw congregant Mel Wax, who had been hiding close to her, drop dead after the gunman shot him. Wax, 87, was hard of hearing and had opened the storage door, apparently believing the attack was over, she said. Black didn't learn until later that her 65-year-old brother, Richard Gottfried, was among the 11 people killed in the attack.
Prosecutors, who rejected Bowers' offer to plead guilty in exchange for removing the possibility that he could be sentenced to death, have said Bowers made incriminating statements to investigators and left an online trail of antisemitic statements that shows the attack was motivated by religious hatred.
Bowers, who only surrendered on the day of the attack after police shot him three times, had commented on Gab, a social media site popular with the far right, that Dor Hadash had hosted a refugee-oriented Sabbath service in conjunction with HIAS, a Jewish agency whose work includes aiding refugees.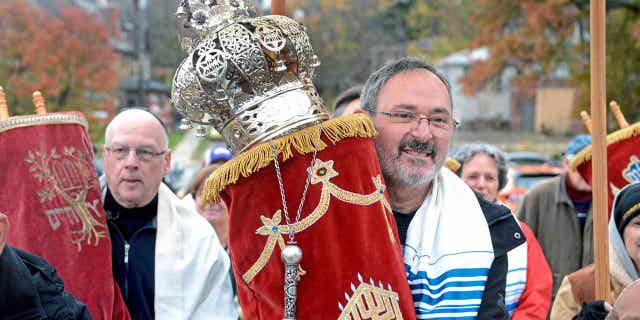 Richard Gottfried, center, carries the Torah as he and other members of the New Light Jewish congregation march along Denniston Street, on Nov. 12, 2017, in Pittsburgh. Robert Bowers went on trial on May 30, 2023, more than four years after an attack on a Pittsburgh synagogue that killed 11 worshipers, including Gottfried, and wounded 7 others.  (Pittsburgh Post-Gazette via AP)
Assistant U.S. Attorney Soo Song began Wednesday's proceedings by asking Black about her affiliation with the New Light congregation. She recalled how her brother, Gottfried, became more observant after their father's death and how she later began attending services regularly, getting so involved that she had an adult bat mitzvah — a Jewish right of passage that she hadn't had as a teenager.
She said Gottfried, Wax and 71-year-old Dan Stein were "the three main pillars of our congregation." On the morning of the attack, Gottfried and Stein were in a kitchen near the sanctuary planning a men's group breakfast for the next day when Bowers killed them.
Black said she and fellow member Barry Werber hid in a darkened storage closet for what "felt like a year" before police rescued them. And she said that as she left, she quietly said goodbye to Wax as she had to step over his body to follow the officers.
Werber, 81, also testified about hiding in the closet.
Bowers, like on the trial's first day, showed little emotion as he sat at the defense table.
Jurors also heard testimony from Dan Leger, who was severely wounded in the attack.
Leger, now 75, and two other members of Dor Hadash were gathered in an upstairs room about to start a Torah study when they heard gunshots. One of the participants fled. Leger, a nurse and chaplain, and Dr. Jerry Rabinowitz decided to see if they could assist anyone who might be injured.
He heard the voice of Tree of Life member Irving Younger calling out the name of fellow member Cecil Rosenthal in horror. Younger and Rosenthal were both killed.
The pain soon became "excruciating," Leger said.
While waiting for rescue, Leger said his breathing became labored, and he recognized the symptoms: "I felt that I was dying."