The European Union (EU) broke with other Western governments as it looks to empower regulators to govern emerging artificial intelligence (AI) technology and convene a summit on subject as fears over employment impacts continue to simmer across Europe.
"Recent advances in the field of artificial intelligence have demonstrated that the speed of technological progress is faster and more unpredictable than policy-makers around the world have anticipated," a group of European lawmakers wrote in an open letter Monday. "We are moving very fast."
The group released the letter almost in direct response to the Future of Life Institute's open letter, signed by experts and leaders including Elon Musk, Apple co-founder Steve Wozniak and former presidential candidate Andrew Yang, that called for a six-month pause on the development of "powerful" AI systems.
European lawmakers said that they shared some of the concerns expressed in the letter, but that they disagreed with some of the "more alarmist statements."
AI TOOLS SUCH AS CHATgpt ARE THE HOTTEST NEW TREND FOR COMPANIES, BUT EXPERTS URGE CAUTION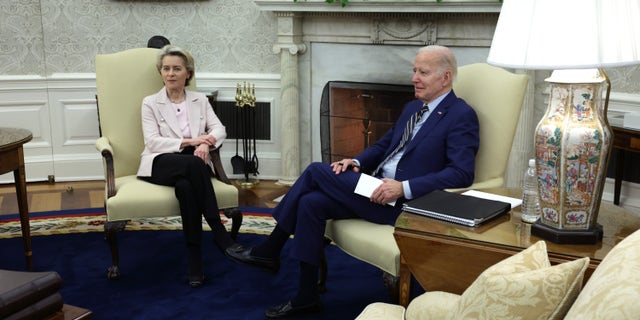 President Biden, right, meets with President of European Commission Ursula von der Leyen during a bilateral meeting in the Oval Office of the White House on March 10, 2023 in Washington, D.C. (Alex Wong/Getty Images)
"We are nevertheless in agreement with the letter's core message: With the rapid evolution of powerful AI, we see the need for significant political attention," the group wrote, adding that leaders including European Commission President Ursula von der Leyen and President Biden should convene a "high-level" global summit on AI.
The summit would aim to determine a "preliminary set of governing principles for the development, control and deployment of very powerful artificial intelligence."
"Together, we can steer history in the right direction," the group wrote.
ELON MUSK REVEALS PLANS TO DEVELOP 'TRUTHGPT' AS HE WARNS OF AI DANGERS IN TUCKER CARLSON INTERVIEW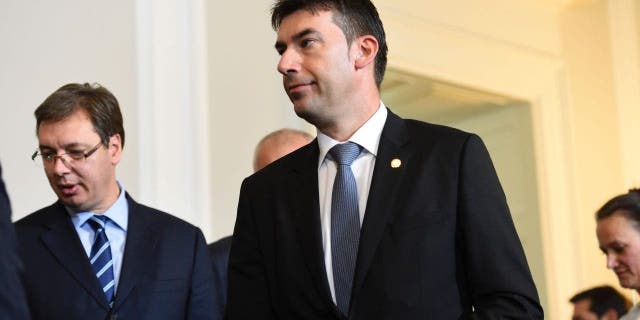 Romania's Foreign Minister Dragos Tudorache walks after a meeting on the Balkan migrant route into the EU in Vienna on Sept. 24, 2016. (Joe Klamar/AFP via Getty Images)
Dragos Tudorache, a member of the European Parliament (MEP) from Romania and a signatory on the EU response, said that the open letter's call for a pause, "although unnecessarily alarmist," served as "another signal we need to focus serious political attention on the issue."
The letter gained support from 12 MEPs overall, all working on EU legislation to hammer out a blueprint for AI regulation.
China and India have already indicated a hope to allow AI technology to flourish, so they can take advantage of the incredible advancements, though, Beijing indicated a desire for any AI technology to adhere to security assessments and align with the country's socialist philosophy and policies.
CALIFORNIA BUSINESS USING AI-POWERED CAMERAS TO IDENTIFY INTRUSIONS AMID SURGE IN ROBBERIES, POLICE SHORTAGE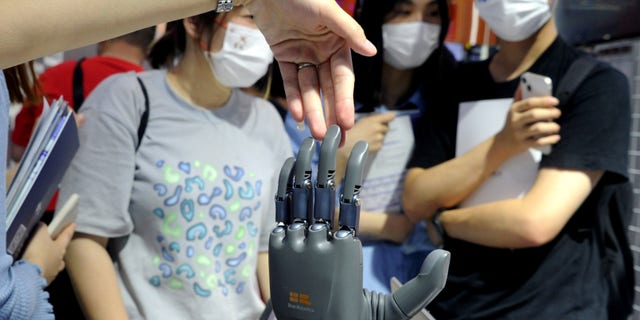 A majority of Americans who spoke with Fox News said the government should demonstrate a hands-off approach when it comes to AI regulation. (VCG/VCG via Getty Images)
However, some trade unions and critics have urged greater restriction on AI use in workplaces amid concerns of significant impacts on workers' rights.
The U.K.'s Trades Union Congress worried about the effect of "management by algorithms," stressing that lawmakers stand at a "really important juncture, where the technology is developing so rapidly, and what we have to ask ourselves is, what direction do we want it to take," according to The Guardian.
In March, Goldman Sachs published a report that determined AI could replace some 300 million jobs worldwide, accounting for a possible 7% increase in total annual value of goods and services, the BBC reported.
Earlier this month, Italy became the first country in the West to outright ban access – temporarily – to chatbots such as ChatGPT, citing privacy concerns and possible violations of European data protection rules.
CLICK HERE TO GET THE FOX NEWS APP
"Our investigation has also found that 1.2% of ChatGPT Plus users might have had personal data revealed to another user," the Italian Data Protection Authority said at the time. "We believe the number of users whose data was actually revealed to someone else is extremely low and we have contacted those who might be impacted."
The Associated Press contributed to this report.