A year after Elon Musk first made his intentions clear about buying Twitter, the CEO of the satire website that may have helped sway the billionaire's purchase praised how the Tesla chief brought free speech back to the social media giant.
Twitter suspended the Babylon Bee for tweeting a headline naming U.S. Assistant Secretary for Health Dr. Rachel Levine, who is transgender, "Man of the Year" for 2022. Musk contacted the Bee CEO Seth Dillon soon after.
"He wanted to confirm that we had, in fact, been suspended," Dillon tweeted after the call. "He even mused on that call that he might need to buy Twitter. Now he's the largest shareholder and has a seat on the board."
Dillon told Fox News he thinks the Bee's ban had a role in Musk's decision, though many factors were likely in play.
MUSK PRAISED BY CEO OF ONCE-BANNED COMPANY FOR RESTORING FREE SPEECH AT TWITTER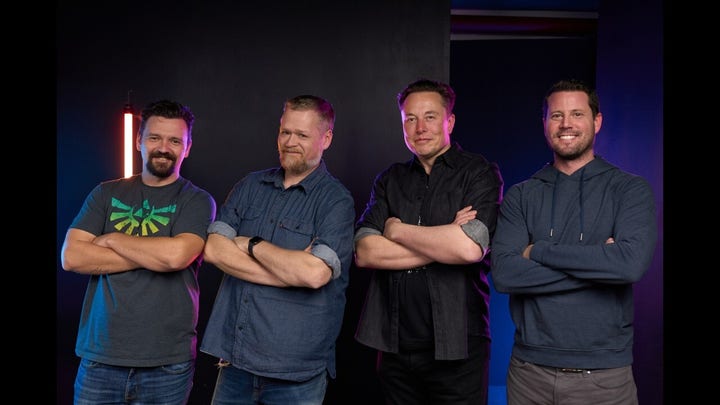 Video
WATCH MORE FOX NEWS DIGITAL ORIGINALS HERE
"He was clearly bothered by the fact that we had been locked out of Twitter," Dillon said. "And so, you know, I certainly wouldn't say that it was the only reason that he spent $44 billion to acquire Twitter and make it a free speech platform. But maybe it was the icing on the cake."
Dillon said the Bee's ban was symptomatic of Twitter's larger problem of banning accounts that pushed views the platform deemed offensive.
"It was an egregious example of how speech was being curbed," Dillon said.
Musk's ex-wife Talulah Riley told the Tesla CEO about the Bee's suspension on March 24, 2022, calling it "crazy," documents from a court case regarding Musk's Twitter purchase show. Riley encouraged Musk to buy Twitter and to make it "radically free-speech."
In April 2022, Musk announced that he made an offer to purchase Twitter and took over in October following a legal battle after the Tesla CEO attempted to exit the deal.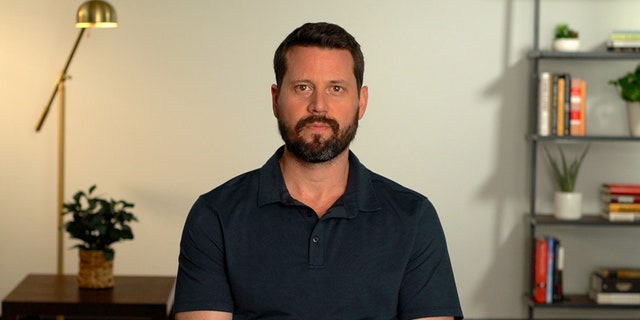 Babylon Bee CEO Seth Dillon talks to Fox News about his website's role in Elon Musk's decision to purchase Twitter. (Fox News Digital)
GREG GUTFELD: THE BABYLON BEE IS TOO GOOD AT ITS JOB
Meanwhile, since Dillon refused to delete the Levine tweet, the Bee's Twitter account was left inactive until Musk was in power.
"I woke up and read a story in The Washington Post saying that Elon Musk, on his first day as CEO of Twitter, walked in the office and issued an urgent directive, bringing back the Babylon Bee," Dillon told Fox News.
"He wants it to be a platform where you're allowed to say things that are unpopular, where you're allowed to say things that are offensive," Dillon added. "He definitely wants it to be a free place where ideas are debated."
Critics of Musk's free speech policies claim that without restrictions, hatred spreads on the platform. The Anti-Defamation League, for example, claimed the social media giant isn't curbing antisemitic content.
Others have argued that speech is still only selectively free on Twitter. In December, reporters from CNN, The New York Times and The Washington Post had their accounts banned after aggressively covering Musk. In a Monday article, "At Elon Musk's Twitter, speech is anything but free," Axios reported that tweets about Ukraine were down-ranked and those that include the words "trans" or "transgender" wouldn't preview in direct messages.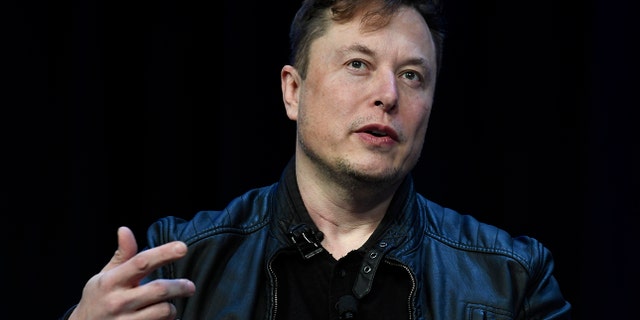 According to Dillon, Musk has helped improve free speech on Twitter. Critics, however, have argued otherwise. (AP Photo/Susan Walsh, File)
BABYLON BEE CEO SETH DILLON ROASTS PRE-MUSK TWITTER: 'COMPLETELY ANTI-TRUTH ENVIRONMENT FOR FREE SPEECH'
But Dillon said Twitter is "definitely better because there are more voices there" thanks to Musk's new policies. The new chief has restored accounts from all sides of the political spectrum including Kathy Griffin, Jordan Peterson, former President Donald Trump and many more.
Dillon said that prior to Musk acquiring the company, jokes similar to the one that landed his company in Twitter jail were forbidden since the platform didn't want certain ideas such as gender-affirming care to be mocked.
"You can't even make jokes about these things," Dillon said. "You know, these ideas, these sacred cows, they're untouchable."
Dillion said Musk found that "problematic."
"I'm grateful to him that he decided to step in and do something about it," Dillon said.
Musk has admired the Bee for a couple of years, telling Dillon during a December 2021 podcast that he finds their articles "quite funny." He also said he used to be a bigger fan of another satire website, "The Onion," but that it had become too left-leaning.
"The Onion just seems to have gotten really politically correct," Musk said. "It used to be more evenhanded, and then they just got the woke mind virus."
BABYLON BEE CEO: THE WORLD IS DIFFICULT TO SATIRIZE RIGHT NOW BECAUSE IT'S SO INSANE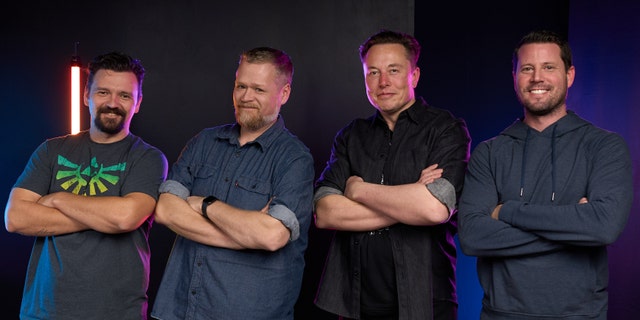 Elon Musk poses for a photo with the Babylon Bee's staff during a podcast interview in Dec. 2021. (Courtesy of The Babylon Bee)
The Onion did not respond to a request for comment.
Dillon bought the Bee in 2018 and turned it from a small blog making niche Christian jokes to a website with tens of thousands of paying subscribers, 25 million page views each month and over a million YouTube subscribers. He thanked Musk last month, noting that the Bee's visibility on Twitter is doing well.
CLICK HERE FOR THE FOX NEWS APP
"The Babylon Bee has been generating as many impressions on Twitter as it does on Facebook, Instagram and YouTube combined," Dillon said. "Thanks for letting us back onto this 'dying' platform," he added, referring to critics claiming the platform is in a downward spiral.
The Twitter has grown since Musk took over, according to the new CEO, having hit the milestone of 8 billion user-minutes per day last month.
Click here to learn more about Musk's connections with the Babylon Bee.