An alligator attacked a 72-year-old Florida man Friday, biting off a part of his leg, state wildlife officials said.
The attack occurred around 1:50 p.m. at the Great Outdoors RV Resort in Titusville, Florida, the Florida Fish and Wildlife Conservation Commission said in a news release.
ALLIGATOR SPOTTED ON TEXAS BEACH BY SEAS TURTLE PATROLLERS: 'CAUGHT BY SURPRISE'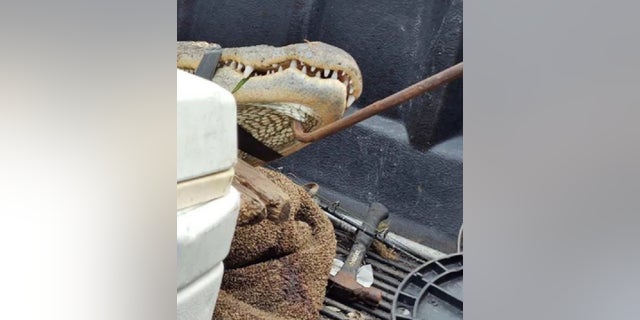 An alligator that bit off part of a Florida man's leg is subdued by wildlife officials.  (WOFL)
The incident left the man missing a part of one of his legs at the knee, FOX Orlando reported.
He was flown to the Holmes Regional Medical Center. His condition was not disclosed. A spokesperson for FWC said a trapper was called and two alligators were "removed."
Last week, a Florida sheriff's deputy a wildlife trapper wrangled an 8-foot alligator that was caught taking a dip in a swimming pool.
CLICK HERE TO GET THE FOX NEWS APP
A week before that, a 2-year-old boy was found in the mouth of an alligator. The boy's father was charged with murder for the death of the child's mother.