A 26-year-old New York felon is back behind bars this week after police say he brutally beat another man to death in a road rage assault following a fender bender involving his $4,000 used car. His girlfriend was arrested after a scuffle with police outside a courthouse was caught on video.
Patrick Destine, a convicted crook from Queens who was out on parole, allegedly ran a stop sign while driving drunk Saturday night, crashed into 54-year-old David McKenzie's minivan and went berserk, according to police in Nassau County.
Destine was driving an unregistered, uninsured car with its headlights off around 11 p.m. Saturday, according to police.
The attack took place near McKenzie's home in Baldwin, a suburban community 30 miles east of New York City, and police said the victim had even offered to walk away without calling police before the attack.
KAYLIN GILLIS DRIVEWAY SHOOTING DEATH: BOYFRIEND DETAILS WRONG TURN IN NEW YORK WOODS, IMMEDIATE AFTERMATH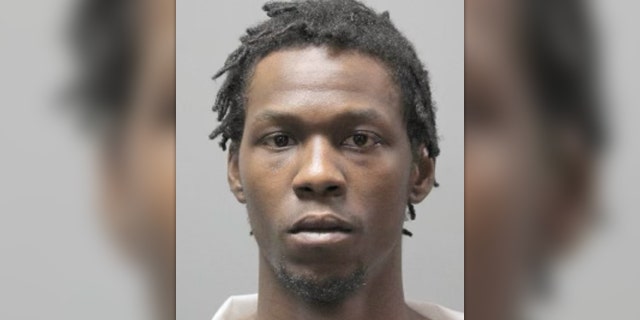 Patrick Destine, a 26-year-old violent felon out on parole, is charged with drunken driving and second-degree murder after allegedly stomping a man to death following a fender bender in Baldwin, N.Y., Saturday night. (Nassau County Police Department)
But Destine allegedly knocked McKenzie to the ground, then kicked him until he died from "severe head trauma," police said.
"He rummaged through his pockets after the victim lied lifeless on the ground," Detective Capt. Stephen Fitzpatrick, commander of the department's homicide squad, told reporters at a news briefing.
NEW YORK MAN ACCUSED OF KILLING WOMAN IN DRIVEWAY HAD 'SHORT FUSE,' HATED TRESPASSERS: REPORT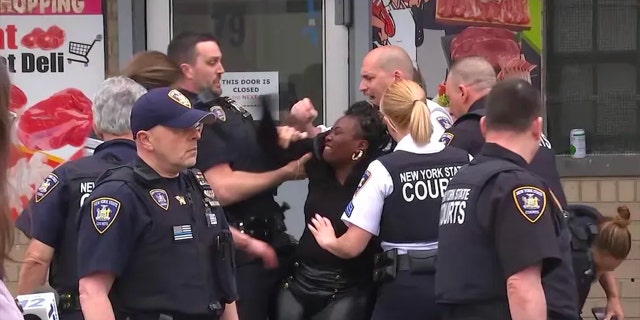 Aisha Pitt, identified as suspected killer Patrick Destine's 19-year-old girlfriend, scuffled with police officers outside the Nassau County Courthouse. (FOX 5 New York)
He grabbed something else from his car and left on foot with a woman, later identified as his 19-year-old girlfriend Aisha Pitt, Fitzpatrick said.
Responding officers chased Destine down by foot and arrested him near the scene.
Destine pleaded not guilty to charges of DWI and second-degree murder. He was remanded without bail.
FLORIDA ROAD RAGE INCIDENT LEAVES 2 GIRLS SHOT AFTER FATHERS' STAND-YOUR-GROUND GUNFIGHT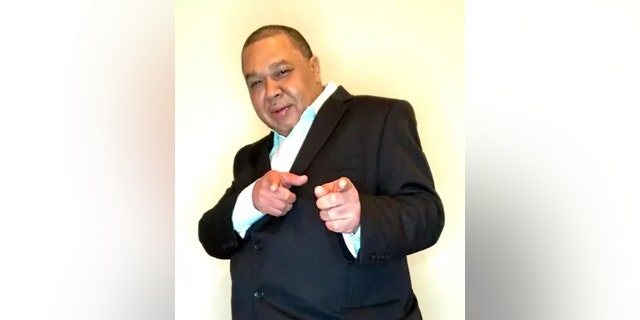 David McKenzie, a 54-year-old from Baldwin, N.Y., was beaten to death after an enraged drunken driver crashed into his minivan Saturday night, according to police in Nassau County. (FOX 5 NY)
The repeat felon was paroled in 2019 after serving time in state prison on charges of attempted robbery and, while in custody, promoting contraband.
WATCH: New York ex-con arrested in road rage murder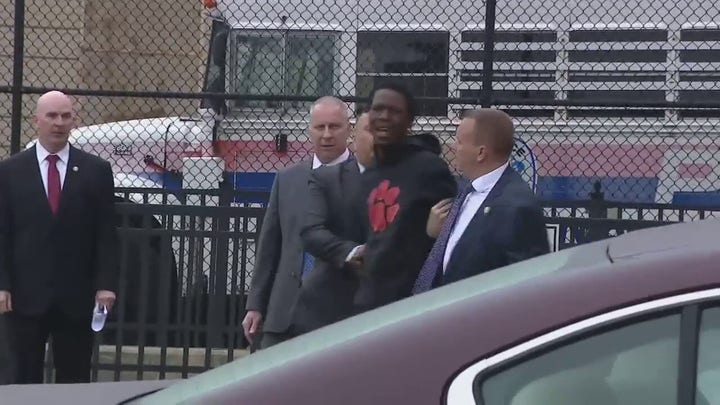 Video
CLICK HERE TO GET THE FOX NEWS APP
After his court appearance, Pitt, the girlfriend, screamed at McKenzie's family and court officers, then wrestled with police in video captured by FOX 5 New York. Police arrested her outside the courthouse.
She was also arrested on Saturday after McKenzie's death on drug possession charges and for allegedly lying to police about her identity.
Fox News' Haley Chi-Sing contributed to this report.