Using technology can sometimes get complicated. There are bound to be mistakes made along the way in everyday life. However, you can avoid making those embarrassing hiccups by following my tips below.
CLICK TO GET KURT'S FREE CYBERGUY NEWSLETTER WITH QUICK TIPS, TECH REVIEWS, SECURITY ALERTS AND EASY HOW-TO'S TO MAKE YOU SMARTER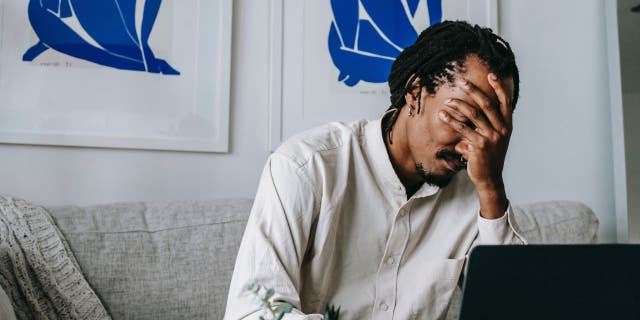 Man embarrassed because his auto-fill is revealing his search history. (CyberGuy.com)
1. Don't let autofill reveal your search history
If you share a device with other people in your family, the last thing you want is for them to see what you've been searching for on the internet. Maybe you were trying to buy them a nice gift for their birthday, or maybe you just want to keep your searches to yourself. This can be very difficult if your computer's browser uses autofill to try to help you search faster, so you want to make sure you know how to delete those embarrassing autofill entries.
If you're an Apple user, you can find out how to delete embarrassing autofill entries here.
If you're a PC and Android user, you can get those steps for deleting autofill here.
WHAT YOU NEED TO KNOW TO CASH IN ON FACEBOOK'S $725M SETTLEMENT
2. Avoid pocket dialing
It's always embarrassing when you leave your phone in your pocket and then accidentally dial someone. It's one thing if it's a friend or family member, however, if you accidentally call your boss while you're out at a party, then that can be pretty embarrassing. There are multiple ways that you can avoid this from happening by locking your phone and adjusting some settings within audio messages, whether you have an iPhone or an Android.
Here's how to do it if you have an iPhone: 
Go to "Settings"
Tap "Display & Brightness"
In the "Auto-Lock" section, set it to 30 seconds (this is the lowest time you can set this to)
Here's how to do it if you have an Android: 
Go to "Settings"
Go to "Security"
Click the gear icon next to "Screen Lock" 
HOW TO PREVENT YOUR PRINTER FROM GETTING HACKED
3. Lock your photos
If you've ever handed your phone over to someone, it can be downright embarrassing when they start scrolling through your photos and you have some on there that you didn't intend on sharing. You can lock your photos on your smartphone so that no one else can access them.
Here's how to do it on an iPhone:
Open your Photos app
Tap the photo you want to hide
Select the 3 horizontal dots inside the circle in the top right
Click Hide and then Hide Photo to confirm
To find the photo, tap Albums at the bottom of your screen
Scroll all the way down and tap Hidden. You will need Face ID or your iPhone's passcode to look at the album
Here's how to do it on an Android:
Open the Google Photos app 
Go to Library 
Select Utilities 
Tap Locked Folder 
Tap Set up Locked Folder
Follow the on-screen instructions to unlock your device. If your folder is empty, you'll find "Nothing here yet"
Select the photos and videos you want in Locked Folder.
At the top right, tap the 3 vertical dots 
Select Move to Locked Folder
Tap Move
For more of my tips, subscribe to my free CyberGuy Report Newsletter by heading to CyberGuy.com/Newsletter .
HOW TO SAFEGUARD YOUR IPHONE AGAINST ACCOUNT LOCKOUTS BY CONNIVING CRIMINALS
4. Turn off Live Photos
While the Live Photo feature on the iPhone is great, remember it's a mini movie of 3 seconds, so make sure there's no video or audio within those 3 seconds that could be embarrassing before sending a photo to someone. A person on the receiving end can still hold down that photo and view the video and audio. Here's how to turn off Live Photo if you're an iPhone user.
Open your Camera app
In the top right corner, tap the dotted circle
You'll see a slash across the circle once it's off and your phone will say LIVE OFF at the top of the screen. Tap the circle again to turn it back on
MORE: HOW TO TURN LIVE PHOTOS ON AND OFF ON IPHONE
FACEBOOK MARKETPLACE VS. OFFERUP: WHO'S THE WINNER?
5. Don't send an email to the wrong person
You never want to be that person who sends an email to the wrong person or with an awkward typo in it, especially if it's an important email with private and secure information within it.
My tips here are to always double-check who you've put into the "to" field. Also, use a website or browser extension like Grammarly to help you check for any spelling or grammar errors before you send off that important message. Grammarly will also help you to write clearly and concisely and improve tone and word choice.
BALANCING THE PROS AND CONS OF SOCIAL MEDIA SCREEN TIME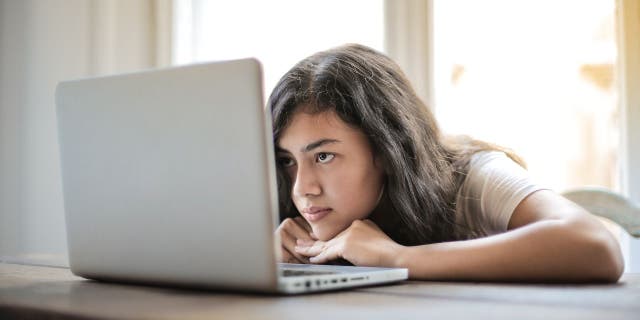 Woman embarrassed that she send an email to the wrong person. (CyberGuy.com)
6. Don't accidentally send to a group chat
Apps
Sometimes we mean for a text to only go to one person, and without paying enough attention, we end up sending the text to an entire group message. You can avoid this by using messaging apps like WhatsApp, Telegram, or Signal.
Edit/Unsend with iOS 16
If you do not want to use these apps, there is a way for you to edit or unsend messages within iMessage for iPhone users if you have iOS 16. However, the user you are sending the message to must also have updated their iPhone to iOS 16, otherwise, the feature will not work.
If this is the case, you can undo a recently sent message for up to two minutes after sending it by holding down the message you sent and clicking Undo Send. 
You can edit a recently sent message up to five times within 15 minutes of sending it by holding down the message you sent and clicking Edit. 
There is not currently a feature on Android phones that lets you unsend or edit messages, so you may want to stick with the apps mentioned above if you're an Android user.
PROTECT YOUR ASSETS WITH THE WORLD'S FIRST AIRBAG JEANS
7. Turn your ringer off
Remembering to turn your ringer off is super important, especially if you're in class, a meeting, or any other important event. The last thing you want is to be that person who everyone judges for not silencing their phone. Try setting a reminder for yourself on your phone to turn your ringer off if you know you have a big event coming up.
To put your iPhone on silent or vibrate mode just use the physical switch on the upper left side of your iPhone.
Press the slider down toward the back of the phone to put your phone in silent or vibrate mode.
Or you can use the "Do Not Disturb" feature. Here's how:
Swipe down from the top right of your iPhone's screen to access the Control Center
Tap the crescent moon icon to enable Do Not Disturb mode
You can customize the "Do Not Disturb" settings by going to Settings > Do Not Disturb. Here you can set specific times, allow calls from certain contacts, and more.
When you're ready to turn off Do Not Disturb mode, simply swipe down  from the top right of the screen again and tap the crescent moon icon to disable it
To turn off the ringer on an Android phone, you can follow these steps:
Press the volume down button on the side of your phone until the volume is all the way down
Swipe down from the top of your screen to open the Notification Shade
Tap the bell icon or the "Do Not Disturb" icon to turn on the "Do Not Disturb" mode. This will silence all incoming calls and notifications, but you can still receive them and view them later
If you want to completely turn off all sounds and vibrations on your phone, including notifications and alarms, you can also toggle the "Silent" mode on by pressing and holding the volume down button until the "Silent" mode is enabled
Note: The exact steps may vary depending on the make and model of your phone and the version of the Android operating system that it's running.
For more of my tips, subscribe to my free CyberGuy Report Newsletter by heading to CyberGuy.com/Newsletter.
60 TOP GOOGLE PLAY APPS INFECTED WITH ANDROID MALWARE AFFECTING MILLIONS
8. Be careful what you post
Once you post something on social media, it's out there forever. You always want to avoid posting anything embarrassing, inappropriate, or offensive on your social accounts because it will likely come back to haunt you later. Always think before you post. And if you're someone who spends a lot of time on social media and wants to cut back on screen time, follow these steps.
For iPhone:
Open Settings
Click Screen Time
Select App Limits
Click Add Limit
Select the category of apps that you want to put a limit on
For Android:
Open the Settings app
Tap Digital Wellbeing & parental controls
Tap the chart
Next to the app you want to limit, tap Set timer 
Choose how much time you can spend on that app
Tap Set
By following these tips, you can avoid some of the most common technology embarrassments that we all make.
CLICK HERE TO GET THE FOX NEWS APP
Have any other tips that we missed? Let us by writing us at CyberGuy.com/Contact.
For more of my tips, subscribe to my free CyberGuy Report Newsletter by heading to CyberGuy.com/Newsletter.
Copyright 2023 CyberGuy.com. All rights reserved.