A British woman paid an eye-popping amount of money to fly her dogs to the United States from London, saying that it was actually cheaper than putting her pooches in cargo.
Maddie Young, 31, recently paid £8,000 (about $10,000 in U.S. currency) to fly her two dogs from London to the United States in a private jet, the news agency SWNS reported.
The jet was replete with food, treats and personalized toys, said SWNS.
DOGS CRY TEARS OF JOY WHEN REUNITED WITH THEIR OWNERS: NEW STUDY
Young and her husband, Stephen Whitworth, 32, moved to Brooklyn, New York, in January 2023.
The couple's two dogs — Violet, a 12-year-old pug, and Olive, a one-year-old golden retriever — initially had to stay behind in the United Kingdom.
After researching how to safely bring the dogs to their new home across the Atlantic, Young was quoted £6,000- £12,000 (about $7,400 to $14,800 in U.S. dollars) per dog to fly the pooches as cargo on an airline, she told SWNS.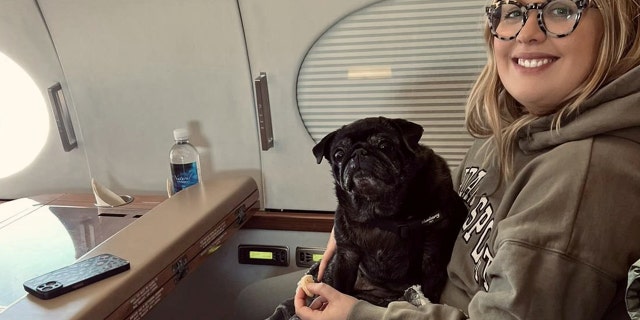 Maddie Young and her dog Violet on the private plane to the U.S. Some airlines were hesitant to fly Violet in cargo as she has a flat face, Young said. (SWNS)
"The quotes were crazily expensive," Young told SWNS.
The issue was further complicated by the fact that Violet's breed is prone to breathing problems due to its face structure, she also noted.
DOG AT OHIO MIDDLE SCHOOL GETS HER OWN YEARBOOK PICTURE FOR SECOND YEAR IN A ROW
"We were limited as airlines don't like to fly flat-face breeds," said Young.
Another option was to bring the dogs to the United States on an ocean liner — but there was a two-year wait for availability, Young also said.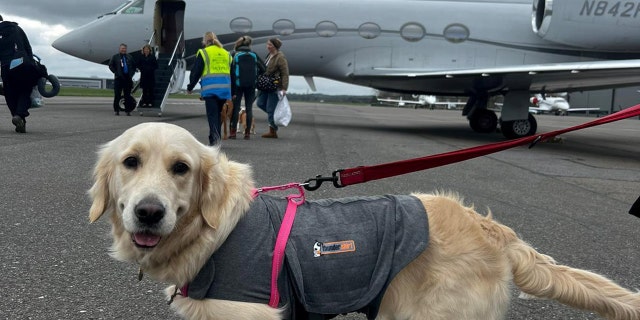 Olive, a one-year-old golden retriever, on the runway before her private flight to the United States. (SWNS)
Undeterred, Young "googled lots of stuff" and discovered a Facebook group seeking to organize chartered flights and splitting the cost among them, she told SWNS.
Initially, Young paid £10,000 (about $12,400 in U.S. dollars) for seats for her husband, herself and the two dogs to fly to the U.S. in April 2023.
The price was knocked down to £8,000 after the group was given a discount for the full flight, noted SWNS.
LOKI, A WICHITA SHELTER'S LONGEST RESPIDENT, SEEKS FOREVER HOME WITH BIG YARD
"The experience was so smooth," she said. "There were eight dogs and 10 humans."
It was a "no brainer" to spring for the private jet as it was cheaper than sending the dogs as cargo, Young said, adding that she felt it was safer than putting Violet, an older dog, in the cargo hold.
"There's no shame for people who put them in cargo," said Young. "That's fine if it works for you."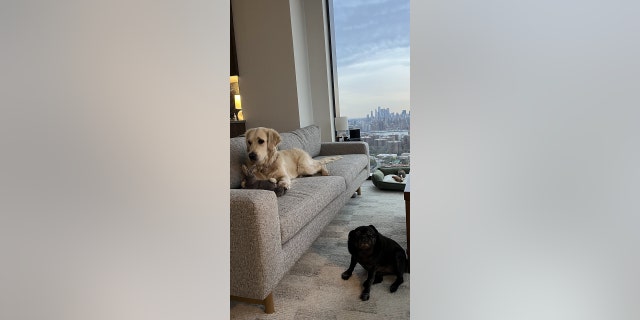 Olive (on left) and Violet (right) made it safely to their new home in the United States, their owner Maggie Young told SWNS.  (SWNS)
Despite everything, there were jitters before the journey.
"I was nervous," Young admitted, as she had "never flown private before."
Those fears evaporated once the plan was in the air, she told SWNS.
CLICK HERE TO SIGN UP FOR OUR LIFESTYLE NEWSLETTER
"All the dogs were super well-behaved," she said. "They mostly slept, chilled and chewed bones."
CLICK HERE TO GET THE FOX NEWS APP
The dogs and their owners arrived "safely and stylishly" in New York, said SWNS — and are now settling nicely into their new home.
"It was a great experience," said Young of the private jet experience.