A United Airlines flight bound for Tel Aviv's Ben Gurion Airport reportedly had to make a U-turn three hours into the flight and head back to Newark, New Jersey, after a man on board became unruly with crew members.
Flight 90, which departed from Newark Liberty International Airport in the early morning of Sunday, April 24, reportedly had to turn back a few hours after takeoff.
The Israeli passenger wanted to use the bathroom.
IRATE PASSENGER GOES ON ANGRY MID-AIR RANT OVER CRYING INFANT, SCREAMED HE WAS IN A 'TIN CAN' WITH A BABY
But he waited his turn by sitting in a seat reserved for crew members only, another passenger named Sholomit told Israeli media outlet Ynet.
A flight attendant "raised his voice at him and the passenger responded in kind," Sholomit said.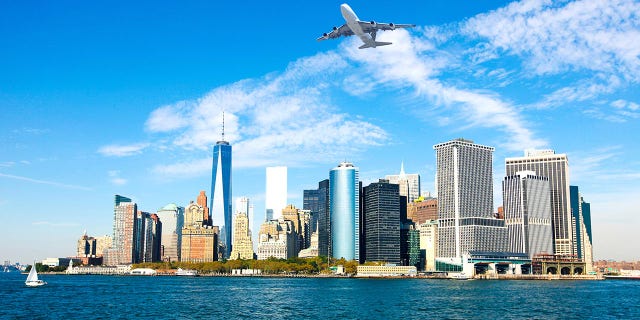 Above, an airplane flies over New York City. United's Flight 90 had to turn around three hours into its flight to Israel due to unruly passenger ad   (iStock)
The crew member told the yelling passenger the plane would turn back if he did not leave the seat, and the man apparently didn't believe him, Ynet reported.
Soon, the other passengers were surprised to see that the plane had "changed course and was returning to the U.S.," Sholomit told Ynet.
"No one bothered to inform us," she continued. "We just noticed it on the map showing our flight path and when we landed, we saw the police waiting for the plane."
DOGS FLY ACROSS ATLANTIC ON PRIVATE JET: TRAVEL OPTION WAS 'NO BRAINER,' SAYS OWNER
When the plane landed back at Newark International Airport, "the passenger was arrested for misbehaving" and also for "speaking rudely to the flight crew," said Ynet.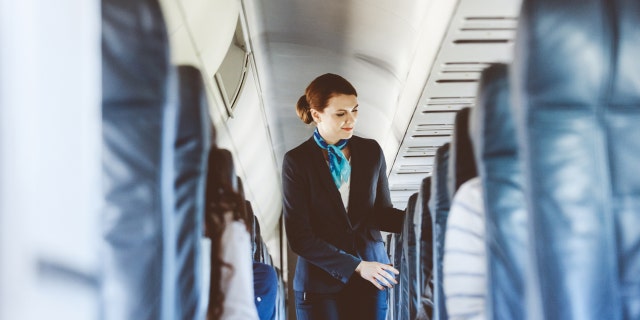 When a flight attendant (not pictured) told the passenger waiting for the bathroom to leave the specially designated seat for crew members, he reportedly began yelling. (iStock)
"United Flight 90 traveling from Newark to Tel Aviv returned to Newark shortly after takeoff due to a disruptive passenger," United Airlines said in a statement to Fox News Digital.
"Law enforcement met the aircraft and removed the passenger," the statement continued. "We rebooked our customers onto a new flight that departed Sunday evening."
"Thanks, bro," said one man about the passenger who caused the flight to turn back.
Among the frustrated passengers aboard the flight was a man named Jeff Hunt, who tweeted about the incident.
REDDIT USER RECLINES HIS FIRST-CLASS AIRLINE SEAT, PASSENGER BEHIND HIM ORDERS HIM TO RAISE IT BACK UP
"Trying to make it to Tel Aviv. First flight from D.C. canceled due to weather," Hunt wrote in his tweet.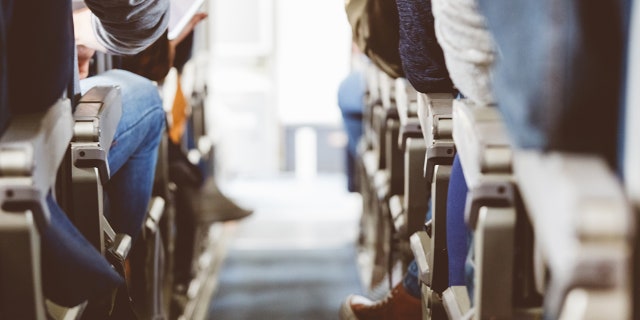 One passenger on Flight 90, Jeff Hunt, took to social media about having to land back in Newark, tweeting, "Thanks, bro." (iStock)
"No worries. Took 3hr train to Newark. Flight delayed 2.5hrs due to weather. 4hrs into flight, unruly passenger requires return to Newark," he continued.
"Thanks, bro," he added about the passenger who caused the flight to turn back.
Fox News Digital attempted to reach Hunt for further comment.
CLICK HERE TO SIGN UP FOR OUR LIFESTYLE NEWSLETTER
"On the whole, I think that United Airlines flight attendants do a good job of de-escalation," travel expert Gary Leff wrote in the flight publication Viewfromthewing.com about the incident.
"They may have overreacted in turning the aircraft around, although if a passenger isn't following crew member instructions and there's no easy diversion, that's a judgment call for the captain," Leff also wrote.
CLICK HERE TO GET THE FOX NEWS APP
"There's little question, though, [that] the flight attendant is [within] their rights to ask a passenger to vacate crew seats — just as a passenger might ask another to get up if they found someone sitting in their seat after going to the lavatory," he added.