The Detroit Police Department is investigating a break-in at the mansion where neurosurgeon Devon Hoover was found shot dead inside the home last weekend.
Authorities said a suspect or suspects broke into Hoover's million-dollar home in the Boston-Edison neighborhood exactly one week after investigators found Hoover dead inside the home last Sunday. They could not confirm whether anything was stolen.
Detroit Police Chief James White said during a Friday press conference announcing a person of interest in the 53-year-old doctor's death that the shooting did not appear to be a "random" break-in.
"Preliminarily, our investigation reveals that this is an incident where the two parties knew each other. We have no reason to believe the community is … at any risk. This was not a random act," White said.
DETROIT POLICE HAVE PERSON OF INTEREST IN DOCTOR'S DEATH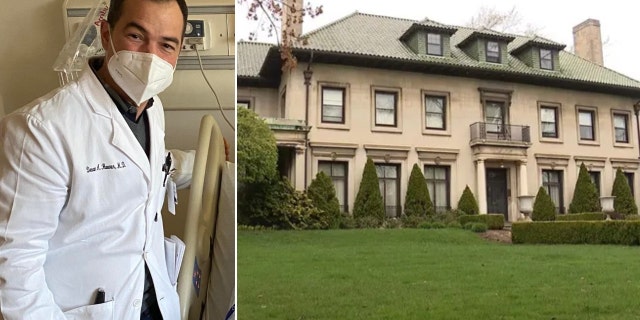 Detroit police on Friday announced that they have a person of interest in custody in connection with the fatal shooting of neurosurgeon Dr. Devon Hoover. (Sheryl Gibbs Leaver/ WJBK)
The Detroit Police Department has not announced any further updates regarding the person of interest or any arrests in Hoover's homicide case.
The weekend break-in suspects apparently came through the rear window of Hoover's home, which is listed at more than $1 million, sometime between Saturday evening and Sunday morning.
DETROIT NUREOSURGEON FOUND DEAD INSIDE HOME WAS AN 'AMAZING DOCTOR,' FORMER PATIENT SAYS
The mansion is surrounded by a gate on the sides and back of the property, which faces an abandoned apartment building.
According to his obituary, Hoover purchased the home in 2008 and had been "steadily transforming it room by room with period décor and carefully selected antiques."
"He was essentially the curator of his own museum, which he loved sharing with friends, family, and visitors," the obituary states. "Devon had an eye for excellence across many areas of life, including his yard and hedges. He hired a landscape service for some of the outside maintenance, but the hedges were his specialty, and only he could meet his own standards."
On Friday, police took the person of interest in Hoover's death into custody on an unrelated charge, but White believes the person may have information about the doctor's apparent murder.
DETROIT NEUROSURGEON FOUND SHOT DEAD INSIDE HOME: REPORT
"I'm confident that this person of interest who is in custody on an unrelated charge will provide some information for us as to what occurred," White said.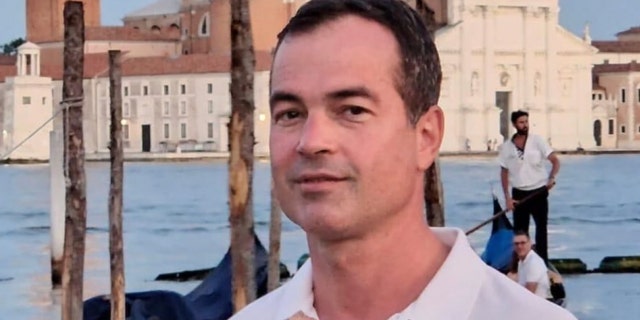 Devon Hoover, 53, was found dead inside of his home on Sunday night, according to Fox2 Detroit. (WJBK)
Hoovr grew up working on his family's dairy farm, "milking the cows, planting and harvesting crops, and doing many other chores alongside the rest of the family" until he decided "early in life" to become a doctor, according to his obituary.
"At the time of his death, he had been practicing for 27 years as a board-certified neurosurgeon specializing in the treatment of neck and back disorders," the obituary states.
The Detroit Police Department Homicide Unit is investigating Hoover's shooting death, which could be linked to a domestic situation.
DETROIT-AREA MAN PLEADS NO CONTEST TO KILLING NEWS ANCHOR
Investigators found the doctor's body wrapped in a blanket in the attic of his sprawling home. They located his abandoned car on the west side of the city, according to FOX 2.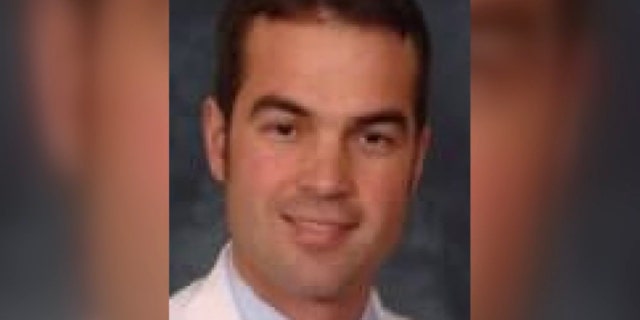 The Detroit Police Department Homicide Unit is investigating Hoover's shooting death, which could be linked to a domestic situation.  (WJBK)
Police responded to the address after his family requested a welfare check when Hoover did not show up to a family event.
CLICK HERE TO GET THE FOX NEWS APP
The motive for the shooting also is unclear. The Wayne County Medical Examiner on Wednesday ruled Hoover's death a homicide, according to The Detroit Free Press.
Fox News' Jasmine Baehr and Greg Norman contributed to this report.