Florida Gov. Ron DeSantis encouraged people to continue boycotting Bud Light amid their promotion of transgender personality Dylan Mulvaney, as he said conservative consumers hold "power" to keep the company accountable. He also revealed his preferred alternative beer.
During an interview Monday evening with political commentator Benny Johnson, DeSantis said he would not be drinking Bud Light anymore as he did not wish to help enable "woke companies" and their goals of "trying to change our country, trying to change policy, [and] trying to change [the] culture."
"Why would you want to drink Bud Light? I mean like honestly, that's like them rubbing our faces in it, and it's like these companies that do this, if they never have any response, they are just gonna keep doing it," DeSantis told Johnson.
The Republican governor suggested conservatives do not have to sit on the sidelines on the issue, but they have "power" to hit the company where it hurts: their bottom line.
BUDWEISER'S NEW PRO-AMERICA AD SETS SOCIAL MEDIA ABLAZE: CAN'T PUT THE 'GENIE BACK IN THE BOTTLE, GUYS'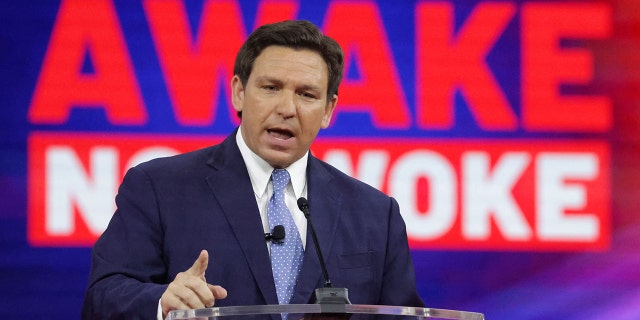 Florida Gov. Ron DeSantis delivers remarks at the 2022 CPAC conference at the Rosen Shingle Creek in Orlando, Thursday, Feb. 24, 2022.  (Joe Burbank/Orlando Sentinel/Tribune News Service via Getty Images)
"So, if you as a consumer are like… ' yeah, they're doing that, but I'm just gonna keep drinking it anyways,' well, then they're gonna keep doing it," the governor continued. "So I think we have power as consumers to make our voice heard, and not on every company because sometimes conservative consumers aren't going to make a dent in some companies."
He added: "This one is one if you don't have conservative beer drinkers, you're gonna feel that and so you know."
The comments come as Bud Light and its parent company Anheuser-Busch are facing tremendous backlash after partnering with Mulvaney – a biological male who identifies as transgender.
The controversy began when the company celebrated Mulvaney's "365 Days of Girlhood," by sending Mulvaney custom-made cans featuring the influencer's face.
A video then featured Mulvaney in a bathtub drinking a Bud Light beer as part of the campaign.
"Bud Light sent me possibly the best gift ever: a can with my face on it," Mulvaney wrote, adding the hashtag #budlightpartner.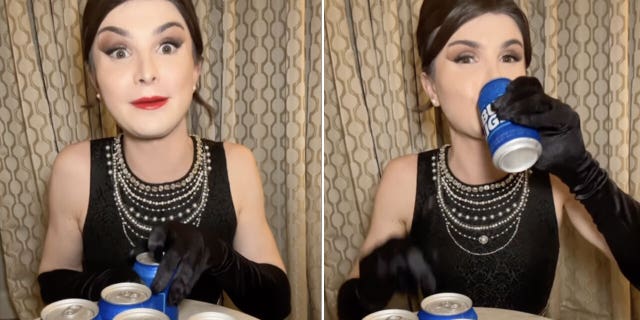 Anheuser-Busch set social media ablaze when beer juggernaut Bud Light celebrated transgender activist Dylan Mulvaney's "365 Days of Girlhood" with a polarizing promotion.  (Instagram)
Brendan Whitworth, the CEO of Anheuser-Busch, addressed backlash from consumers and some celebrities in a statement released Friday where he neither apologized to offended customers nor expressed regret in the Mulvaney campaign.
"We never intended to be part of a discussion that divides people. We are in the business of bringing people together over a beer," Whitworth said. "I care deeply about this country, this company, our brands and our partners."
YUENGLING APPEARS TO TAKE SHOT AT BUD LIGHT WITH 'PERFECTLY TIMED' TWEET
The CEO added: "Moving forward, I will continue to work tirelessly to bring great beers to consumers across our nation."
Anheuser-Busch has lost $5 billion in value since the start of the campaign.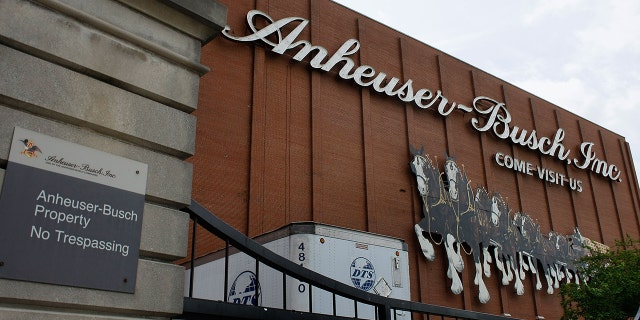 Anheuser-Busch has lost $5 billion in value since announcing a partnership with transgender personality Dylan Mulvaney. (Joe Raedle/Getty Images)
DeSantis also said: "Some of these controversies that come up, and people can kind of just say, 'Oh, well it's kind of a one-off, yeah, it was stupid to do,' but it's part of a larger thing where corporate America is trying to change our country. Trying to change policy, trying to change culture, and you know, I'd rather be governed by we the people than woke companies, and so I think [the] pushback is in order across the board including with Bud Light."
As for an alternative, the Florida Republican told Johnson that he and his wife, Florida First Lady Casey DeSantis, prefer a Guinness Draught.
"What would I do? My wife and I, whenever we just go out for a beer, we actually like the stout, Guinness," he explained, sharing the couple has "always been a fan" since they visited Dublin, Ireland.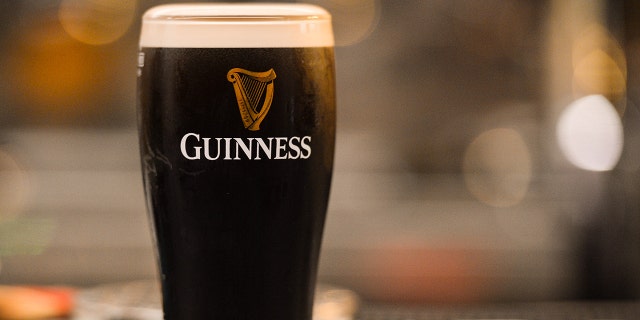 Perfectly poured pint of Guinness seen inside BAH33. (Artur Widak/NurPhoto via Getty Images)
TEAM DESANTIS MOCKS BUD LIGHT IN NEW PARODY VIDEO SUPPORTING WOMEN'S SPORTS
Earlier in the day, DeSantis' team also released a video mocking Bud Light by highlighting the "real men of women's sports."
The "Real Men of Women's Sports" video parodies Bud Light's "Real Men of Genius" campaign from the late 1990s and early 2000s.
In it, a voice reads out: "Team DeSantis presents real men of women's sports."
The video then includes clips of trans swimmer Lia Thomas and other transgender athletes competing in their respective sports.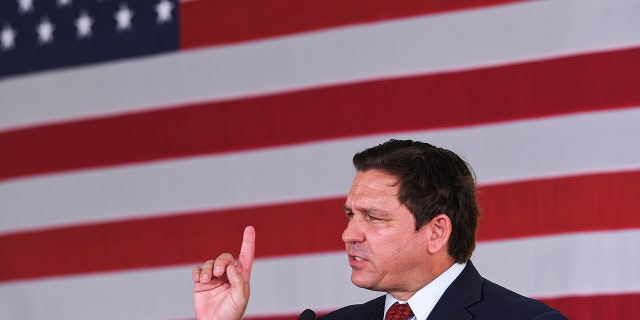 Florida Gov. Ron DeSantis speaks to supporters at a campaign stop on the Keep Florida Free Tour at the Horsepower Ranch in Geneva. (Paul Hennessy/SOPA Images/LightRocket via Getty Images)
"Today we recognize the men who hacked the system," the narrator jokingly continues. "Once mediocre in the men's division, now cream of the crop in the women's. From mediocre to champion!"
The video continues: "Because without you, sports would be fair. Without you, women's sports would be for, well, women."
CLICK HERE TO GET THE FOX NEWS APP
DeSantis has swiftly risen to prominence among conservatives after he moved from the U.S. House of Representatives to the Florida governor's mansion. Once in office, he has used his platform to staunchly defend conservative issues, and he has been a vocal critic of "wokeness."
The Republican is reportedly considering a bid for the White House as early as 2024, though he has yet to announce his decision on whether he will launch a campaign.
Fox News' Brandon Gillespie contributed to this report.