House and Senate Democrats are demanding that Supreme Court Chief Justice John Roberts launch an inquiry into Associate Justice Clarence Thomas and the luxury vacations he received as gifts from a GOP mega donor over more than 20 years.
Sixteen lawmakers led by Sen. Sheldon Whitehouse, D-R.I., and Rep. Hank Johnson, D-Ga., sent a letter to Roberts on Friday requesting an investigation into "allegations of unethical, and potentially unlawful, conduct." A ProPublica report published this week found that Thomas' close friendship with real estate developer Harlan Crow allowed him to accompany the Texas billionaire on luxury vacations on his private jet and yacht, as well as free stays on Crow's vast vacation property, among other benefits.
Democrats have alleged that Thomas breached ethics rules by failing to disclose these trips as gifts, some of which were valued at more than $500,000, according to ProPublica. The letter chastises the court for having "barely acknowledged" the allegations before.
"We believe that it is your duty as Chief Justice 'to safeguard public faith in the judiciary,' and that fulfilling that duty requires swift, thorough, independent and transparent investigation into these allegations," the letter states.
CLARENCE THOMAS REPORT SPURS NEW CALLS FROM DEMOCRATS FOR SUPREME COURT CODE OF ETHICS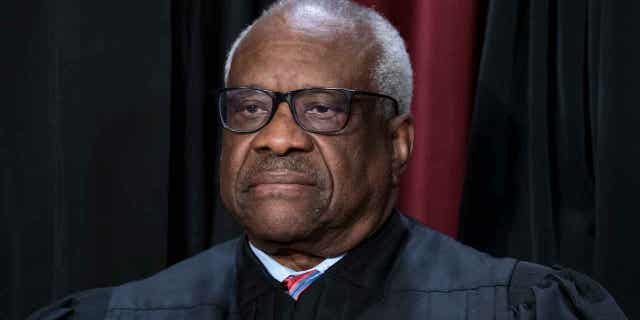 Associate Justice Clarence Thomas has come under fire over reports he failed to disclose gifts from a major GOP donor.  (AP Photo/J. Scott Applewhite, File)
Thomas issued a rare written statement responding to ProPublica's report Friday, insisting that he has always followed Supreme Court guidance on gift disclosures.
"Harlan and Kathy Crow are among our dearest friends, and we have been friends for over twenty-five years," Thomas said. "As friends do, we have joined them on a number of family trips during the more than quarter century we have known them. Early in my tenure at the Court, I sought guidance from my colleagues and others in the judiciary, and was advised that this sort of personal hospitality from close personal friends, who did not have business before the Court, was not reportable."
"I have endeavored to follow that counsel throughout my tenure, and have always sought to comply with the disclosure guidelines," he said. "These guidelines are now being changed, as the committee of the Judicial Conference responsible for financial disclosure for the entire federal judiciary just this past month announced new guidance. And, it is, of course, my intent to follow this guidance in the future."
JUSTICE THOMAS DEFENDS TRIPS TAKEN WITH 'DEAREST FRIENDS' AFTER REPORT SAYS HE ACCEPTED GIFTS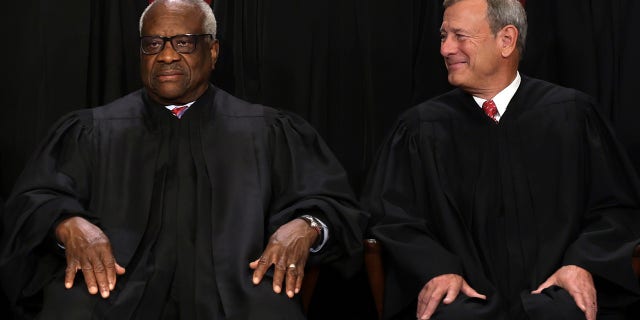 Democrats have requested that Supreme Court Chief Justice John Roberts (right) open an investigation into previously undisclosed trips Associate Justice Clarence Thomas accepted from his friend, billionaire GOP megadonor Harlan Crow.  (Alex Wong/Getty Images)
In a statement to ProPublica, Crow denied ever trying to influence Thomas or put him in positions where other influential people could do the same.
"The hospitality we have extended to the Thomas's (sic) over the years is no different from the hospitality we have extended to our many other dear friends," part of the statement reads. "We have never asked about a pending or lower court case, and Justice Thomas has never discussed one, and we have never sought to influence Justice Thomas on any legal or political issue. More generally, I am unaware of any of our friends ever lobbying or seeking to influence Justice Thomas on any case, and I would never invite anyone who I believe had any intention of doing that."
Last month, the Judicial Conference of the United States, which creates and oversees policies for federal courts, revised its ethics and financial disclosure guidelines to require the justices to disclose things like traveling by private jet and staying in resorts.
PROGRESSIVE DEMOCRATS CALL FOR CLARENCE THOMAS IMPEACHMENT AFTER REPORTED UNDISCLOSED GIFTS FROM GOP MEGADONOR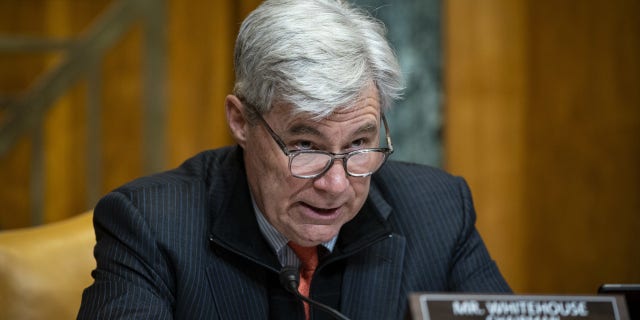 Senator Sheldon Whitehouse, a Democrat from Rhode Island and chairman of the Senate Judiciary Courts Subcommittee, led 16 Democratic lawmakers in demanding that the Supreme Court investigate Thomas' "extensive billionaire-funded luxury travel and other outstanding allegations of misconduct."  (Al Drago/Bloomberg via Getty Images)
The Democrats' letter notes that financial disclosure laws require top government officials to report gifts annually. It states there are "limited exceptions" for personal friendships, but argues, "these exceptions are not meant to allow government officials to hide from the public extravagant gifts by wealthy political interests.
The undersigned lawmakers said the Supreme Court should investigate who accompanied Thomas on the undisclosed trips and whether they have any connections to cases pending before the court. "We have reason to believe that Mr. Crow himself is connected to multiple groups that have filed amicus briefs with the Court," the Democrats wrote. "Yet the public has no way of knowing who else with interests related to Justice Thomas' official duties joined these trips."
CLICK HERE TO GET THE FOX NEWS APP
The Democrats said that if the court fails to act, they will push Congress to impose "a proper code of ethics" on the Supreme Court to "restore accountability" to the body.
Fox News' Brianna Herlihy, Shannon Bream, Elizabeth Elkind and Bill Mears contributed to this report.