A Democratic member of the House Oversight Committee lost it during a heated Wednesday hearing in which two IRS whistleblowers testified the Justice Department politically interfered with an investigation into President Biden's youngest son, Hunter Biden.
Rep. Kweisi Mfume, D-Md., spent the time he was allotted to question the whistleblowers instead railing against the committee's focus on Hunter Biden, claiming the FBI, DOJ and IRS "keep this democracy in check," and ripping up his prepared remarks in a show of frustration.
"Now, here's what galls me. I don't like these attacks on the Department of Justice, the FBI, the IRS, as if they are somehow anti-U.S. agencies. Those agencies keep this democracy in check … They provide the checks, and they provide the balances," Mfume said, referencing Republican members of the committee criticizing the agencies over the alleged interference into the Hunter Biden investigation.
WATCH: WHITE HOUSE DISMISSES DISMAL BIDEN APPROVAL RATINGS, CLAIMS THEY 'DON'T TELL THE WHOLE STORY'
FLORIDA'S MATT GAETZ TO INTRODUCE BILL DEFUNDING JACK SMITH INVESTIGATION TARGETING TRUMP: 'WE MUST ACT'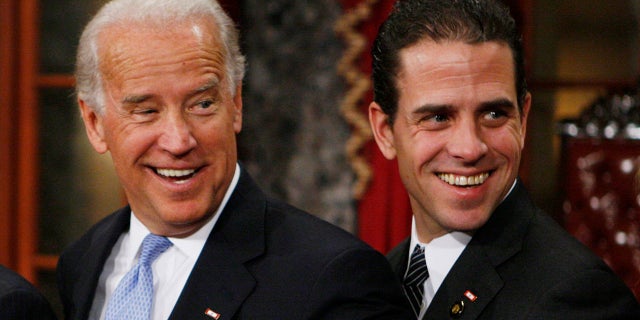 Then Vice President-elect, Sen. Joe Biden, D-Del., left, stands with his son Hunter during a re-enactment of the Senate oath ceremony in the Old Senate Chamber on Capitol Hill in Washington in January 2008. (AP Photo/Charles Dharapak, File)
Mfume noted the potential for Trump to face further indictments in other investigations and attempted to downplay Hunter Biden's legal woes by arguing the latter had "already pleaded guilty to not filing his taxes, having a gun charge, and now I hear also paying for prostitution."
He accused Trump of seeking "special treatment" in his classified documents case, and called for the committee to hold a hearing on the former president's "history of tax evasion."
The two former agents were assigned to the federal investigation into Hunter Biden's tax and gun charges. Biden ultimately pleaded guilty to the misdemeanor tax offenses as part of an agreement with federal prosecutors in a lenient deal that prompted criticism from Republican lawmakers. The hearing comes as House Republicans continue to investigate the president and his family after the DOJ failed to find evidence of criminal conduct.
CLICK HERE TO GET THE FOX NEWS APP
Fox News' Brooke Singman contributed to this report.