In an exclusive interview with Fox News Digital, legendary rocker Dee Snider spoke about his brand-new novel, "Frats," his experience growing up in Long Island, New York, and also talked about standing strong in the face of those looking to bully people for their political beliefs.
The former "Twisted Sister" front man lamented how too many people are "folding" to the mob, but declared that he "won't do it."
Before talking cancel culture and his experience pushing back against the mob, the legendary singer spoke with Fox about his new book "Frats," a novel the singer released in early June that is based on true events from his life, events that would shape him into the outspoken rock star he still is today.
DISNEY-OWNED ABC NEWS STORY ABOUT TRANSGENDER YOUNGSTER SPARKS INTENSE DEBATE: 'IT'S SICKENING'
The story follows young fictional character Bobby Kovax's experience at his new high school, a far cry from what he used to know, with the school pecking order being established by a series of gangs, or "frats," as Snider told the outlet they were called back then.
Snider claimed, "It was a world where there were high school fraternities. This was just the world… They were like gangs."
In "Frats," Kovax must learn how to navigate the cutthroat world of these fraternities just to get through high school.
KISS CO-FOUNDER BLASTS 'NORMALIZING' SEXUAL STRUGGLES IN CHILDREN: 'SAD AND DANGEROUS FAD'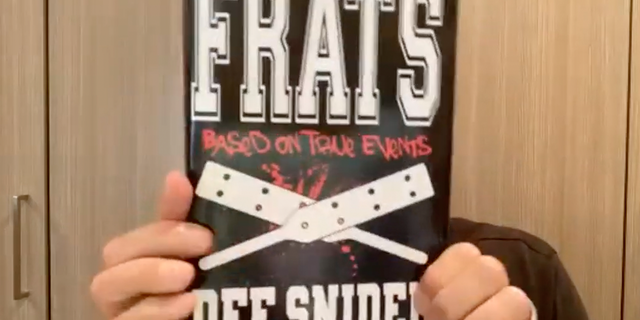 The cover of "Frats," a new novel by former "Twisted Sister" front man Dee Snider.
Snider insisted to Fox that "You don't have to cave, you don't have to apologize if you did nothing wrong."
He added, "If you did something wrong, you know? If you did something wrong, you raped a woman, yeah you gotta do more than apologize, but at the same time that's not something you stand strong about."
He said, "But if you have a position and a belief and people come at you for it, everybody is folding!"
CLICK HERE TO GET THE FOX NEWS APP
Snider declared his commitment to standing up for his beliefs despite the pressure, saying, "I wasn't kidding when I wrote, 'We're Not Gonna Take It.' I wasn't kidding. I'm that guy and I will always be that guy."
Snider's new book "Frats" is currently on sale at all major retailers.