Thailand's Supreme Court upheld a death sentence for an ex-elementary school principal convicted of killing three people, including a toddler, during an armed gold shop robbery in 2020.
The court ruled Wednesday that Prasitthichai Khaewkao did not deserve a reduction in his original sentence, calling the shooting in a shopping mall in Lopburi province "outrageously, ruthlessly inhuman" in a statement released Friday. Four people were injured in the attack and a salesclerk, a security guard and a 2-year-old boy were killed.
Prasitthichai was found guilty in August 2020 and given a death sentence on charges including first-degree murder, killing in commission of another crime and illegally carrying a gun. The Appeal Court also upheld the death penalty in 2021.
THAI COURT HANDS CRAFT BEER ENTHUSIAST FINE, 6-MONTH PRISON SENTENCE FOR VIOLATING LAW ON ADVERTISING ALCOHOL
The Supreme Court said the defendant, as a teacher and a headmaster, should have behaved as a good role model for students, but instead committed a serious crime. Therefore, it said there was not enough grounds to grant his appeal for a sentence reduction.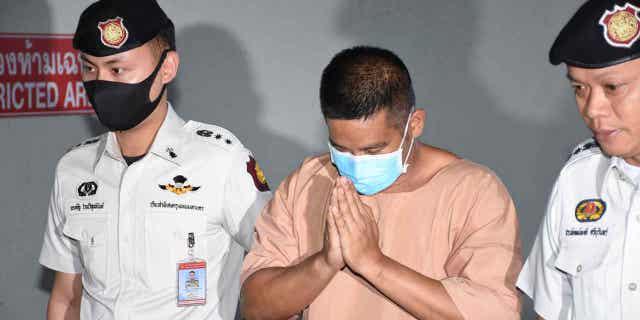 Prasitthichai Khaewkao, center, arrives at the Bangkok Criminal Court in Bangkok, Thailand, on Aug 27, 2020. Thailand's Supreme Court on April 26, 2023, upheld a death sentence for the ex-elementary school principal convicted of fatally shooting three people during a gold shop robbery in 2020. (AP Photo, File)
Security footage of the shooting was widely broadcast and sent a shockwave across the country. One video showed a man dressed in a black ski mask and camouflage trousers, with a backpack across his chest, carrying a pistol with a silencer as he entered the Robinson Lopburi mall. Another camera at the gold shop showed the man firing his pistol, and the toddler, who had been walking hand-in-hand with an adult, suddenly falling to the ground. The man grabbed a number of gold necklaces before fleeing.
THAI SHOPPER OPENS $60 WORTH OF WINE TO TASTE IN SUPERMARKET BEFORE PURCHASING
Speaking to reporters after his arrest, Prasitthichai denied that he deliberately shot the toddler and other victims. He said he opened fire to intimidate shoppers and security guards so he could flee easily.
According to the data from the Department of Corrections, Thailand had 250 inmates on death row as of the end of February, of which 23 had their sentence upheld by the Supreme Court.
CLICK HERE TO GET THE FOX NEWS APP
Seven people have been executed since Thailand switched from using a firing squad to lethal injection in 2003. Thailand's most recent execution was in 2018.