Police found a cryptic note among the carnage of Maine's quadruple murder scene that said "someone" was "molested."
Suspected shooter Joseph Eaton's sister found blood, broken glass and a body covered by a towel in the kitchen, according to the probable cause affidavit, which was published by The Maine Wire.
Eaton's sister noticed that "several firearms" were laid out, bullet holes "were everywhere" and drag marks led to a different part of the home, before she left the house and waited for police, the affidavit says.
Amidst the chaos, detectives found a note left behind on the kitchen island that said, "Someone had been molested and nothing was done about it," according to the affidavit.
MAINE MAN MURDERED HIS PARENTS AND TWO FRIEND AFTER HIS MOM PICKED HIM UP FROM PRISON: POLICE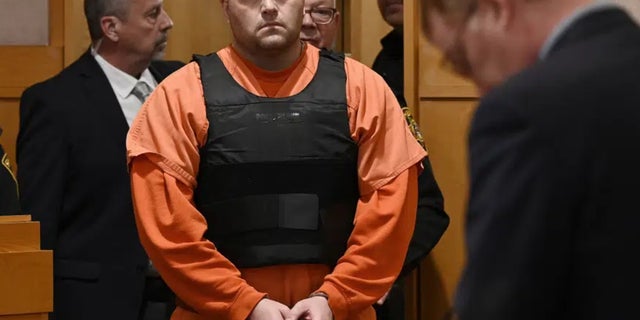 Joseph Eaton, the suspect in a shooting spree in Maine, enters the court for his arraignment in West Bath, Maine, Thursday, April 20, 2023. Eaton, who police say confessed to killing four people in a home, had been released days earlier from prison. (Shawn Patrick Ouellette/Portland Press Herald via AP)
The note also mentioned "someone being freed of pain and that the writer wanted a new life," according to the affidavit, but the note wasn't addressed to anyone, and there was no signature.
The body found Eaton's sister found in the kitchen was one of four people Joseph Eaton allegedly killed on April 18.
MAINE FIRE CHIEF CALLS CREW'S ESCAPE FROM FIERY TRAIN DERAILMENT AN 'ABSOLUTE MIRACLE'
The victims were identified as Eaton's mom, 62-year-old Cynthia Eaton, her husband, David Eaton, 66, and two of their friends, 72-year-old Robert Eger and 62-year-old Patricia Eger.
Three of the victims were found inside the Bowdoin, Maine, home, and the fourth victim was found outside near a barn.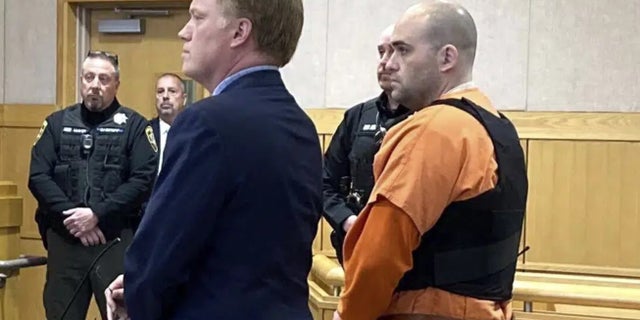 Joseph Eaton, the suspect in a shooting spree in Maine, appears in court in West Bath, Maine, Thursday, April 20, 2023. Eaton, who police say confessed to killing four people in a home and then shot three others randomly on a busy highway Tuesday, had been released days earlier from prison. (AP Photo/Patrick Whittle)
Eaton, 34, continued his alleged shooting rampage later that day when he opened fire on Interstate-295 about 25 miles away in Yarmouth, because he thought he was being followed by police, officials said.
About 20 minutes later, there was a report of a "suspicious male … standing in the middle of the road waving his hands with what appeared to be blood on him," the affidavit says.
MAINE STATE POLICE SAY 4 DEAD, 3 INJURED IN SHOOTINGS IN BOWDOIN, YARMOUTH
Eaton was arrested and allegedly confessed to all the shootings, police said, and faced a judge for the first time Thursday.
He was reportedly emotionless in court and only spoke to acknowledge the charges.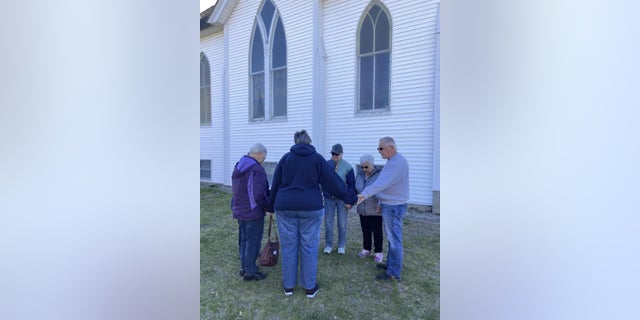 Friends of shooting victim Patricia Eger gather at a Christian organization where she volunteered in Lisbon Falls, Maine, Thursday, April 20, 2023. Police say Joseph Eaton confessed to killing Patricia Eger, 62, Robert Eger, 72, and his parents, Cynthia Eaton, 62, David Eaton, 66 (AP Photo/Patrick Whittle)
Law enforcement said they still don't know the motive or who was the intended target.
Eaton fatally shot his parents and their two friends just days after his mom picked him up from prison, where he had served time for aggravated assault.
WOMAN ARRESTED AFTER HUMAN REMAINS DISCOVERED IN FIRE PIT AT MISSING MAN'S HOME: REPORT
In addition to the eight-month sentence for aggravated assault, Eaton had also been convicted of domestic violence assault and operating under the influence of intoxicants in Maine, as well as illegally possessing a gun in Florida, according to the Bangor Daily News.
Eaton posted on Facebook on Friday morning that "it's finally over," writing that there are "so many people" he can't wait to see. His posts took a darker turn days later.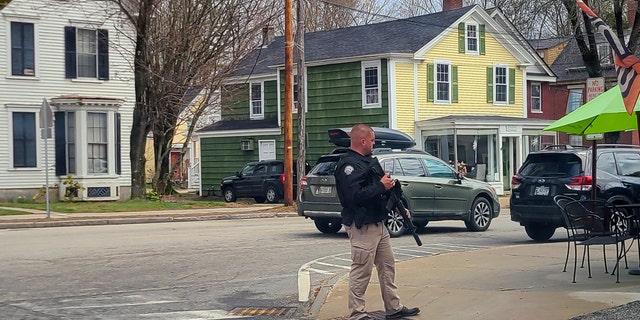 A police officer stands on the corner of Portland Street and Main Street in Yarmouth, Maine, on Tuesday, April 18, 2023.  State police say gunfire that erupted on a busy highway is linked to a second crime scene where several people were found dead in a home about 25 miles away in the town of Bowdoin, Maine. Police briefly ordered people in nearby neighborhoods to shelter in place, but authorities later announced there was no threat to the public.   (Michael Leonard via AP)
"Life as a whole is suffering. You work for the duration, you get sick, people you love die, and your guaranteed to have 'bad days,'" Eaton wrote on Sunday evening. "Life is a trial for what is to come."
He posted a video on Monday afternoon that he appeared to try to tag his mother in, writing, "thanks for never giving up on me."
BLOODIED MAN DROVE TO POLICE STATION TO MAKE CONFESSION: POLICE
"A lot of people look at you and think, 'Oh, well, there's just another, you know, f—up,'" Eaton says in the video as he cries.
"And then they turn around and claim to be Christian. You can't forgive somebody or understand what they go through. You can't give someone a second chance."
CLICK HERE TO GET THE FOX NEWS APP
"When you have a series of events like occurred yesterday, I look at that as an attack on the soul of our state. And it's a shock to everybody. It's a shock to people that have been in this system for a number of decades, myself included," Maine Department of Public Safety Commissioner Michael Sauschuck said at a press conference on Wednesday.