Florida Republican Gov. Ron DeSantis mixed it up with a heckler Friday after the unidentified audience member interrupted his speech to call him a "f—— fascist."
"The right to health care, to their kid's health care, you're a f—— fascist," a woman in the crowd in Lexington, South Carolina, yelled as DeSantis was discussing the rights parents have to protect their children from sexualization in Florida schools.
"We say gay!" the heckler added.
After loud booing erupted from the crowd, DeSantis responded.
"Those people like that in Florida are the people we beat every single day on policy," DeSantis added. "We do not let them win. We win all these battles. We're not letting them indoctrinate our kids, not on our watch."
DESANTIS RESPONSE TO TRUMP ATTACK SPARKS LAUGHS FROM IOWA CROWD: 'ARE YOU KIDDING ME?'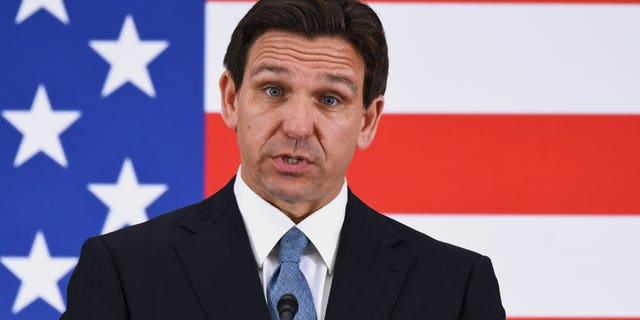 Florida Gov. Ron DeSantis speaks at a press conference at the American Police Hall of Fame & Museum in Titusville, Florida, on May 1, 2023. (Paul Hennessy/SOPA Images/LightRocket via Getty Images)
DeSantis said he is often accused of "banning" books when he attempts to remove inappropriate subject matter from school libraries.
The DeSantis team posted the clip to social media, telling his followers to watch as he "roasts" an "angry leftist."