Teams of workers wearing white overalls and blue gloves are using jet hoses to clear small, mysterious clumps of oil that drifted ashore last year along about six km of Croatia's northern Adriatic coast, moving fast before the tourists arrive.
"A large part has been cleaned up, the tourist season is approaching and tourists will be able to come, but a lot of work still remains," said Silvia Buttignoni, director of the Natura Histrica organisation which manages protected areas of the Istria region.
No official explanation has been given for the pollution, which has stuck, in small patches, to the rocks and wild limestone beaches near the town of Pula. The regular beaches have been cleaned.
NEW JERSEY SUES TO FORCE POLLUTION CLEANUP AT 8 SITES ACROSS STATE
Tourism accounts for 20% of Croatia's economy which has only just begun recovering from the coronavirus pandemic.
The clean-up, in which civil defense, firefighters and volunteers are also taking part, has been going on for months.
Buttignoni said the oil had got into limestone cracks and micro-locations. "We also organized a clean-up operation, but it was a Sisyphean task," she told Reuters.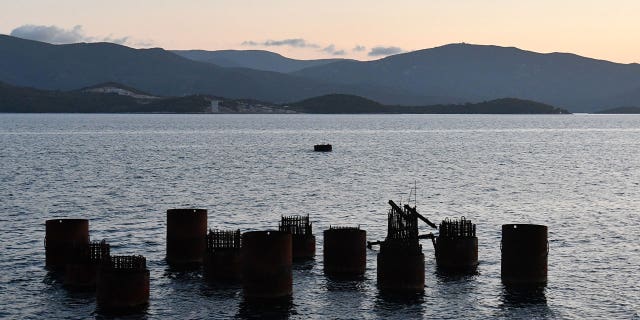 A construction site of a bridge is seen on the Croatian Adriatic coast on Sept. 25, 2017. Miles worth of oil clumps that mysteriously drifted ashore along the Adriatic coast is being cleared ahead of the tourist season. (ELVIS BARUKCIC/AFP via Getty Images)
This is not the first time oil had drifted ashore in the area, she said, and people deserve to know the cause.
"We cannot just wait and fear each year that wind will bring us a new oil spill," Buttignoni told Reuters. "Tourism is important but the protection of nature is more important."
She said there were no indications that animals and plants had been affected.
MONTANA'S POLLUTION LAWSUIT COULD DRASTICALLY CURB US GOVERNMENT'S USE OF AERIAL FIRE RETARDANT
Media reported there were signs the pollution was due to the nearby Rijeka thermo-power plant, which had admitted a technical glitch earlier in November. But these allegations have not been confirmed and the company said it had not been officially told it was responsible.
Mirko Radolovic, head of the regional department for sustainable development, said only that the clumps of oil had drifted in from the sea, affecting up to six km of uninhabited shoreline near the village of Liznjan.
CLICK HERE TO GET THE FOX NEWS APP
"There will be a problem because this (oil) constantly keeps coming though in smaller quantities," said villager Giuliano.
"There will be a problem with tourism, when guests arrive and probably step on it. It spreads all over, it cannot be controlled."