Country singer-songwriter Travis Tritt announced on Twitter that he would be removing Anheuser-Busch products from his tour hospitality rider amid pushback the company is receiving after beer giant Bud Light celebrated transgender activist Dylan Mulvaney in a new promotion.
"I will be deleting all Anheuser-Busch products from my tour hospitality rider. I know many other artists who are doing the same," Tritt wrote on Twitter Wednesday evening.
Hours later, the multi-platinum-selling artist shared a second tweet that included a photo of Ru Paul's Drag Race show teaming up with Jack Daniel's Tennessee Whiskey company.
"All the Jack Daniels drinkers should take note," he wrote.
BUD LIGHT'S PACT WITH TRANS ACTIVIST DYLAN MULVANEY SPARKS OUTRAGE, PRAISE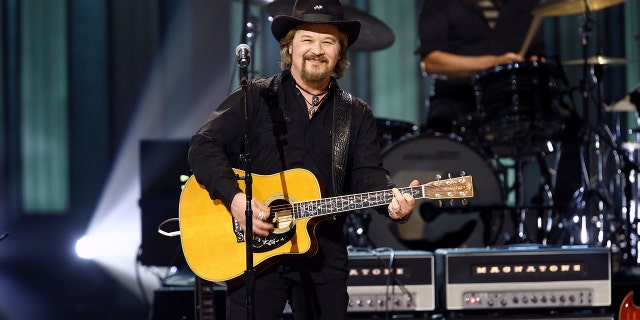 Travis Tritt performs during America Salutes You Presents: A Tribute To Billy Gibbons, A Live Benefit Concert at The Grand Ole Opry on May 16, 2021, in Nashville, Tennessee.  (Terry Wyatt/Getty Images for America Salutes You)
Tritt also responded to a user who asked for a clear list of Anheuser-Busch products.
"Here they are," the singer wrote, with a photo of various beer brands including Budweiser, Stella Artois, Corona, Michelob Light, Rolling Rock, Busch, Natural Ice, O'Douls, Red Hook, and more.
His next show is scheduled for April 14, in Hinton, Oklahoma.
KID ROCK SHOOTS UP BUD LIGHT CANS WITH RIFLE TO PROTEST DYLAN MULVANEY PARTNERSHIP: 'F— BUD LIGHT'
Tritt is the latest figure to vocalize opposition to Bud Light's polarizing promotion — a celebration of Mulvaney's "365 Days of Girlhood" — which has been met with significant backlash on social media. Several users speculated the announcement was an April Fool's joke with how poorly it was received.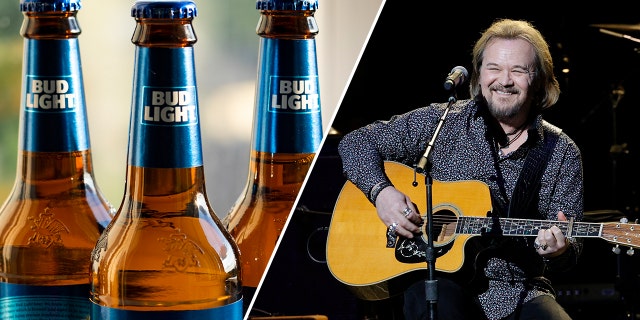 Singer-songwriter Travis Tritt said he would not be including Anheuser-Busch products on his tour. (Getty Images)
On Monday, singer Kid Rock used several Bud Light cases for target practice, sharing a video on social media of him using a rifle on their products.
In the video, Rock turns to the camera and shouts, "F— Bud Light and f— Anheuser-Busch!"
The video swiftly went viral.
CARTOON NETWORK CELEBRATES TRANS DAY OF VISIBILITY BE TEACHING KIDS TO USE PRONOUNS: 'SHOWS RESPECT'
Mulvaney, born a biological male, revealed the "365 Days of Girlhood" campaign over the weekend and said the beer company sent packs of Bud Light featuring her face on them. The trans activist described the cans as her "most prized possession" on Instagram. She also shared a video of her drinking a Bud Light beer in a bathtub.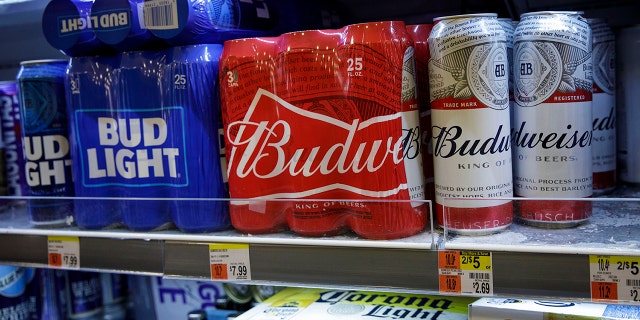 Cans of Budweiser and Bud Light sit on a shelf for sale at a convenience store, July 26, 2018, in New York City.  (Drew Angerer/Getty Images)
Several people have called for Bud Light boycotts.
Several others celebrated Anheuser-Busch's decision and said it helped drive the national conversations of trans representation and inclusivity.
"I think it's a win for Bud Light and I think it was a win for other brands," Bryan Kramer, an award-winning influencer and brand marketing guru, told Fox News Digital.
He added: "It can become the template, if you will, for what we do moving forward for this marginalized community and others. The real thing here is that this is about inclusion and diversity and inclusion, and diversity as a whole is not propaganda. It's an essential part of our society."
CLICK HERE TO GET THE FOX NEWS APP
Kramer also predicted that "moving forward, it's something that brands are having to take a position on."
Commenters on Tritt's posts were also split, though a majority appeared to express support for his decision.
Fox News' Gabriel Hays contributed to this report.