Anahí Robledo feeds 50 families each day at the community kitchen she runs in a poor neighborhood on the outskirts of Buenos Aires, struggling with the chronic inflation that has thrown four in every ten people in the country into poverty.
Argentina is battling an economic crisis which could see inflation hit around 150% by the end of the year, one of the highest rates in the world.
Robledo said the soup kitchen she works at can't keep up: it went from feeding 10 or 15 families to around 50 today.
"You can't keep count of the dishes we have to make for that amount of people," said Robledo, a 47-year-old domestic worker who volunteers on the side, as she kneaded bread.
Argentina's official statistics agency is set to release official inflation data for May later on Wednesday, with analysts predicting a monthly rise of 8.8%, even faster than the 8.4% jump a month earlier. The annual rate is already 109%.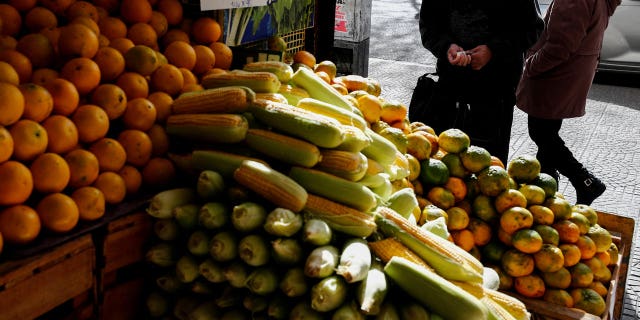 A costumer counts money before buying tangerines in a green grocery store, as Argentines struggle amid rising inflation, in Buenos Aires, Argentina, on May 11, 2023. (REUTERS/Agustin Marcarian/File Photo)
To get the growing amount of food they need, Robledo goes to a large market on the outskirts of Buenos Aires to rummage through discarded fruit and vegetables and salvage what she can.
"We go to the wholesale market and from there we get the vegetables. When the boys come out to throw them away, we grab them, clean them, chop them and freeze them," she said.
"How do you tell people when there's nothing left for them?"