House Oversight and Accountability Committee Chairman James Comer, R-Ky., this week defended his decision to gather information about President Biden's possible connections to Hunter Biden's business dealings from whistleblowers without giving committee Democrats access to those witnesses.
Comer said some witnesses fear being outed by Democrats, which justifies the move to collect information from them without exposing them to Democratic members of the committee.
"Multiple individuals have approached the Oversight Committee as whistleblowers with a desire to share information confidentially," Comer said Thursday. "It should be no surprise that whistleblowers do not trust Ranking Member [Jamie] Raskin. He has revealed himself to be untrustworthy by releasing disingenuous, misleading financial information from the Committee's investigation.
A spokesperson for the committee added that Republicans are protecting these witnesses from Democrats who have shown a willingness to expose them.
COMER DEMANDS BIDEN CORRECT HIS 'DISHONEST' DENIAL THAT FAMILY GOT $1M FROM HUNTER'S CHINA DEAL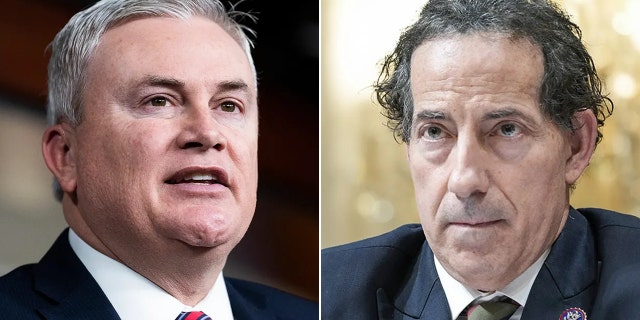 House Oversight and Accountability Committee Chairman James Comer, left, and Rep. Jamie Raskin. (Tom Williams/CQ-Roll Call, Inc via Getty Images/ Kent Nishimura / Los Angeles Times via Getty Images)
"Democrats have attempted to undermine the committee's investigation into the Biden family's business schemes at every turn," the spokesperson told Fox News Digital. "It's understandable why whistleblowers don't want their identities and the information they are providing to be shared with the Democrats."
"Chairman Comer is protecting these whistleblowers," the spokesperson added.
Comer's statement was released on the same day that the top Democrat on the committee, Rep. Jamie Raskin, D-Md., accused Republicans of "deliberately" withholding information about witnesses in the investigation.
"It has been nearly three months since you assumed responsibility of the Committee, and in that time, I have grown increasingly alarmed by your efforts to shield information from Committee Democrats, including information collected as part of your investigation into members of the President's family," Raskin wrote to Comer.
REP. JAMES COMER SAYS TWO COUNTY ATTORNEYS HAVE ASKED HIM HOW THEY CAN 'GO AFTER THE BIDENS'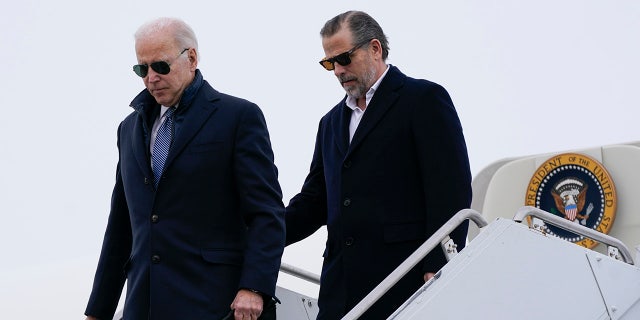 President Biden, left, and his son, Hunter Biden, step off Air Force One, Saturday, Feb. 4, 2023, at Hancock Field Air National Guard Base in Syracuse, New York. (AP Photo/Patrick Semansky)
"[T]his failure to act transparently and candidly, and to provide the Minority with equal access to Committee information, undermines your pledge to pursue 'a credible investigation based on facts that is fair and balanced,'" Raskin added.
Comer fired back that Raskin is "playing lawyer for the Biden family" and said the information Republicans have collected so far show clear links between Hunter Biden and the Biden family, including President Biden.
"Just a few weeks ago, when making public the Oversight Committee's first subpoena to a bank, Ranking Member Raskin tried to brush away the documents as just purchases at Papa John's and Starbucks, conveniently omitting, as just one example, a Chinese company's $3 million wire to an associate of the Biden family who proceeded to transfer more than $1 million of it to various Biden family accounts," Comer said.
REP COMER CLAIMS TESTIMONY BY BIDEN'S FORMER ASSISTANT ON CLASSIFIED DOCS 'UNDERMINES' WHITE HOUSE'S NARRATIVE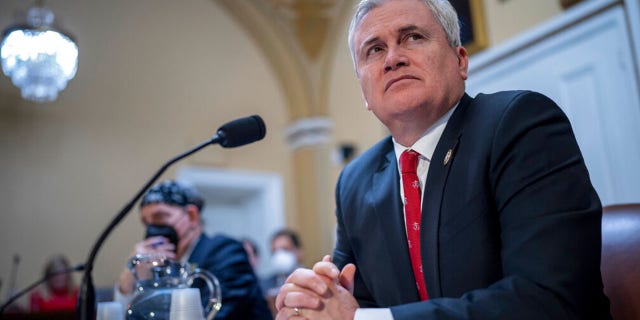 House Oversight Committee Chairman James Comer, R-Ky. (AP Photo/J. Scott Applewhite)
"Given his antics with the first bank subpoena, the American people and media should be asking what information Ranking Member Raskin is trying to hide with his latest distraction," Comer said.
CLICK HERE TO GET THE FOX NEWS APP
"No one should be fooled by Ranking Member Raskin's games. We have the bank records, and the facts are not good for the Biden family," Comer concluded.