CNN's approach to covering the historic federal indictment Tuesday of former President Donald Trump appeared to show the network leaning back into the earlier Jeff Zucker era not long after the firing of CEO Chris Licht.
Licht said he wanted to dial back the more partisan approach that defined his predecessor Zucker, but he faced internal dissension throughout his tenure, which came to a head when he offered Trump a chance to appear in a CNN town hall last month. Licht was fired last week after a little more than a year on the job, having lost the faith of both the newsroom and Warner Bros. Discovery CEO David Zaslav.
Licht was publicly criticized by reporters such as Christiane Amanpour for airing the Trump town hall, while Anderson Cooper told viewers he understood if they decided to ditch CNN forever for airing it.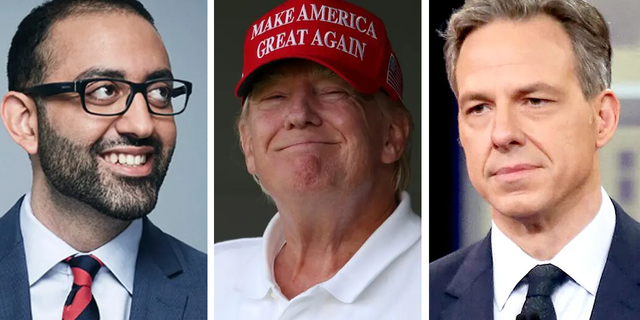 CNN appears to be leaning back into the Jeff Zucker-era of anti-Trump programming in the immediate aftermath of CEO Chris Licht's exit from the company.
Since Licht was shown the door last week, the network has reminded viewers of the Zucker-era programming that appealed to anti-Trump liberals.
Jake Tapper, who reportedly complained about Licht to corporate overlords, told CNN audiences on Tuesday night that it would be "dangerous" to carry a Trump speech live.
"We're not carrying his remarks live because, frankly, he says a lot of things that are not true and sometimes potentially dangerous," Tapper told viewers.
In his media newsletter "Reliable Sources," CNN media reporter Oliver Darcy took a shot at his former boss as he gloated about CNN not airing the speech. Darcy is often sharply critical of right-wing media and Republicans.
"The move to not air Trump's remarks live notably represented a departure from how the network handled Trump's post-New York arraignment speech. In that case, under former boss Chris Licht, CNN aired most of Trump's remarks," Darcy wrote in CNN's media newsletter.
Darcy's crusade against Licht picked up steam following the network's now-infamous Trump town hall. "It's hard to see how America was served by the spectacle of lies that aired on CNN Wednesday evening," Darcy wrote.
During Trump's fiery speech to supporters Tuesday night that Tapper refused to air, the former president cast his "sham" federal indictment as "election interference" by the Biden administration, and "the most heinous abuse of power in the history of our country." He faces potentially spending the rest of his life in prison.
Trump also blasted Special Counsel Jack Smith as a "deranged lunatic," and accused President Biden of having "his top political opponent arrested and charged." He said he had undergone "political persecution like something straight out of a fascist or communist nation."
CNN did not immediately respond to a request for comment.