Formula E is one of the greenest racing series in the world as the vehicles that the racers drive are fully electric, so it was curious when climate change protesters interrupted a race in Germany on Sunday.
Several activists in white shirts climbed the fences at the Tempelhof venue in Berlin and sat in front of cars that were already off of the starting grid. Letzte Generation (Last Generation) posted a video of the protesters disrupting the start of the race. The protesters were whisked away from the track by security guards.
CLICK HERE FOR MORE SPORTS COVERAGE ON FOXNEWS.COM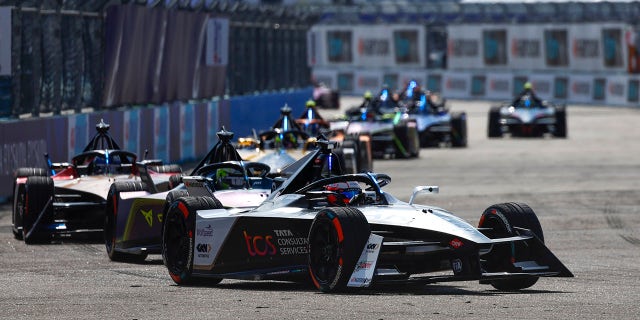 In this handout from Jaguar Racing, Mitch Evans, Jaguar TCS Racing, Jaguar I-TYPE 6, leads Nico Muller, ABT CUPRA Formula E Team, M9Electro, and Lucas di Grassi, Mahindra Racing, Mahindra M9Electro during the ABB FIA Formula E Championship – 2023 Sabic Berlin E-Prix Round 8 on April 23, 2022, in Berlin. (Handout/Jaguar Racing via Getty Images)
"It's time to slow down. Because we're on the highway to climate hell with our foot on the accelerator," the group said via Reuters.
A Formula E spokesperson said the protest was "unrelated to the event."
"Security services quickly and safely contained the disruption," the spokesperson said. "The event was able to proceed as planned."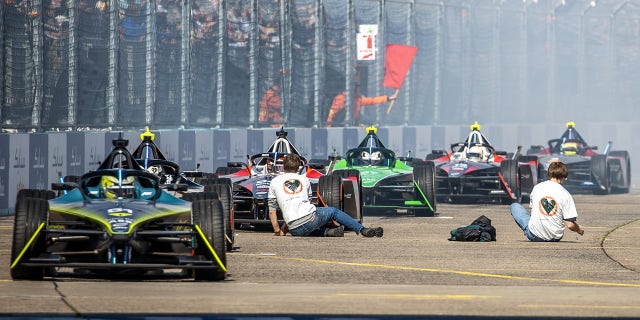 Last Generation climate activists sit on the track in front of the race cars ready to start. (Andreas Gora/picture alliance via Getty Images)
The activists confused those watching and commenting on the race on social media.
DANIEL HEMRIC'S CAR FLIPS UPSIDE DOWN AS THE 'BIG ONE' COMES OUT AT TALLADEGA IN AG-PRO 300
Nick Cassidy would end up winning the race. It was his first win of the 2023 season.
Activists have interfered in three sporting events over the last week.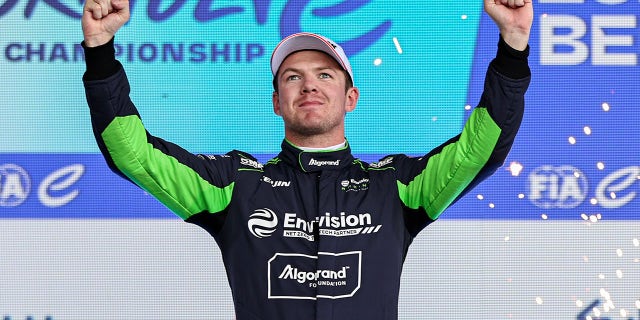 Nick Cassidy of New Zealand and ENVISION RACING celebrates his win on the podium during Round 8 of the ABB FIA Formula E Championship, SABIC Berlin E-Prix on April 23, 2023, in Berlin. (Qian Jun/MB Media/Getty Images)
CLICK HERE TO GET THE FOX NEWS APP
Just Stop Oil protesters put a stop to the World Snooker Championship when one activist threw orange powder on the surface. At the Grand National last weekend, more than 100 people were arrested when animal rights protesters disrupted the horse races. About 25 more people were arrested Saturday at the Scottish Grand National.