Jack Teixeira, the 21-year-old Massachusetts Air National Guardsman accused of leaking documents the Department of Defense says contain "sensitive and highly-classified material," was charged Friday with unauthorized retention and transmission of national defense information and willful retention of classified documents.
Teixeira, wearing handcuffs and a khaki prison jumpsuit, was read the charges shortly after 10 a.m. local time during an appearance in federal court in Boston. He did not enter a plea and was ordered to be held pending a detention hearing set for Wednesday, according to the U.S. Attorney's Office for the District of Massachusetts.
The appearance at the federal courthouse comes after Teixeira was taken into custody by the FBI less than 24 hours ago at his home in North Dighton, Massachusetts.
His father shouted during the hearing "I love you, Jack!" He responded: "I love you, Dad."
WHO IS JACK TEIXEIRA, THE AIR NATIONAL GUARDSMEN ALLEGEDLY BEHIND LEAKED CLASSIFIED DOCUMENTS?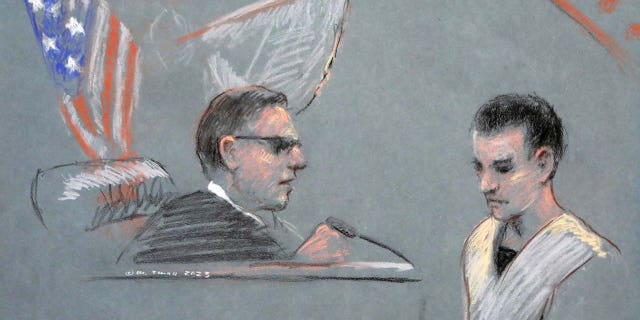 In this courtroom sketch, Jack Douglas Teixeira, a U.S. Air Force National Guard airman accused of leaking highly classified military intelligence records online, makes his initial appearance before a federal judge in Boston on Friday. (REUTERS/Margaret Small)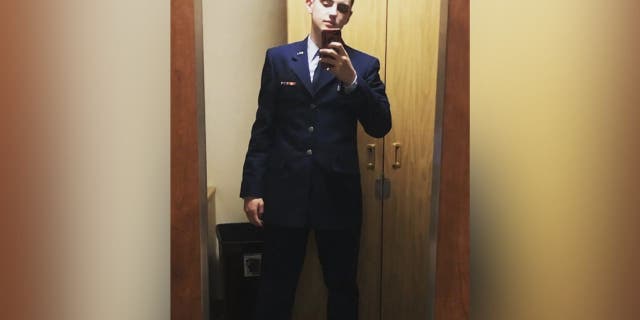 Selfie of Jack Teixeira, the 21-year-old Massachusetts Air National Guardsman accused of leaking classified information. (Facebook)
A criminal complaint obtained Friday by Fox News says the FBI on Monday interviewed a member of a social media platform who told a special agent that an individual — later identified to be Teixeira — began posting on the platform "what appeared to be classified information" starting in December 2022. The postings, the person said, appeared on a group aimed at discussing "geopolitical affairs and current and historical wars."
The person said the individual first started sharing paragraphs of text, but around January of this year began posting images of documents that appeared to have classification markings on them.
One of the documents, prosecutors say, "described the status of the Russia-Ukraine conflict, including troop movements, on a particular date" — information that is "based on sensitive U.S. intelligence, gathered through classified sources and methods, and contains national defense information."
The person said he engaged in conversations with Teixeira and at one point, the young man "explained that he had become concerned that he may be discovered making the transcriptions of text in the workplace, so he began taking the documents to his residence and photographing them."
Based on conversations this person had with Teixeira, he further learned his first name was Jack and "appeared to reside in Massachusetts, and claimed that he was in the United States Air National Guard," according to the complaint.
And then on April 6, Teixeira "used his government computer to search classified intelligence reporting for the word 'leak,'" the complaint said.
FBI ARRESTS MASSACHUSETTS AIR NATIONAL GUARDSMAN JACK TEIXEIRA IN PROBE OF CLASSIFIED DOCUMENT LEAKS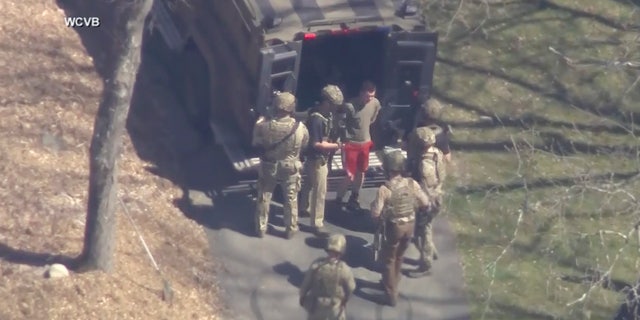 In this image made from video provided by WCVB-TV, Jack Teixeira, in T-shirt and shorts, is seen being taken into custody by armed tactical agents in Dighton, Massachusetts, on Thursday. (WCVB-TV via AP)
President Biden said Friday that he commends the "rapid action taken by law enforcement to investigate and respond to the recent dissemination of classified U.S. government documents."
"While we are still determining the validity of those documents, I have directed our military and intelligence community to take steps to further secure and limit distribution of sensitive information, and our national security team is closely coordinating with our partners and allies," Biden said in a statement from the White House.
Teixeira joined the Air National Guard in September 2019 and worked as a cybersecurity systems journeyman, a position in which he held the highest-level security clearance granted by the federal government for top secret information, according to an internal Department of Defense email reviewed by Fox News.
WATCH: TEIXEIRA'S DAD LEAVES COURTHOUSE: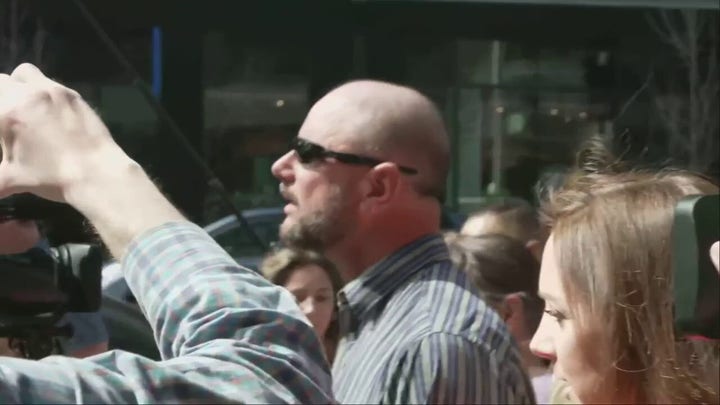 Video
His security clearance and access to classified government systems have since been revoked, according to another internal government document.
Teixeira was most recently stationed at Otis Air National Guard Base in Cape Cod as a member of the 102nd Intelligence Wing. He was promoted to airman first class in July, according to the unit.
Details of the leaked Pentagon documents were reported last week by The Washington Post, which obtained dozens of what appeared to be photographs showing classified intelligence briefings detailing Ukraine's combat abilities, information about the Ukrainian and Russian militaries and highly sensitive analysis of U.S. allies and adversaries, including China.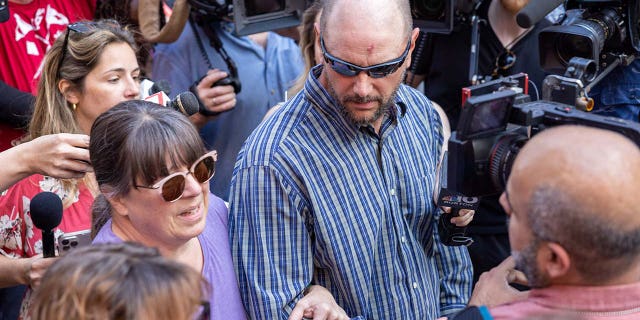 Jack Teixeira, the father of the classified document leak suspect of the same name, leaves John Joseph Moakley United States Courthouse following his son's arraignment in Boston on Friday. (Scott Eisen/Getty Images)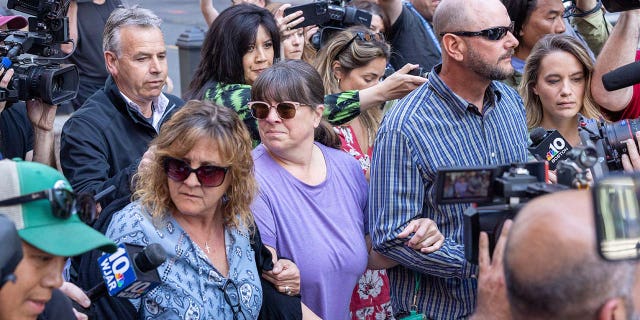 Relatives of Jack Teixeira leave John Joseph Moakley United States Courthouse in Boston following the arraignment of the Massachusetts Air National Guardsman accused of leaking classified information on Friday. (Scott Eisen/Getty Images)
President Biden has said nothing leaked was "of great consequence," but White House national security spokesman John Kirby warned Wednesday that "we don't know what else this individual or individuals might have and might still release."
CLICK HERE TO GET THE FOX NEWS APP
The FBI began surveilling Teixeira in connection with the leaks before Thursday but were forced to accelerate their plans to arrest him after The New York Times identified him on Thursday morning, a source briefed on the investigation told Fox News.
The report named Teixeira as the leader of a Discord group called "Thug Shaker Central" that consisted of roughly 20 to 30 young men. Discord is an instant messaging social media platform popular with gamers — members of Thug Shaker Central reportedly bonded during the pandemic by playing video games together, sharing memes and discussing guns.
Attorney General Merrick Garland on Friday said, "The Department of Defense is leading an important effort now to evaluate and review the national security implications and most important, to conduct a review of the methods of access, accountability and control procedures that the Department has so that something like this can never happen again."
Garland declined to say if there is a "foreign nexus" to the leak case. He confirmed that the case will be pursued in federal court but did not say if Teixeira will also face military charges.
"This is not just about taking home documents," Garland said. "That is, of course, itself illegal. But this is about the transmission, both the unlawful retention and the transmission of the documents. Everyone knows here that the documents in the end were transmitted. That violates 18 U.S.C. 793, an 18 U.S.C. 1924. There's very serious penalties associated with that."
"People who sign agreements to be able to receive classified documents acknowledge the importance to the national security of not disclosing those documents," he continued. "And we intend to send that message, how important it is to our national security."
Fox News' Chris Pandolfo, Lucas Y. Tomlinson, Peter Doocy, Alexis McAdams, David Spunt, Liz Friden, Gillian Turner, Jake Gibson and Paul Best contributed to this report.