Senate Democrats on Thursday renewed their call for a strict code of ethics to be imposed on the Supreme Court after a report claimed conservative Justice Clarence Thomas has enjoyed lavish gifts from a GOP mega-donor for several years.
A ProPublica investigation found that Thomas' close friendship with real estate developer Harlan Crow allowed him to accompany the Texas billionaire on luxury vacations on his private jet and yacht, as well as free stays on Crow's vast vacation property, among other perks. He reportedly failed to disclose the vast majority of Crow's gifts.
Sen. Dick Durbin, D-Ill., chairman of the Senate Judiciary Committee, said Thomas' alleged actions are "simply inconsistent with the ethical standards the American people expect of any public servant, let alone a Justice on the Supreme Court."
SUPREME COURT REJECTS APPEAL FROM LOUISIANA DEATH ROW INMATE SEEKING NEW HEARING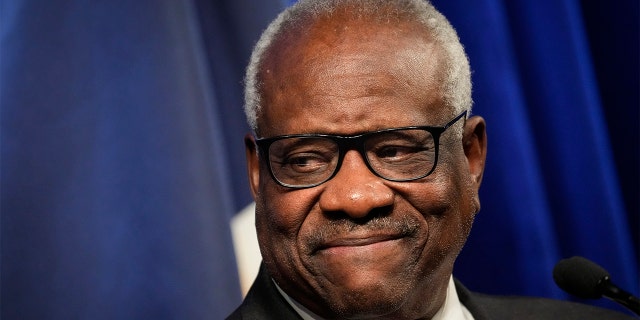 Associate Supreme Court Justice Clarence Thomas is under fire from Democrats after a report said he has enjoyed gifts for years from a GOP mega-donor. (Drew Angerer / Getty Images / File)
"Today's report demonstrates, yet again, that Supreme Court Justices must be held to an enforceable code of conduct, just like every other federal judge," Durbin said in a Thursday statement. "The ProPublica report is a call to action, and the Senate Judiciary Committee will act."
Progressive Sen. Elizabeth Warren, D-Mass., shared similar sentiments in her calls for accountability.
"The American people deserve a federal judiciary that is accountable to the rule of law, not wealthy Republican donors. Today's news is a stark reminder that judges should be held to the highest ethical standards and free from conflicts of interest," Warren wrote on Twitter.
SUPREME COURT ALLOWS 12-YEAR-OLD TRANSGENDER GIRL TO RUN GIRLS TRACK IN WEST VIRGINIA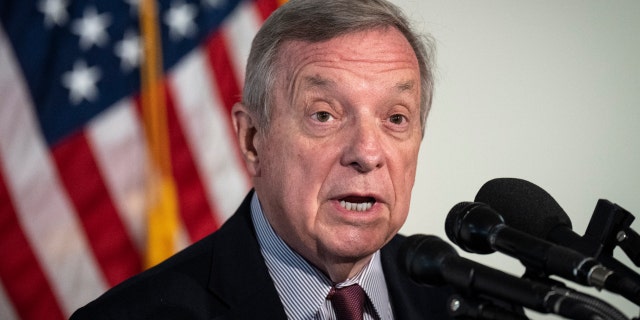 Sen. Dick Durbin, D-Ill., said Democrats will push again for a Supreme Court code of ethics after the report on Thomas surfaced. (Drew Angerer / Getty Images)
"[A]s long as 9 justices are exempt from any process for enforcing basic ethics, public faith in SCOTUS will continue to decline, and dark money and special interests will maintain their relentless grip on our democracy," wrote Sen. Sheldon Whitehouse, D-R.I., who introduced legislation to tighten ethics requirements for Supreme Court justices in the last Congress.
Another senator took it a step further and reiterated calls to expand the court past its current nine seats, something President Joe Biden has opposed.
"My take on this: Clarence Thomas has proven what we've suspected all along — the Supreme Court is beholden to right-wing corporate interest groups and billionaire mega-donors. The Court is broken. The constitutional remedy is clear — expand the Court," wrote Sen. Tina Smith, D-Minn.
SUPREME COURT OVERTURNS ROE V WADE IN LANDMARK OPINION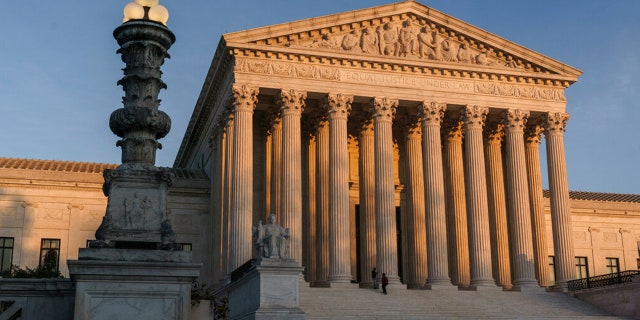 The Supreme Court (AP Photo / J. Scott Applewhite / File)
CLICK HERE TO GET THE FOX NEWS APP
In a statement to ProPublica, Crow denied ever trying to influence Thomas or put him in positions where other influential people could do the same.
"The hospitality we have extended to the Thomas's (sic) over the years is no different from the hospitality we have extended to our many other dear friends," part of the statement reads. "We have never asked about a pending or lower court case, and Justice Thomas has never discussed one, and we have never sought to influence Justice Thomas on any legal or political issue. More generally, I am unaware of any of our friends ever lobbying or seeking to influence Justice Thomas on any case, and I would never invite anyone who I believe had any intention of doing that."