The People's Republic of China is accusing the U.S. military of interfering with naval exercises leading to an aerial encounter that the Americans called "unsafe."
The controversy surrounds a confrontation in the skies above the South China Sea when a Chinese pilot flew past the front end of an Air Force reconnaissance aircraft.
U.S. Indo-Pacific Command claims a Chinese pilot operating a J-16 fighter jet was responsible for the incident when he "performed an unnecessarily aggressive maneuver" intercepting a U.S. Air Force RC-135 aircraft.
CHINA'S XI JINPING TELLS NATIONAL SECURITY TEAM TO PREPARE FOR 'WORST-CASE SCENARIO' AS LEADERS WARN OF AI RISKS
CHINESE 'DEBT-TRAP' CRIPPLING POOR ECONOMIES, ENDANGERING US NATIONAL SECURITY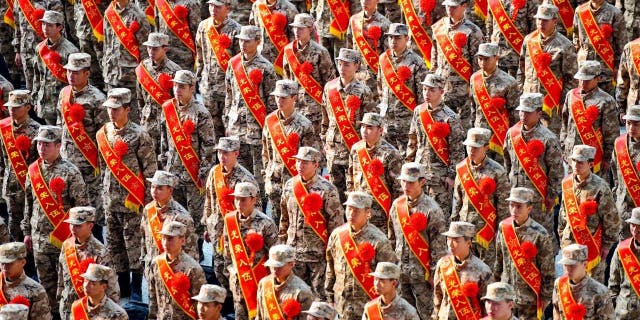 New recruits of Chinese People's Liberation Army (PLA) attend a send-off ceremony at a railway station in Ganzhou, Jiangxi province, China. (China Daily via REUTERS )
"We solemnly urge the U.S. to conscientiously restrain the actions of front-line naval and air forces, strictly abide by relevant international laws and relevant agreements, and prevent accidents at sea and in the air," said Zhang.
"If not, the U.S. will bear all consequences," he added.
CLICK HERE TO GET THE FOX NEWS APP
China lays claim to the majority of territory in the South China Sea, though this territorial possession is disputed by the U.S. and neighboring Taiwan.